Green Almond Stew: Khorest-eh Chagaleh Badam
Green Almond Stew, or Khorest-eh Chagaleh Badam, is a Persian specialty made with beef, parsley and mint.
By Laura Bashar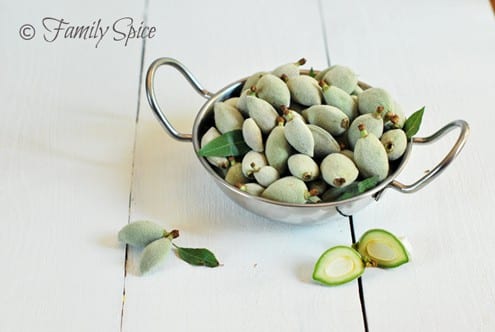 It is mid-spring and we are in the peak of green almond season here in California. This is the unriped almond and the whole pod is edible. Never tried a green almond, let alone heard of one? Well you are missing out! It's crunchy and tangy inside and Persians love to eat them with a bit salt sprinkled over it. But you can also cook with green almonds, too.
But first, for you new-comers, a quick lesson on the green almond. If you slice one in half you can see clearly the almond nut center that is not yet developed. It is soft and watery. The clear gel between the immature nut and the fuzzy exterior is sour and full of flavor. This is the original high-fiber, protein-packed snack!
A Persian specialty is Green Almond Stew, or Khorest-eh Chagaleh Badam, and it is made with beef, parsley and mint. I throw in spinach for more added nutrition. During the cooking process the inner almond nut can turn bitter, so it is typically removed for this recipe. BUT, don't discard it. It is still edible and can be munched on while you cook away… to give you energy, right?!
The base of this stew is pretty much the base of another Persian stew, khoresht-eh karafs. Except instead of celery, you use the green almonds. But many Persians combine the two stews, serving the herb base with both celery AND green almonds. So knock yourself out deciding which version you want to try first.
And like all Persian stews, it is served on a bed of fluffy basmati rice.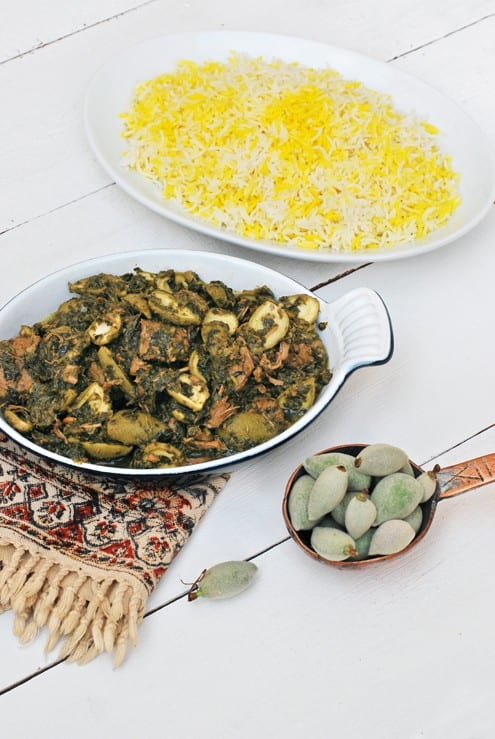 Green almonds are not available everywhere and it has a short season of availability, so consider yourself lucky if you come across some. And be a little adventurous in your culinary journeys and try something new and unfamiliar!

Green Almond Stew (Khorest-eh Chagaleh Badam)
The green almond is the unripe form of the almond. The entire pod is edible and is slightly sour. In this Persian stew, it compliments beautifully with the mint & parsley.
Ingredients
3 cups, packed (8 oz) American parsley
¾ tsp turmeric
1 cup, packed (2 oz) fresh spinach
½ tsp ground black pepper
1 tsp salt
2 tsp all-purpose flour
¼ cup (2 oz) lemon juice
1 cup, packed (2 oz) fresh mint
2 TBS extra-virgin olive oil
¼ tsp saffron, ground
2 cup (16.5 oz) beef broth
1½ lb (.7 kg) green almonds
2 lb (.9 kg) beef stew meat, cut into 1-inch cubes
1 onion, chopped (approx. 1 cup)
2 limes, dried, quartered
Instructions
In a large bowl mix together the stew meat with ½ tsp salt, ¼ tsp pepper, ¼ tsp turmeric & 2 tsp flour until meat is coated evenly.
Heat a large dutch oven over medium heat and add 1 TBS olive oil.
When oil is hot, sauté the chopped onions. Cook until onions start to soften, approximately 7 minutes
Stir into the onions ½ tsp salt, ¼ tsp black pepper, & ½ tsp turmeric.
Cook for 2 minutes, then raise the heat to medium-high, add stew meat and brown all sides, approximately 7 minutes.
Stir in beef broth & lemon juice.
Using a wooden spoon, scrape up browned bits of meat from the bottom of the pot.
Stir in the dried limes.
Reduce heat to low, cover pot and simmer for 2 hours, stirring the stew every 30 minutes.
Using a food processor (or chop finely with a knife) chop parsley, mint & spinach.
Heat a large non-stick skillet over medium-high heat and add 1 TBS olive oil.
Sauté chopped greens for 5 mins then add to the meat mixture, along with the saffron.
Cook stew covered over low heat for another 30 minutes.
Cut in half and remove the inner seed from the green almonds.
Stir in halved green almonds into the stew, cover pot and cook for 30 mins.
Serve hot with basmati rice.
Notes
The inner seed is removed because it can turn bitter during the cooking process. Some people skip this step and use the whole pod in the stew. This is one of those dishes that tastes even better the next day. This dish can also be made vegetarian by omitting the meat and by using vegetable broth.
Laura Bashar
Laura Bashar is a recipe developer, graphic designer, photographer, food writer, wife & mom of three. After hearing fellow moms complain about how hard it is to cook every night, Laura started her own cooking blog, Family Spice, to bring families back at the dinner table. Laura is half-Persian and jokes about being married to a full-bred, and frequently features many recipes from Iran and the Middle-East on her blog.