Toss kale, frisée and fennel with this guilt-free dressing for a salad you can serve at your next dinner party.
By Jessica Dang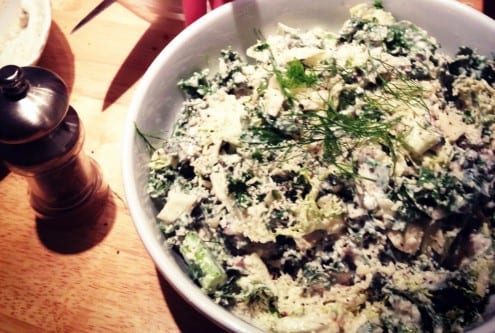 Greek Yogurt Caesar Dressing
Toss kale, frisée and fennel with this guilt-free dressing for a salad you can serve at your next dinner party.
Ingredients
6-ounce single serving of Fage Total 0% Greek Yogurt
Grated Parmesan cheese
2 to 4 anchovy fillets, minced
2 cloves of garlic, minced
1 table spoon of Dijon mustard
1 teaspoon of Worcestershire sauce
2 teaspoons of white wine vinegar or fresh lemon juice
1 tablespoon of extra virgin olive oil
Sea salt
Freshly cracked black pepper
Instructions
You're going to have to go by your tastebuds on this one. Use the above measurement as a guide, but taste as you blend the ingredients and adjust accordingly!