This goulash is a little creamier than a typical Czech goulash would be – it's more along the lines of a Hungarian goulash. But that's ok – it tastes great!
By Maggie Cubbler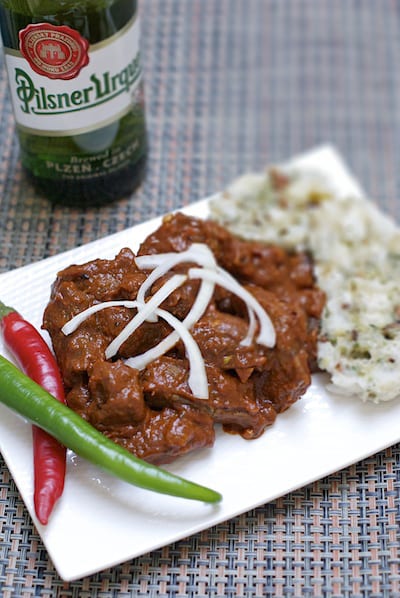 Despite the fact that I ate a ton of goulash in Prague, I decided to make more because–well–I was actually craving it again and I wanted to share with you some of the deliciousness I had while there. Of course I picked one of those most famous beers to make this with–Pilsner Urquell–not only because it's Czech and it's awesome, but because the mild and fresh flavor profile of the beer really helps boost the flavors along without overpowering anything. I'd stick to Pilsner Urquell or a similarly grainy, malty, low-bitterness pils like Budvar or even Victory Prima Pils. I hope you like it!
Goulash with Bacon Dumplings
This goulash is a little creamier than a typical Czech goulash would be - it's more along the lines of a Hungarian goulash. But that's ok - it tastes great!
Ingredients
For the goulash:
2 lbs (900g) cubed beef
flour
salt and pepper
olive oil
½ medium-sized sweet onion, diced
¼ tsp caraway seed
2 TB sweet paprika
⅛ tsp ground black pepper
8 TB tomato paste
2½ cups (600ml) pilsner beer
1 beef bouillon cube or condensed beef stock.
4 cloves garlic, minced
⅛ teaspoon marjoram
raw onion slices
raw sweet and/or chili peppers
For the dumplings:
10-12 slices of regular white bread, crusts removed and cut into cubes. Allow to sit overnight to get stale.
1 TB unsalted butter
½ sweet onion, finely diced
4 TB finely chopped parsley
3 strips of bacon, cooked and crumbled
¾ cup (70g) all-purpose flour
salt and pepper
⅓ cup (80ml) whole milk
Instructions
To make the goulash:
Start by drying the beef off with a paper towel. Season with the salt and pepper and lightly coat each piece with the flour, being sure to shake off any excess. Set aside.
Heat about a tablespoon of olive oil in a large pot over medium heat. Toss in the diced onion and cook, stirring often, until just shy of golden brown. Just before the onion is done, add the caraway seeds.
Put the browned beef back into the pot. Add the paprika, black pepper, tomato paste, beer, and beef bouillon cube. Stir until combined.
Cover and simmer over low heat, stirring often, for about 45 minutes.
Add the garlic and marjoram and cook for another 10 minutes more.
Adjust seasonings as needed. Serve with raw sliced onion and peppers.
To make the dumplings:
Slightly brown the onions in the butter, but not too much.
When finished, add the onions to the flour, salt, pepper, bacon, and parsley. Mix until just combined.
Add the milk. Knead until you have a soft dough.
Add the stale/toasted bread cubes and slightly combine.
Add in the beaten egg. Knead until all is well-incorporated and you have a slightly sticky (but doesn't stick to your fingers) dough. Add more milk/flour as needed to get the required consistency and then shape them into a log form. .
Let rest for a few minutes while you bring a pot of salted water to a simmer (don't boil.)
Carefully place the dumplings in the simmering water. Simmer for about 25-30 minutes, gently flipping them over about halfway through.
When done, remove to some paper towels and let it drain for a minute.
While still hot, slice the dumplings. Serve alongside the goulash.
Maggie Cubbler
Maggie Cubbler is a beer-and-food-loving Yankee living in North Yorkshire, England. When she's not pulling pints at a traditional Yorkshire pub, she devotes her time to her Labrador, husband, and working on her blog: Loaded Kitchen. She loves to pair beer with food, cook with beer, and drink a (half) pint or two with the natives. Besides blogging and drinking, Maggie is currently studying to become a certified Cicerone while trying to figure out why Yorkshire men like lime cordial syrup in their lagers. Take a swing by her blog and check out the party in her pans.