Gooey Chocolate Pudding Cake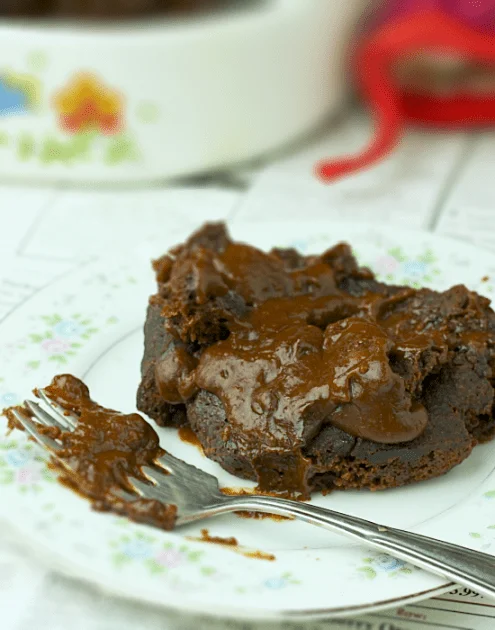 It's amazing how some of the most ridiculously delicious foods are the most ridiculously unphotogenic.
By Kelly Morisson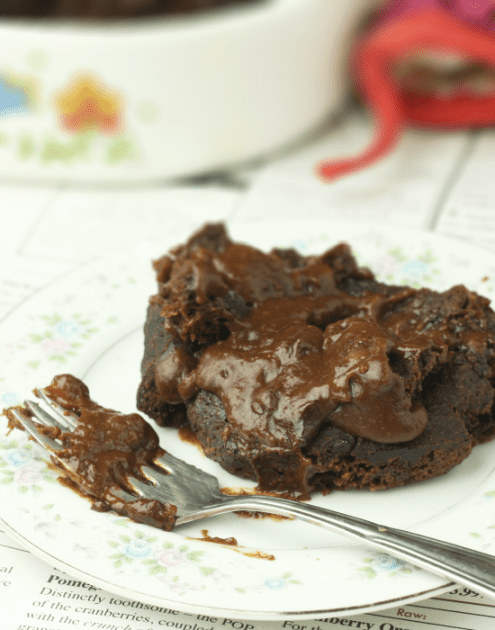 Apparently gooey + chocolate + pudding = insanely fun to eat/not as fun to photograph. As long as you're not one of those people who have the audacity to take pictures of food before they eat it, you're fine.
Gooey Chocolate Pudding Cake
It's amazing how some of the most ridiculously delicious foods are the most ridiculously unphotogenic.
Ingredients
For cake:
½ cup cane sugar or erythritol
1 cup white whole wheat or almond flour
¼ cup cocoa powder
2 teaspoons baking powder
¼ teaspoon sea salt
½ cup unsweetened almond milk
⅓ cup applesauce
1½ teaspoons vanilla extract
For sauce:
⅓ cup cane sugar or erythritol
⅓ cup brown sugar or erythritol plus ½ teaspoon molasses
¼ cup cocoa powder
1 ¼ cups hot water
Instructions
Preheat oven to 350°F. Spray an 8x8 baking dish with cooking spray and set aside.
To make the cake, combine the cane sugar or erythritol, flour, cocoa powder, baking powder, and sea salt in a large bowl. Add in the almond milk, applesauce, and vanilla extract and stir until completely combined. Spread the mixture into the prepared baking dish and smooth out the top with an offset spatula or a spoon. Set aside.
For the sauce, combine the can sugar or erythritol, brown sugar or erythritol plus molasses, and cocoa powder in a medium bowl. Sprinkle evenly over the batter. Pour the hot water over the batter. Do not stir the water in! I know it looks weird, but it's okay. It's all going to be okay.
Bake in the oven at 350°F for about 30 minutes. It should resemble an undercooked brownie. Let cool for at least 15 minutes. When serving, spoon the sauce from the bottom of the pan over the cake. Devour.
Notes
For a paleo version, use almond flour and erythritol. Feel free to substitute any milk for the unsweetened almond milk. The nutritional information was calculated with white whole wheat flour and erythritol.
Kelly Morrison
At the age of thirteen, Kelly Morrison founded Foodie Fiasco, a popular healthy recipe website that provides the ultimate guide to having it all: happiness, decadence, and loose pants. Five years later, she currently resides in West Hollywood, CA, where she spends her days developing recipes, photographing food and her cats, and writing bios in the third person.