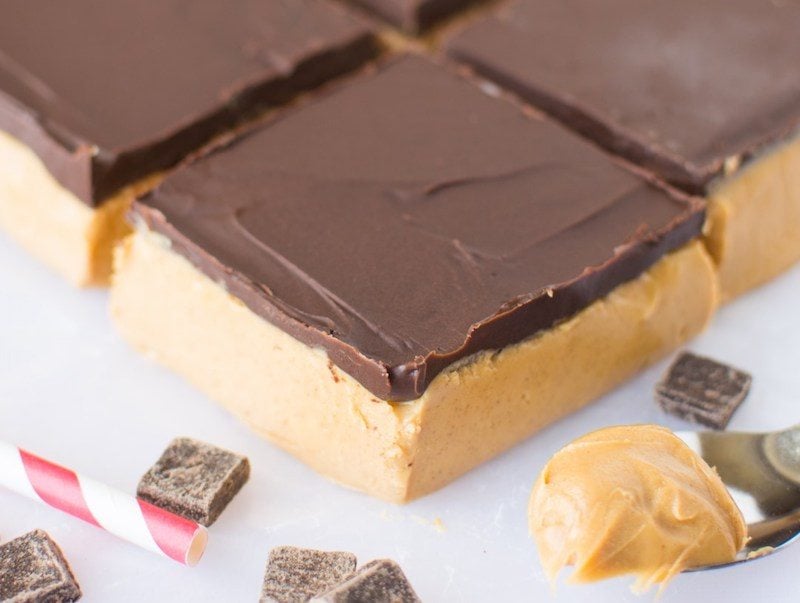 This no-bake buckeye bars dessert requires no tedious rolling to make and it comes with a delicious dose of brown butter.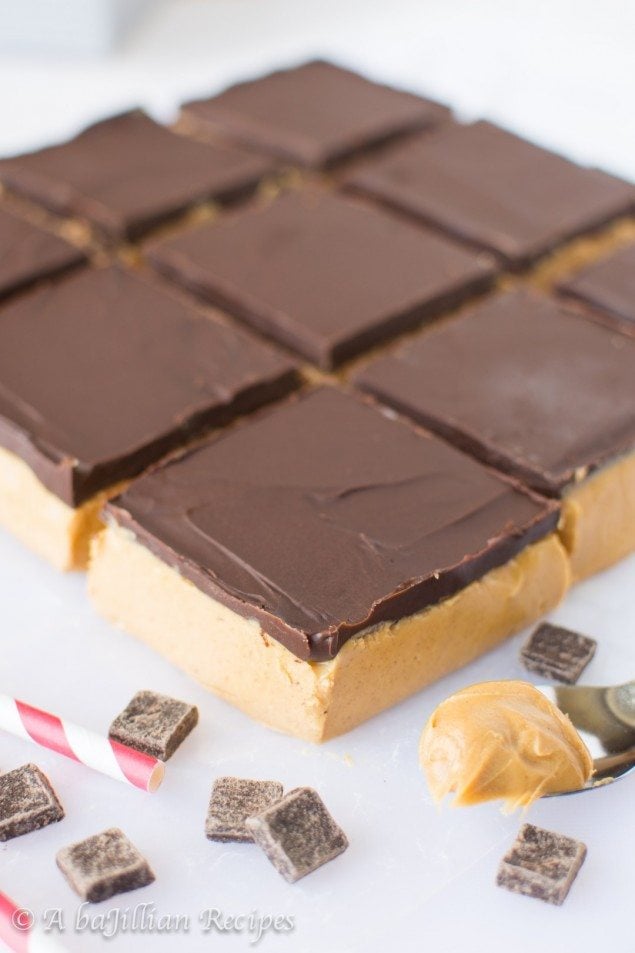 Luckily, I only have one wedding to attend this summer, and it's my cousin's. I've also been asked to make the desserts. Yay!
One of the desserts on the list is the beloved Buckeye Bar–my cousin's fiancé's favorite. So I did a little experimenting, and THESE are what I came up with.
GUYS. It's like biting into the best Reese's cup you've ever had in your entire life. So creamy and smooth…they literally melt in your mouth!
As the title suggests, these aren't your typical Buckeye Bars. I went one step further and browned that beautiful butter!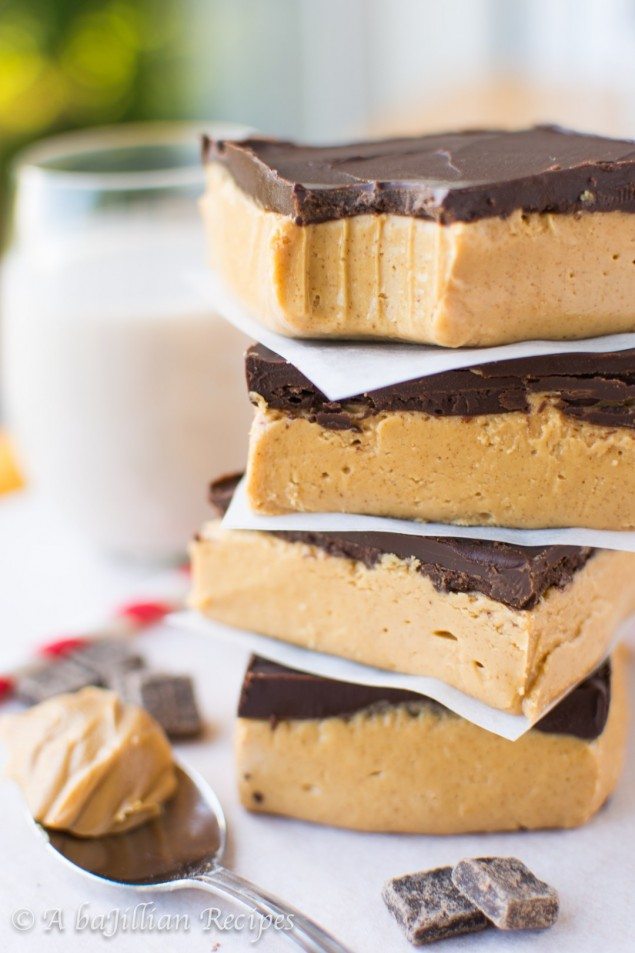 The brown butter is really what sets these Buckeye Bars apart from all the other recipes out there. The nuttiness from the browned butter just heightens the flavor of the peanut butter. It should come as no surprise that brown butter and peanut butter are literally the best match made in heaven.
Although it's usually the peanut butter that takes center stage in the Buckeye Bar, this recipe is ALL about showcasing that highly addictive nuttiness that is brown butter. Through trial and DE-licious error, I discovered that a more equal ratio of butter to peanut butter not only prevented the bars from being too soft (too much peanut butter = too soft and squishy), but it also allowed the flavor of the browned butter to shine through despite how overpowering peanut butter tends to be.
And while unsalted is usually the butter of choice when it comes to baking, I found that salted butter made the bars much more flavorful. Along with the powdered sugar, I also added just a little brown sugar for added sweetness dimension.
Click here for the chocolate glaze recipe.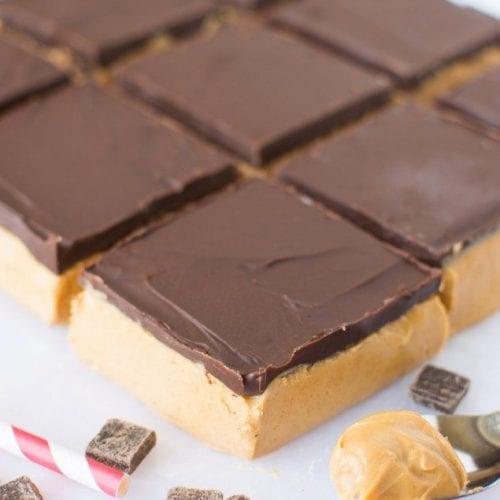 Gluten Free Buckeye Bars
Jillian Hatsumi
This no-bake buckeye bars dessert requires no tedious rolling to make and it comes with a delicious dose of brown butter.
Ingredients
Peanut Butter Filling:
3/4

cup

salted butter

4

teaspoons

brown sugar

1

cup

creamy peanut butter

1

and 1/2 teaspoons vanilla

3

cups

powdered sugar

sifted*
Chocolate Topping:
Click the link above for the measurements
Instructions
Line an 8-inch square baking pan with parchment paper, leaving extra overhang on the sides for easy removal.

In a medium saucepan, melt the butter over medium-low heat. As the butter melts, it'll start to foam, then turn a clear golden color. Continue to stir the butter, scraping up any browned specks from the bottom of the pan as it starts to brown. It should have a nutty aroma.

Once browned and nutty, remove from the heat and stir in the brown sugar. Add the peanut butter and vanilla, stirring until combined. Gradually stir in the powdered sugar, a cup at a time, until mixture is smooth. Pour mixture into prepared pan and place in the freezer until firm, about 30 minutes.

Place the chocolate chips and butter in a microwave-safe bowl and heat in the microwave for 60-90 seconds. Remove and stir until smooth. Spread evenly over chilled peanut butter filling. Refrigerate until firm and set, at least one hour.

Use a knife to loosen the edges before using the parchment sides to lift the bars out of the pan. Cut into squares and serve.
Notes
*Sifting the powdered sugar will assure that the peanut butter filling is completely smooth without any sugar lumps.
Jillian Hatsumi
I'm Jillian, the writer, baker, chef, recipe creator, and amateur (very amateur) photographer of A baJillian Recipes. Though I'm not a classically trained chef, I like to think I know my way around a kitchen pretty well. Aside from baking, cooking, and EATING, I also enjoy acting, couponing (I LOVE saving money!!), running, working out, photography, and playing with my little fluffernutter, Olivia. She's a dog, if you're wondering...