As spring is closing in, Christine Curran finds herself drawn to everything blueberry. And with this great recipe, how can anyone not?
By Christine Curran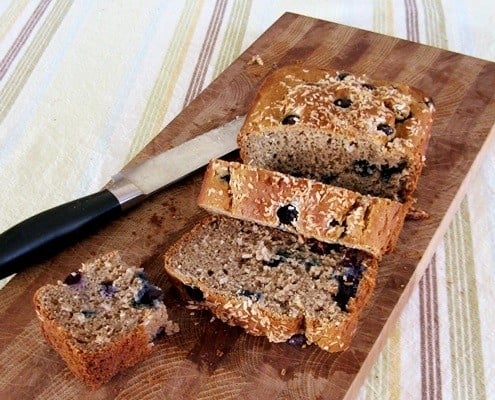 The signs of spring are coming. The sun is finally rising before I wake up and the days are getting longer. Here in Santa Fe, I am seeing the first hints of crocuses and daffodils and the afternoons are getting up to 60° F with beautiful sunshine. As I prepare for glorious spring, I am finding myself drawn to everything blueberry.
It reminds me of when I was little and we used to pick wild blueberries on the hill next to my grandparents' house. We would bring a big bucket and fill it up in preparation for the blueberry treats we would make when we got home. My favorite of my grandmother's creations when I was little was Blueberry Buckle, which was like a Blueberry Coffee Cake. In my grandmother's later years she would make a Benzone which was an Italian version of a Blueberry Buckle. It was delicious, but now that I think about it, I wonder where the recipe came from, because blueberries don't really exist in Italy…
That always fascinated me when it came to my mother's family. My grandmother was a first generation American and her family originally came from Gaeta which is a coastal town near Naples, Italy.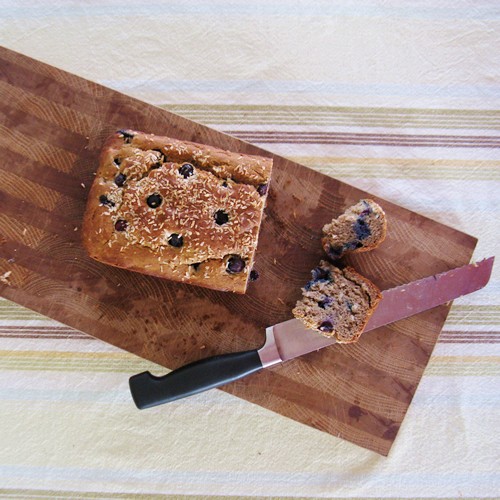 When my great-grandmother came to America with her 4 siblings they all lived in the same neighborhood outside of Boston, and carried on their family traditions, and continued to speak their Gaetano dialect.  It always surprised me how different her dialect and traditional cuisine was from other regions of Italy.
I lived in Florence, Italy for 5 years and rarely encountered similar dishes to what my grandmother introduced us to as children. I learned classic Italian in the region of Italy considered to speak the purest Italian and when I would talk to my grandmother and her aunts in Italian, it was a different world. The way that words and phrases were transformed, chewed on, and recreated was always fun.
This Blueberry Coconut Bread is a gluten-free tribute to the sweet breads that my grandmother would make.  What treats do you think of fondly from your childhood?
Blueberry Coconut Bread
1 cup (2,5dl) amaranth flour
1/4 cup (0,6dl) gluten-free oat flour
1/4 cup (0,6dl) buckwheat flour
1 tbsp baking soda
1/2 tbsp baking powder
pinch of salt
2 eggs
1/2 cup (1,25dl) coconut milk
1/4 cup (0,6dl) agave nectar
1/2 cup (1,25dl) coconut oil (warmed to a liquid)
2 ripe bananas, pureed
1/2 cup (1,25dl) blueberries
1/4 cup (0,6dl) shredded, unsweetened coconut
1. Preheat oven to 350°F (175°F) and grease a bread pan with coconut oil.
2. In a medium mixing bowl combine amaranth flour, oat flour, buckwheat flour, baking soda, and salt.
3. In a separate bowl combine the eggs and agave until well mixed. Then add the coconut milk, coconut oil and bananas, stirring until thoroughly blended.
4. Pour the wet ingredients into the dry ingredients until the batter is smooth. Stir in the shredded coconut.
See Also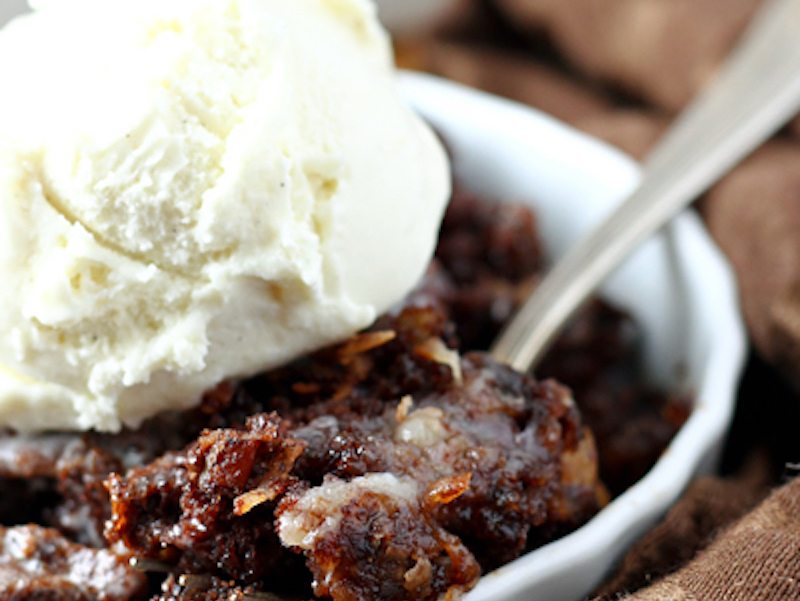 5. Once well combined fold in the blueberries. Do not mix too much so that the blueberries do not get crushed.
6. Pour the batter into the bread pan and bake in the oven for about 40 minutes. Check the bread by inserting a knife in the center.  If the knife comes out with only a little moisture, it is done.
7. Once the pan is cool, remove the bread and let it continue to cool on a cooking rack.
Enjoy!
Christine Curran
Christine Curran has been passionate about cooking since she was little and has become a self-taught Gluten-Free Baker and Vegetarian Cook. She has been sharing this passion on her successful food blog Nourish the Budding Lotus since 2008.