There are Fall flavors in each of the three layers of these bars: a pecan crust is topped by a pumpkin cheesecake mix and finished off with a ginger ale caramel.
By Maggie Cubbler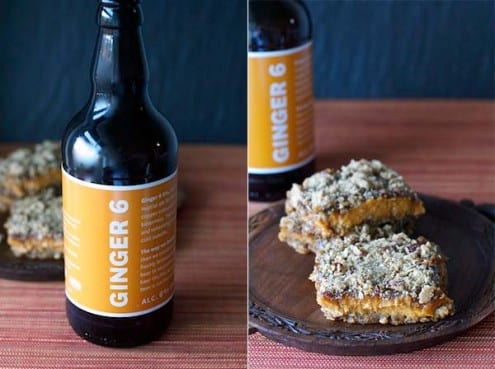 Print
Ginger Ale Caramel Pumpkin Cheesecake Bars
There are Fall flavors in each of the three layers of these bars: a pecan crust is topped by a pumpkin cheesecake mix and finished off with a ginger ale caramel.
Author:

Maggie Cubbler

Prep Time:

30 mins

Cook Time:

1 hour

Total Time:

1 hour 30 mins

Category:

Dessert
For the crust
1 cup

(

155g

) all-purpose plain flour

3/4 cup

packed (

130g

) dark-brown sugar

1/4tsp

salt

1/2 cup

(

120g

) unsalted butter, cold and diced

3/4 cup

(

65g

) porridge/rolled oats

1 cup

(

115g

) pecan halves
For the filling
8oz

package (

225g

) Philadelphia cream cheese, room temperature

1

can (15oz) canned pumpkin

1 cup

(

200g

) granulated sugar

1

large egg

1 1/2 tsp

pumpkin pie spice (or a combination of cinnamon, ginger, and nutmeg)
For the ginger caramel
1 cup

(235ml) heavy (double) cream

1/2 tsp

grated fresh ginger

12 oz

(350ml) flat beer

1 1/2 cup

(

330g

) dark brown sugar

2

TB (30g) unsalted butter
pinch salt
Instructions
For the crust
Preheat the oven toe 350?F/175?C
Grease a 9″x13″ (23cmx33cm) baking pan with cooking spray and set aside. Also, line a rimmed baking tray with parchment paper.
Combine the flour, brown sugar, salt, and butter in a food processor bowl. Process, pulsing quickly, until the mixture has the texture of a coarse meal. Pour into a bowl. If there are any large bits of butter left, gently rub with your fingers until it has reached the desired texture.
Pulse the pecan halves and the oats together in the food processor. Add to the butter mixture and stir, combining well.
Take a little more than half of the mixture and press it into the greased baking pan to form the base crust. Set aside. Spread the remaining mixture over the lined baking tray and bake in the preheated oven for 8-10 minutes or until golden brown. Remove from oven and set aside to let cool.
Bake the bottom crust in the oven for about 12-15 minutes or until golden brown. Set aside. Leave the oven on.
For the ginger caramel
While the crust is baking, bring the cream and the fresh ginger together to a boil in a saucepan over medium heat. Remove from heat and set aside to let steep for about 20 minutes. (Strain when finished.)
Then, boil the flat beer until reduced to about 1 cup. Stir in the brown sugar and the butter and let cook for about 15 minutes or until thickened. Keep an eye on it so it doesn't boil over!
Once thickened, slowly stir in the ginger cream and the pinch of salt. Let it continue to cook for another 5 minutes and then set aside and allow it to cool for about 10 minutes.
For the filling
Combine the pumpkin, cream cheese, sugar, egg, and spices in the same food processor (a quick wipe of the bowl should be ok.) Process until smooth and combined.
Pour the filling over the baked base crust and spread evenly. Bake in the same 350?F/175?C oven for 18-20 minutes or until mostly firm and the sides have slightly risen.
Once the filling is baked, pour over the cooled ginger caramel sauce. Spread evenly and then set aside and allow it to completely cool.
Spread the baked, crumbled crust over the top, pressing it into the caramel. Allow the entire pan to cool completely. Cover with foil and refrigerate for a couple of hours until set.
Cut and serve.
Maggie Cubbler
Maggie Cubbler is a beer-and-food-loving Yankee living in North Yorkshire, England. When she's not pulling pints at a traditional Yorkshire pub, she devotes her time to her Labrador, husband, and working on her blog: Loaded Kitchen. She loves to pair beer with food, cook with beer, and drink a (half) pint or two with the natives. Besides blogging and drinking, Maggie is currently studying to become a certified Cicerone while trying to figure out why Yorkshire men like lime cordial syrup in their lagers. Take a swing by her blog and check out the party in her pans.