Chef Digby Stridiron was raised on St. Croix and even though he has worked in kitchens around the world, you can always taste his love for the islands after just one bite of his food.
By Annelise McAuliffe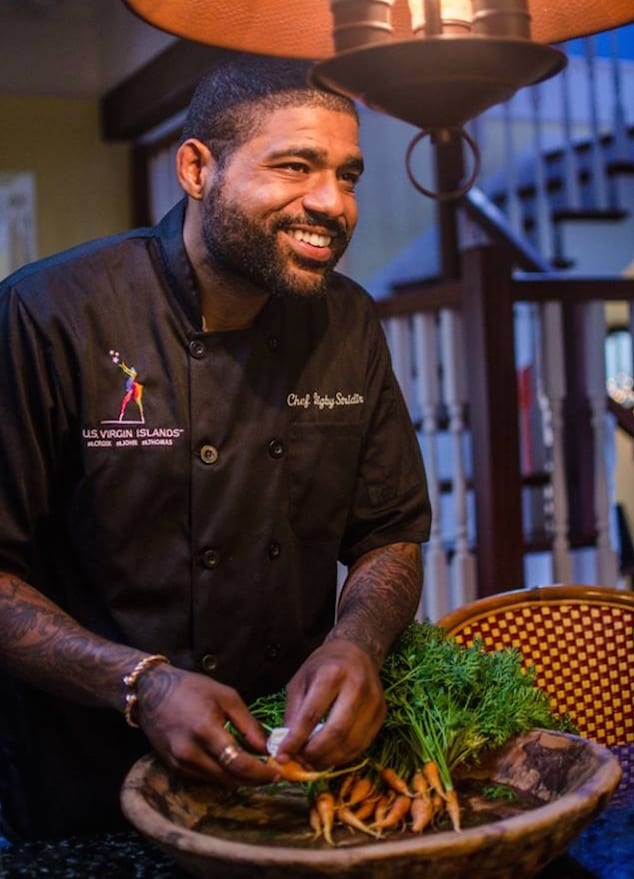 U.S. Virgin Islands Department of Tourism
From working with local farmers to foraging for his own ingredients there is alway something interesting for Chef Digby to explore. And that is exactly what keeps him connected to and excited about his job, which he thinks of as being more like creating art. Working with nature has pushed him to adapt based on what is available, but despite the common challenges it is still an eater's excitement and joy at the smells, tastes, and beauty of his creations that continues to motivate him.
I had the opportunity to try a few of Chef Digby's creations on a different island, on a grey Manhattan day with no warm beach weather in sight. His refreshing saltfish mojo brought the mood to life, despite the weather, with an avocado mousse, kumquats, and a bright passion fruit vinegar. This may sound and look more contemporary than what most people may know of Virgin Islands cuisine and while the presentation is new, the flavors are a romantic tribute to the vibrant island produce. His food continued with a melt-in-your-mouth oxtail cooked in tamarindo and served with potato and a pickled pepper and raisin relish. Foiling the old or traditional alongside the new is something that Chef Digby truly excels at.
"My philosophy for Contemporary West Indian Cuisine is seasonal ingredients and regional recipes. […] The goal is to not only highlight the vibrant culture and unique history but also to restore recipes and to explore old cooking methods with new flavors. Food is my art."
Most islands are known for their dazzling fresh fruits and St. Croix is no different, but when it comes to regional favorites, the Crucian conch, egg fruit, and mamey apple are well loved. Chef Digby enjoys working with the sweet meat of the conch in a variety of ways. He recommends trying it battered and fried, escabeche, stewed, as a ceviche, or even thrown on the grill for smokey flavor.
"For me it's about finding different ways to highlight an ingredient."
Be it featuring seasonal produce or exploring a new found curiosity, chefs often have a favorite ingredient or two of the moment. For Chef Digby, his current top choices are both items that he can go out and find in his surroundings. Often growing in the sand along the beaches, sea purslane is a small green shrub-like weed with a fun salty flavor that lends itself easily to many applications. You may even discover it stashed in Digby's suitcase when he leaves the island, just in case he needs an extra taste of his homelands at far off events. Another current obsession is St. John Sea Salt foraged from the salt ponds of St. John island. With pure flavors, unlike anywhere else, the fresh salts bring a new element to a something so simple, like a salted raw vegetable.
"Whether it's rolling hills or patches of flamboyance there is so much to be inspired by. When I approach a plate I try and keep a clear mind and try to do what feels natural. As if it grew from the earth or it fell from the sky.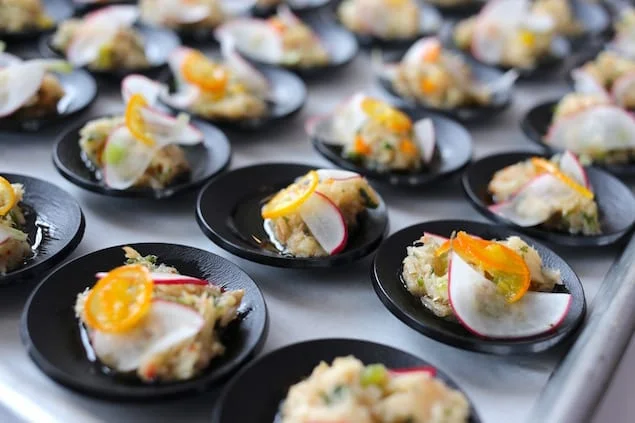 Imran Stephen
Set to open in fall 2015, Chef Digby's restaurant, Balter, will be housed in a building that is over 250 years old and located within a picturesque national park area. Coming his romantic ideas of nature and the ingredients of his surroundings, he will be serving the same Contemporary West Indian Cuisine that he is known and loved for. Highlighting the island's seasonality and local techniques, he will be pushed to think outside of the box to connect with his diners on an even more impressive level. Thanks to the immense support from the community of locals that have watched him grow as a child to a creative adult, Chef Digby will continue to cook amazing food for the people that he loves while teaching tourists a new side of island cuisine.
Our evening concluded on a high note with mamey apple pudding served with dragon fruit, a sorrel crema, plantain chips, St.John sea salt and cruzan lime shot. St. Croix is lucky to be getting a permanent location to enjoy Chef Digby's creations whenever they choose. Be sure to check out Balter this coming fall.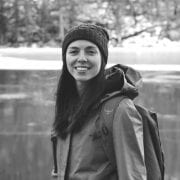 Annelise McAuliffe
Mandatory family outings to the Detroit farmers' market and nightly home-cooked meals cultivated Annelise's respect and curiosity for food. A graduate of The Culinary Institute of America, she spends her free time in New York City recipe testing, eating breakfast all day, and dreaming up international culinary adventures.