These salsas are delicious, one is fruit based, the other tomato based.
By Margo Elfstrom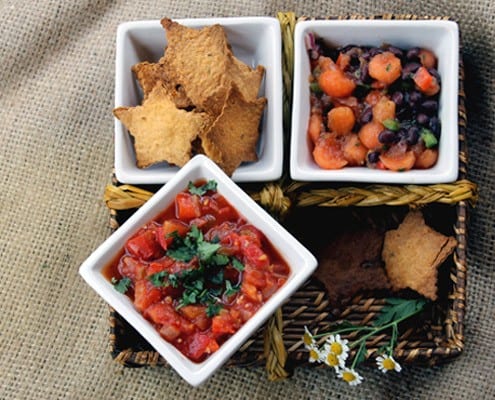 I originally wanted to title this 'A Tale of Two Salsas' but that doesn't quite fit this story. There are two salsas involved but they are not the protagonists of this tale.  This is more of a love story between a man and a woman, a man and his daughter, a man and a holiday and a man and his salsa. Confused?  Read on, I promise it'll all make sense.
The Fourth of July is one of my favorite holidays. This year was hard because at least here in Colorado, we have fires still burning out of control  (my heart goes out to those fighting the fires and those displaced by them) and the very thing that made it special for me was definitely not a good idea.  In my childhood, America's birthday, always meant boxes of snakes, sparklers, firecrackers and other flammable delights.  My father, who never quite grew out of his childish enjoyment of such things, would manage the fun as my cousins and I lit them and reveled in the colors, loud bangs and whizzes and general havoc that we always managed to wreak.  Several of my kin have scars to show for our flirtation with pyromania.
You may ask how this ties into salsa and it's very valid question!  My father originally came to Colorado from New York (this is a romantic tale) when he was in the service and he and my aunt went on a few dates.  My aunt and my mother shared an apartment and so he met my mother in passing.  My aunt was not ready to "go steady with one fellow" and my Dad was assigned somewhere else, so a relationship was not in the cards. Here's the romantic part, for some reason, he couldn't get my mother out of his head and managed to get stationed back in Colorado so that he could see her again.  However, as many of our troops know, military duty can lead to a transient life and my Dad was reassigned to Europe.  Before he left, he proposed to my Mother, telling her that if she didn't say 'yes' she would never see him again.  OK as you can probably deduce, she did!  When he returned to Colorado (and my Mom), he developed a deep and passionate love for Mexican food, the hotter the better.  Salsa was something that he used on nearly everything (even cottage cheese, yuck…not my thing).
Here's where two versions of a spicy Mexican sauce make a cameo appearance.  I created two salsas for a party, one recipe is traditional and one not very.  The not very traditional salsa I made is papaya and black bean.  My Dad would say that it's not salsa, it's a fruit salad on a tortilla chip.  He was a little inflexible about what constitutes salsa but I think he would have really liked it and probably avoided the chip in lieu of a spoon.  That's the great thing about salsa, it's versatile.  Fruit salsa turns a piece of fish into a gourmet meal and tomato salsa makes egg dishes more flavorful and also more colorful.  My suggestion is to make a big batch and store it in your freezer, if you aren't going to use it immediately.  In a pinch, take it out and add some protein.  Viola, a fresh, healthy meal!
See Also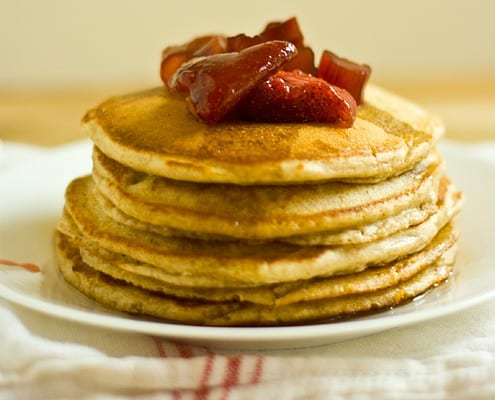 Part of what I enjoyed most about the holiday this year, was bringing together two things that my Dad really loved, the Fourth of July and salsa.  If he were here, he'd be in heaven based on that combination alone.  I miss his quirky sense of humor and him handing me a spoonful of the spiciest salsa he could find and then asking me, "Hot enough for ya?"  I also remember wondering why no one had invented a fire extinguisher for your mouth (any inventors out there, who want to run with this one?) .  I'm posting this in honor of his memory, living with him was sometimes a challenge (especially when he was wielding salsa) but what I remember the most is the fact that I was loved.  I hope that your Fourth of July was fun, exciting and filled with people, who hold a special place in your heart!
Print
4th of July, Fireworks and Salsa
These salsas are delicious, one is fruit based, the other tomato based.
Author:

Margo Elfstrom-A SaucyCook

Prep Time:

15 mins

Cook Time:

10 mins

Total Time:

25 minutes

Yield:

2

0

1

x
For Tomato Salsa (Thanks to Jazze22 on Food.com)
4 cups

of tomatoes chopped and drained

1 1/4 cup

of onions, finely chopped

3/4 cup

green peppers, finely chopped

1/2 cup

of jalapeno peppers (leave in seeds and veins to increase heat but be careful!)

3

cloves of minced garlic

2 teaspoons

cumin

2 tsp

coriander

2 tsp

oregano

2 tsp

pepper

1

Tbs sugar (I used coconut sugar)

2

Tbs vinegar

1

(15 oz) can of tomato sauce

1

(12 oz) can of tomato paste
Juice of

1

lime
For Papaya Black Bean Salsa
1

(15 oz) cup cooked or canned black beans

2

medium papaya (ripe!) peeled, seeded and diced

1/2

red bell pepper, finely chopped

1/2

green bell pepper, finely chopped

1/2

medium red onion, finely chopped

3/4 cup

of pineapple juice

1/2 cup

of lime juice (about

4

limes)

1/2 cup

of chopped cilantro

2

Tbs ground cumin

1

Tbs smoked paprika

1

Tbs minced jalapeno pepper (add seeds and veins if you want more heat)
Salt and pepper to taste
Instructions
For Tomato Salsa
Mix all ingredients together and bring to a slow boil for about 10 minutes. Refrigerate for at least 30 minutes before serving.
This can be frozen with good results.
For Papaya Black Bean Salsa
Combine all ingredients into a large mixing bowl and mix together well. Refrigerate at least 30 minutes before serving.
This salsa in the refrigerator for 4-5 days.
Serve with tortilla chips or if you're counting calories, serve with rice crackers! Delectable!
Margo Elfstrom
Margo began her love affair with food as soon as she was old enough to rub squash in her hair. She lives in Denver with an Australian Shepard and a gray cat. They both love her cooking. Most of her time is spent in the kitchen but she still finds time to photograph pretty things, write and create artwork. Margo is definitely right brained.