The vibrancy of the yellow spaghetti squash adds color and texture to this vegetarian and gluten free, fall Squash bowl recipe from Industry Kitchen. A healthy rendition of the classic chicken pot pie, the recipe calls for spaghetti squash tossed in a mushroom ragu, creamy maple ricotta, spicy chickpeas, served in a squash vessel.  Basically fall in a bowl.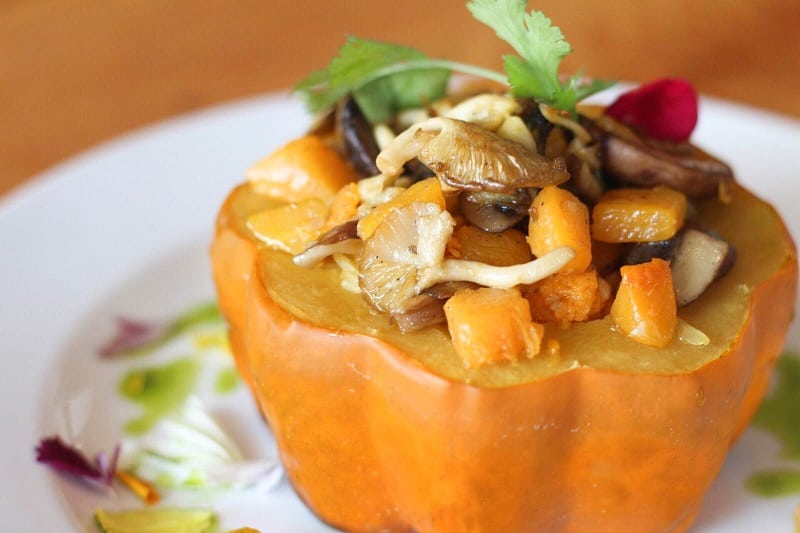 Located beneath the FDR along the bank of the East River, Industry Kitchen is overlooks the water and offers diners views of the East River and the Brooklyn Bridge. While wood fire pizzas are typically the stars of the show at the restaurant, for the fall there is a very strong contender. One that may surpass the many pizza orders i.e the SquashPot.
See below for the recipe.
Print
Fall Ready Squash Bowl Recipe from Industry Kitchen
A healthy, vegetarian and gluten free rendition of the classic chicken pot pie created by Industry Kitchen. Made with Spaghetti Squash, ricotta cheese, chickpeas and a hint of maple sweetness. The Squashpot is the perfect recipe to start the fall season.
Author:

Industry Kitchen

Category:

Dinner

Cuisine:

Vegetarian and Vegan Comfort Food
• 2 medium sized acorn squash
• 2 ½ cups cooked Spaghetti Squash

1 ½

lbs Mushroom Ragù

1 cup

Spicy Chickpeas

1 cup

fresh ricotta cheese

2 oz

maple syrup
Spaghetti Squash Ingredients

2

medium sized acorn squash
Salt
Mushroom Ragù Ingredients
1 tablespoon

olive oil

1 ½

tbls butter

1

pinch salt

1 ¼

lbs wild mushroom (sliced)

¼ cup

minced shallots

2

tbls Cognac

½ cup

vegetable broth
salt and pepper to taste
Spicy Chickpea Ingredients
1 cup

cooked chickpeas (drained)

1 tablespoon

olive oil

1

pinch of cumin

¼ tsp

cayenne pepper
salt and pepper to taste
Instructions
Spaghetti Squash Directions
Preheat oven to 450F°.
Cut squashes in half, sprinkle a little salt on each half and place cut side down on a baking sheet.
Bake for 15-20 minutes or until skin can be easily pierced with a fork.
Once out of the oven, flip each squash piece over to release steam.
Let cool for about 5 minutes and pull strands away from the skin using a fork.
Set squash shells and spaghetti to the side
Mushroom Ragù Directions
Heat olive oil in a skillet over medium-high heat. Stir in mushrooms and salt.
Cook, stirring occasionally, until any liquid evaporates and mushrooms are light brown.
Add butter and shallots. Stir while cooking, until mushrooms are caramelized.
Drizzle in Cognac; continue stirring until liquid evaporates.
Stir in vegetable broth, salt and black pepper to taste. Reduce heat to medium-low, cook until slightly thickened and mushrooms are tender; set aside.
Spicy Chickpea Directions
Preheat oven to 400F°.
Pat chickpeas dry.
Mix chickpeas, oil, cumin, cayenne pepper and salt/pepper in a bowl.
Spread chickpeas on a baking sheet.
Roast for 25 minutes then turn heat off.
Keep chickpeas in the oven until cool for crispiest results.
Once cool, crush chickpeas by hand or in blender on pulse.
Squash Pot Plating
Take empty acorn squash shells and spread 1/4 cup of ricotta in each. Fill with Spaghetti Squash and Mushroom Ragù, then top with crushed Spicy Chickpeas. Drizzle with maple syrup.H
Prepping for the new season Industry Kitchen will be adding a few seasonal additions. Seasonal dips made from beet, pumpkin, and sweet potato accompanied with a side of veggie chips; the Squash pbowl, and a Spiced Poached Pear for dessert with a side of hot chocolate and Madagascar vanilla ice cream. Fall signature cocktails include The Autumn Cobbler with applejack whiskey, pear liquor, lemon juice topped with cinnamon bark.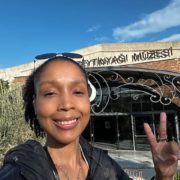 Alyssa Holder
Alyssa Holder is a writer specializing in food and travel topics since 2015.