Eggplant Pasta Alla Norma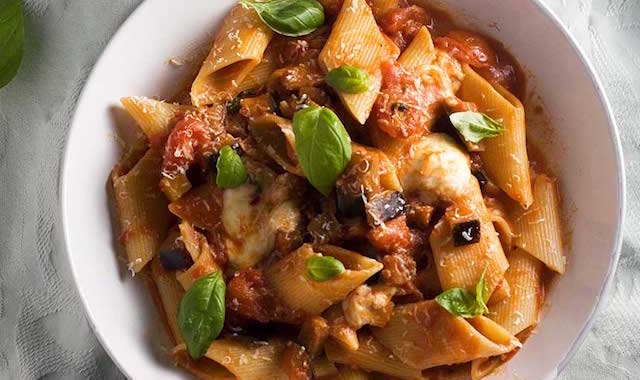 A simple Sicilian pasta with tomatoes and eggplant is everything you need on a cold winter night.
By Helen Buxton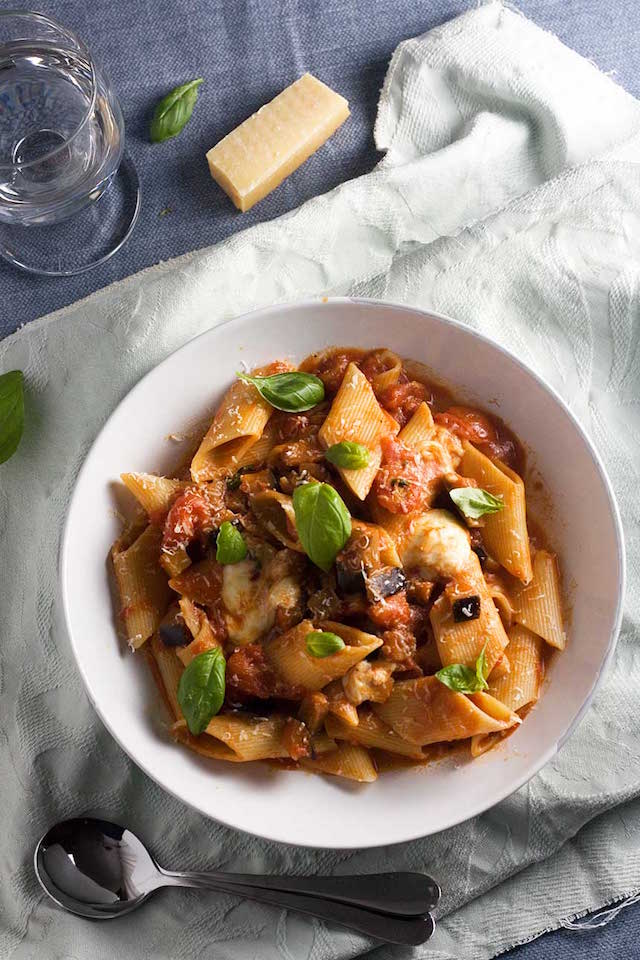 There are times when a simple meal is all you want. Quite a lot of the time, actually.
Today's post came about because a simple meal (and I mean REALLY simple) was truly in order.
This recipe based on a handed-down-through-the-generations Sicilian recipe called Pasta alla Norma was perfect!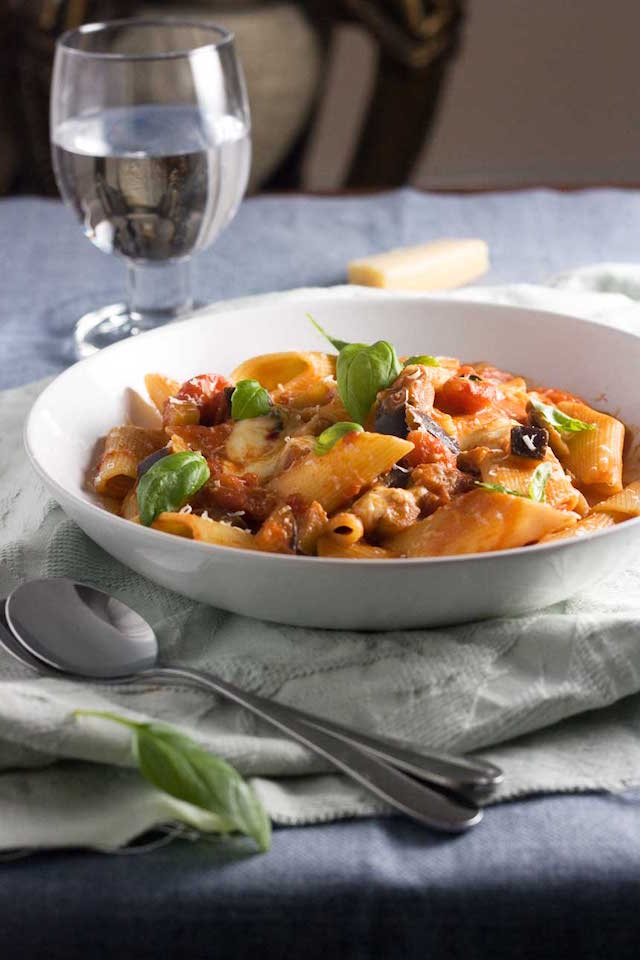 I've found that there are a few little keys to a successful tomato-based pasta:
-Use a bit more garlic than you think you need.
-Use whole tinned tomatoes rather than chopped/crushed, as they tend to be better quality then crush them yourself in the pan as you go.
-Make sure you add plenty of salt and a bit of sugar for sweetness – then taste as you go.
-Add fresh herbs towards the end of cooking.
-Save some of the pasta cooking water and stir it into the dish at the end to loosen everything up and leave the pasta perfectly coated in sauce.
Another 'key tip' for this particular dish is to not be shy with the olive oil. You need a good few glugs at the beginning to cook your eggplant cubes. You really don't want to be eating woolly, undercooked eggplant (believe me, I've done it plenty of times!).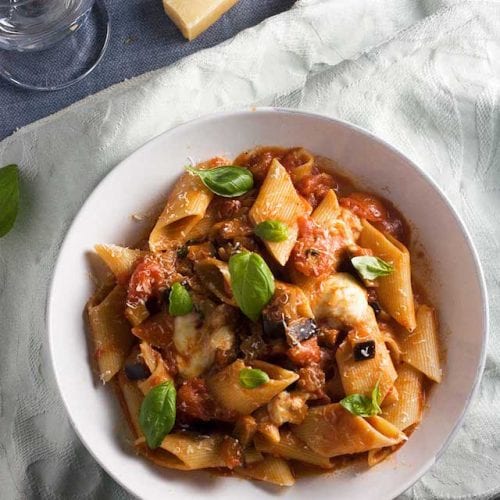 Eggplant Pasta Alla Norma
Helen Buxton
A simple Sicilian pasta with tomatoes and eggplant is everything you need on a cold winter night.
Ingredients
4 to 5

tablespoons

olive oil

1

large eggplant/aubergine

cut into small cubes (about 1cm²)

3

– 4 cloves garlic

crushed or sliced

¼ to ½

teaspoon

crushed chilis

2

x 400 gram/14-ounce cans whole tomatoes

about 1 tablespoon balsamic vinegar

1

heaped teaspoon sugar

salt and pepper

to taste

a bunch of fresh basil

450

grams

pasta

I used a variant of penne, but any medium-sized pasta shapes will do

1

ball of mozzarella

freshly grated parmesan cheese

to serve
Instructions
Heat up the olive oil, then stir in the eggplant, making sure it all gets coated in oil. Let cook, stirring occasionally, for about ten minutes.

Add the garlic and chilis to the pan and cook, stirring, for a couple more minutes.

Add the tomatoes to the pan, then crush and break them up with your wooden spoon. Pour in the balsamic vinegar, then add the sugar and season generously. Simmer for about 15 minutes or until the eggplant is nice and soft.

Stir in most of the basil at the end of the cooking time.

Meanwhile, boil the pasta according to the packet instructions (until al dente is best), then drain, reserving some of the water.

Add the pasta to the sauce and toss until well coated. Add enough of the reserved cooking water to make the dish nice and smooth and 'saucy', then rip the mozzarella into the pan and stir again briefly.

Serve out into bowls immediately, topping with grated parmesan and the remaining fresh basil.
Notes
It's really important to check that the eggplant/aubergine is nice and soft before you tip the pasta into the sauce. Undercooked eggplant is nasty!
Use ricotta cheese or pecorino instead of the mozzarella if you like (if you choose pecorino, you won't need parmesan as well).
It isn't the end of the world if you use crushed/chopped tomatoes, but whole tomatoes add a bit more 'quality' to the dish.
If you like, you can make this into a pasta bake. Just tip the finished pasta and sauce into a baking dish, sprinkle with plenty of parmesan and broil (UK - put under the grill!) until the cheese is bubbling and browned (probably about 4-6 minutes).
Helen Buxton
Hi, I'm Helen. I'm originally from the UK but currently live between the UK, Greece and Australia with my husband (it's a long story!) We'll get settled eventually! I love nothing better than to travel the world … and sample the local street food. I absolutely love (attempting to!) put together flavours and fresh ingredients from all over the world – just so long as the recipes are easy peasy to make!