During the cultural winter festival, Montréal en Lumière, Chef Julien Robillard of XO Restaurant recreates fine art styles in fun and edible forms.
By Annelise McAuliffe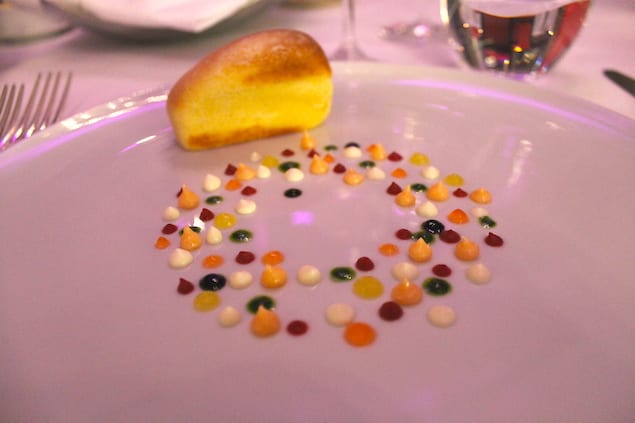 Art and food meet each time diners visit a restaurant to discover what a chef has created. However, rarely do chefs take on the task of recreating well know masterpieces or art styles in their foods.
During the Montréal en Lumière festival in February, Chef Julien Robillard imagined up a nine course menu with each dish mirroring a style of art. From pointillism to pop art, diners at the XO Restaurant located in the St. James hotel were surprised by each plate as they discovered how the chef chose to recreate a period of art or evoke a set of emotions in its observers.
Throughout the festival, the people of Montreal and abroad are encouraged to stay out late, ignore winter, and explore the city. Galleries throw their traditional hours to the side, put on handfuls of special exhibits, and the innovate restaurant scene keeps visitors well watered and fed. At XO, Julien is combining the dining and art elements of Montréal en Lumière into one delicious experience.
On any other night, when a special event menu is tucked away, Chef Julien and his team create a French meal with a beautiful modern twist. It may sound like the food of any other large metropolis, but when the chef visits your table with a chocolate form of his face and begins to melt it with a blow torch, things are straying from the norm.
One of the first dishes of the evening began with a small bite to get the palate and the creative mind in gear with the recreation of pointillism. The flavors of the iconic Montreal bagel were broken down into dots of individual flavors of salmon, black sesame, cream cheese, and red onion. Assembled in a ring shape, diners were able to view the shape of the bagel and then put the flavors back together as they swiped through the dots with a piece of bread.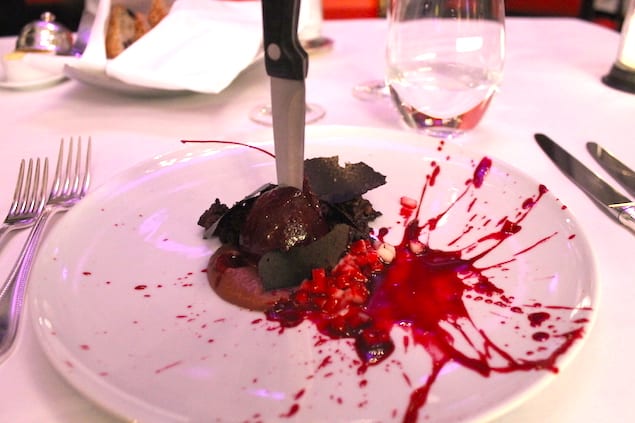 The edible art scene continued through Impressionism to an emotional German Expressionism plate evoking emotions of anger and distrust with delicious beets and blood pudding. Diners moved on in the restaurant-gallery to a playful Dada dish that asked diners to question social conventions as they set aside their silverware to dig through objects on the plate with a plastic spoon and eat the refreshing tuna and caviar with banana and avocado.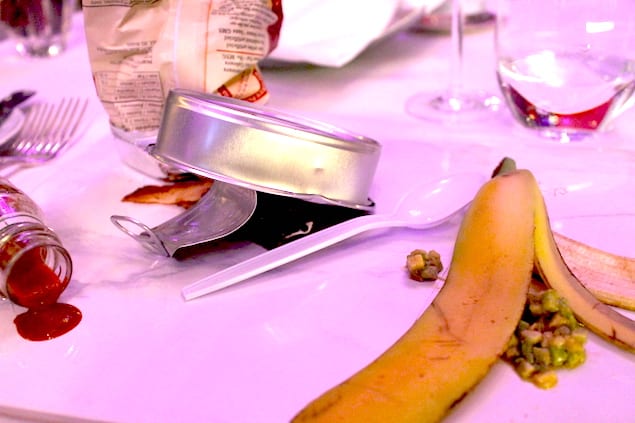 Cubism, minimalism, and abstract expressionism dishes finished off the meal and allowed people to feel more than full before they ventured out for the night of Nuit Blanche. Between the chefs attentiveness to the dining room, the expertly paired wines, and the thought-provoking menu as a whole, the people of Montreal were stimulated and inspired to continue their exploration of the city on such an exciting and sleepless night.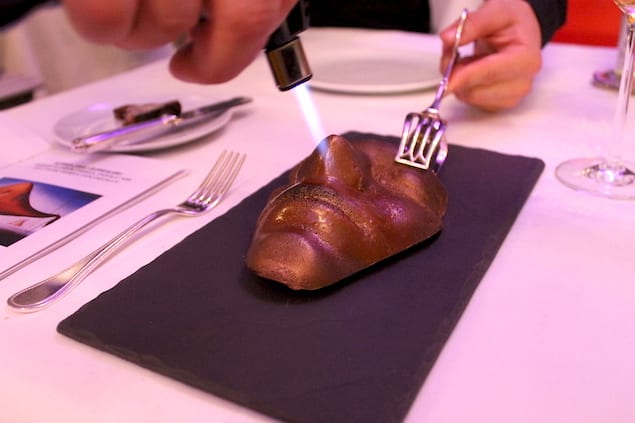 XO Restaurant
355 Saint-Jacques Street
Montréal, Quebec
H2Y 1N9
514-841-3111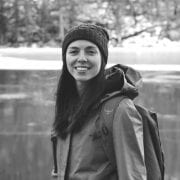 Annelise McAuliffe
Mandatory family outings to the Detroit farmers' market and nightly home-cooked meals cultivated Annelise's respect and curiosity for food. A graduate of The Culinary Institute of America, she spends her free time in New York City recipe testing, eating breakfast all day, and dreaming up international culinary adventures.