Pearl's Diner is the baby of Burger Theory and La Waffle. The former being a food truck (and WHAT a food truck, when the mere mention of it brings joy), the other a wholesale business.
By Celeste Wong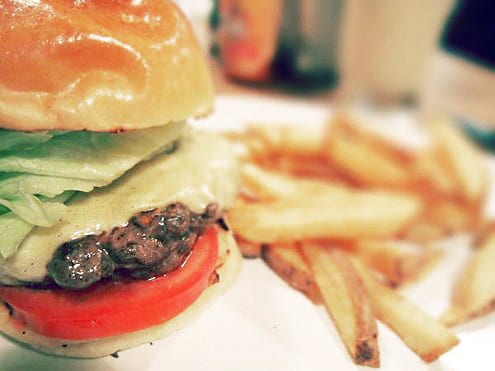 It was launched a while ago, but word spread like wildfire and when I was there on the 2nd night, the place was already pumping.
And rightly so, for folks would be familiar with the amazing tasting burgers that Burger Theory pump out on a regular basis. And now it comes with waffles, all day breakfast and the benefit of a chair and table, huzzah!
On my first visit there, I couldn't help but let myself be suckered in by the burgers. Chasing down Burger Theory and its location can sometimes be hard, and the queues can be a little bit of a turn off. So having their burgers in a fixed location is a huge bonus, and I found myself eagerly ordering my usual: the ever so simply named Burger #1.
Do you know the look of joy of a kid's face at Christmas? That would be what is mirrored on mine when my burger turned up at the table. Oh, come to Mama, you juicy burger, you. Juicy, fresh, with beautifully soft buns. Every bite is tasty, and every bite is heavenly. There is no denying just how gorgeous the whole burger is, and I could easily eat them everyday. My waistline and weighing machine would disagree, but the mouth and the stomach wouldn't. Oh yeah.
I also ordered a milkshake, which was good though there wasn't very much of it, which made me sad. Need more milkshake! On the table as well, is an array of sauces to go with your fries. I was in sauce heaven! I love having a buffet of sauces to choose from, who wants boring ol' tomato sauce? Ew.
We also ordered buttermilk fried chicken wings and coleslaw to try. They were good, but they weren't mindblowingly good. The burgers were mindblowingly good, the chicken wings just weren't. The coleslaw was definitely one of the better ones I've tried, but again, just not that memorable. Stick with the burgers. Plus, the chicken wings were actually a little pink on the inside. I hesitate a little but ate it anyways.
So, my verdict on Pearl's Diner? Go. Definitely go. Because their burgers will blow your mind. They seem to be slightly bigger than the truck burgers, which is good, as they also cost more which is also due to the addition of fries. I wish they had an option not to have fries with your burgers, because frankly, I just don't eat that much fries.
Other than that, bring cash. No eftpos yet! UPDATE – they have eftpos now! Yay!
Pearl's Diner
04 1981 5660
38A Briar Road
Felixstow, SA 5070
Celeste Wong
A lover of all things beautiful, Celeste has travelled to many countries to marvel at all the different cultures, food and beauties that gives the country its mystery. Writing for BerryTravels.com and Becoming-Beautiful.com, she strives to share as much of herself while still enjoying life to its fullest.