If you give a man a bowl of cauliflower soup, he's going to ask for a slice of bacon.
By Julia Mueller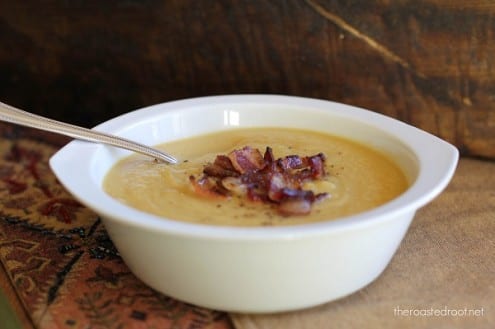 If you give a man a bowl of cauliflower soup, he's going to ask for a slice of bacon.
Ingredients
1 large head cauliflower, chopped into florets
1 large yellow onion, chopped
5 cloves garlic, minced
1 cup unsweetened almond milk (or whole milk/half & half)
2 cups vegetable broth
1 teaspoon salt (or to taste)
3 strips bacon, cooked and chopped for serving, optional
Instructions
In a large pot, heat 1 tablespoon of oil and add the onion. You're going to sauté the onion until it is soft and browned, so once the onion is just beginning to turn brown, add the garlic, stirring frequently, continuing to sauté until onion has a lot of color to it and the garlic is fragrant – this process should take about 12 to 15 minutes.
While the onion and garlic is sautéing, chop the cauliflower into florets and discard the green stems.
Fill a large pot with a couple of inches of water and insert your steamer*
Bring water to a boil, add the cauliflower florets and steam covered until the florets are soft when poked with a fork, about 6 to 8 minutes.
Add the sautéed onion and garlic, steamed cauliflower, almond milk, vegetable broth and salt to a blender (all ingredients except for the bacon) and blend until completely smooth. The texture should come out pillowy, creamy and soft.
If the soup is not already piping hot coming out of the blender, pour it back into the pot and gently heat to desired temperature, stirring frequently.
If desired, chop 3 strips of bacon and cook them over medium heat until they crisp up. Serve soup with crisped bacon on top or skip the bacon to make this vegetarian.
Notes
*If you don't have a steamer, simply put the cauliflower strait into the boiling water and strain it out using a colander when cauliflower is done cooking.
Julia Mueller
As a fitness and nutrition enthusiast, Julia writes a food blog called The Roasted Root, where she share recipes that are mostly vegetable and meat based along with stories of her travels and day-to-day activities. Julia loves enjoying fresh home cooked meals with her friends and family, and the process of developing recipes, photographing, and sharing them.