Walking through the front door, you are met with a wall of copper moulds and pans of every imaginable shape and size. This is E.Dehillerin.
By Jess Lacey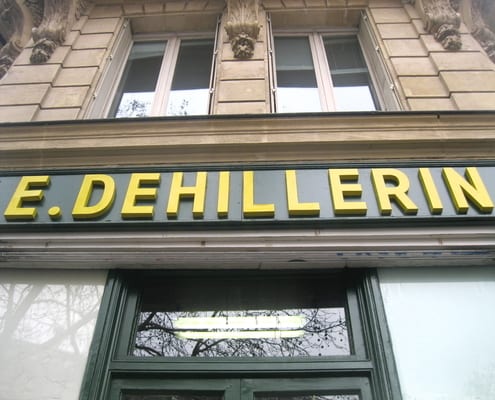 For the last few years, my favourite presents to receive have been anything kitchen related. Sad, but true. A few years ago my parents gave me my first proper kitchen knife, brought back from Paris. It was the year I learned the value of lying when someone asks 'what did Santa bring you for Christmas' (especially if you're on a date). The shop they bought it in, E.Dehillerin, is the ultimate cooking shop. Nearly 200 years old, and based in the heart of the former market quarter of Les Halles in central Paris, it supplies every conceivable kitchen utensil, pot, pan and gadget. Walking through the front door, you are met with a wall of copper moulds and pans of every imaginable shape and size.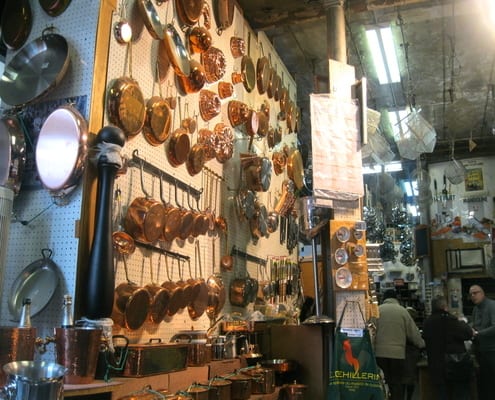 On the ground floor, they sell every utensil you never knew you needed in a labyrinthine tangle of aisles. If you are the kind of person who looks at their 23cm kitchen knife and think you really could also do with a 25cm knife, this is the place for you. Petit fours moulds, knives, spatulas, sieves and pots leave floor to ceiling shelves groaning, and even then, once you look up you will find whisks the size of your legs adorning the ceiling beside frying pans and cake tins. Downstairs is geared towards professional kitchens, with copper pots big enough for me to be able to hide inside them, should I ever need.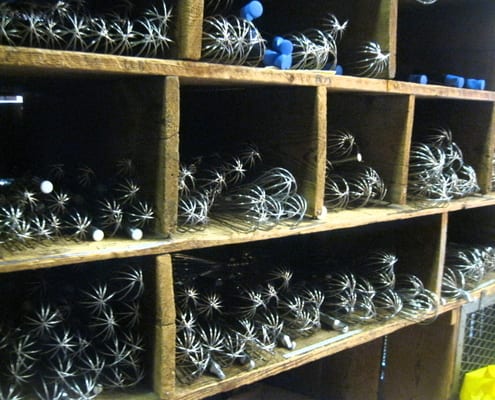 This is not the place to bag a bargain, and the pricing system is a little hard to work out, each item being coded with books of codes located at the end of each shelf. Everything sold here is designed to last, the kind of thing you will pass on to the next generation. Defying Parisian guide book stereotypes, the staff are friendly, speak English, and turn a blind eye to annoying tourists like me taking photos of their shop.
E.Dehillerin
18 et 20, rue Coquillière – 51, rue Jean- Jacques Rousseau
75001 PARIS
Phone: +33 1 42 36 53 13
Fax: +33 1 42 36 54 80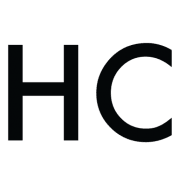 Jess Lacey
Jess Lacey is an Irish food blogger and soon to be lawyer. She has found a home in London, Dublin, Leiden, Melbourne and Aarhus. After a brief foray into the world of Michelin starred cooking, she decided to keep cooking and food as relationships based purely on passion rather than income. She travels frequently, and justifies this by writing about it. More of her musings and recipes are available on her blog, Canal Cook.