Double Chocolate Brownie Cookies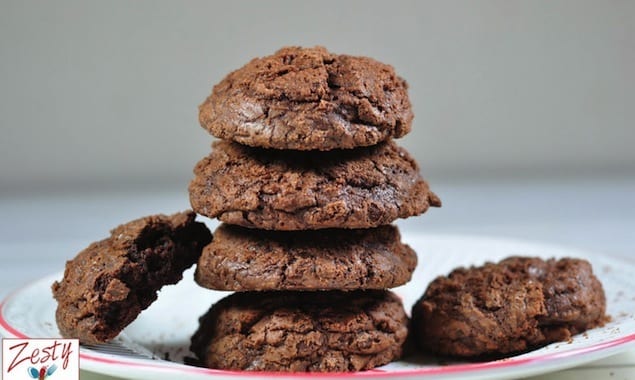 A chocolate lovers dream, this recipes combine brownies, cookies, and coffee for an irresistible combination. Take them out of the oven when they are still a bit soft for a chewy, brownie texture.
By Swathi Iyer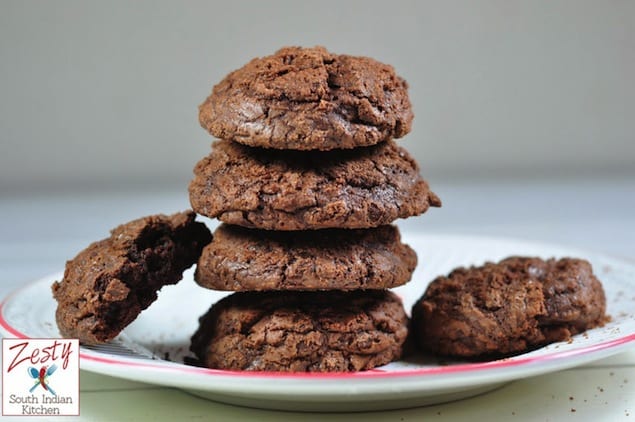 This recipe is a chocolate-lovers dream and if you like brownies you will love it. It is in-between a brownie and a cookie. I added instant coffee powder to bring out the chocolate flavor.
On cooling it will harden a little bit, so it is ok to pull out of the oven when they are still a bit soft. Then cool the cookies in the wire rack for another 10 minutes.

Double Chocolate Brownie Cookies
A chocolate lovers dream, the irresistible recipe combines brownies, cookies, and coffee. Take out of the oven when they are still soft for a chewy texture. This recipe is adapted fromFood and wine
Ingredients
6 ounce semisweet chocolate, chopped
4 tablespoons unsalted butter
2 Jumbo eggs, at room temperature
1 cup sugar
½ teaspoon pure vanilla extract
1 teaspoon instant coffee powder
⅛ teaspoon salt
¾ cup all-purpose flour, sifted
⅓ teaspoon baking powder
1 cup of semisweet chocolate chips
Instructions
In a microwave safe bowl, melt the chopped chocolate with the butter, stirring a few times, until smooth, about 7 minutes.
In another large bowl, using a whisk or a beater, beat the eggs with the sugar at medium speed until thick and pale, about 5 minutes.
Beat in the vanilla, instant coffee powder and salt.
Using a rubber spatula, fold in the melted chocolate, and then fold in the flour and baking powder.
Stir in the chocolate chips. Scrape the batter into a shallow baking dish, cover and chill until well chilled and firm, about 45 minutes.
Preheat the oven to 350° and line 2 baking sheets with parchment paper. Working in batches, scoop 2-tablespoon-size mounds of dough onto the prepared baking sheets, about 2 inches apart.
Bake for about 10 minutes, until the cookies are dry around the edges and cracked on top. Let the cookies cool on the baking sheets for 10 minutes, and then transfer to a rack to cool completely before serving.
Make Ahead the cookies can be stored in an airtight container at room temperature for up to 4 days.
Swathi Iyer
Swathi ( Ambujom Saraswathy) loves to explore cuisines from all over the world, and write about the ones that she and her family enjoyed on her blog Zesty South Indian kitchen. She loves to gives an Indian touch to several of the world cuisine, and has weakness for freshly baked bread. She is also a mom to two wonderful young kids who gives a up or down vote to the food she creates.