Soft and slightly-sweet double chocolate roll-out cookies made with buckwheat for a nutty flavor and extra texture. Can also be made in slice-and-bake form!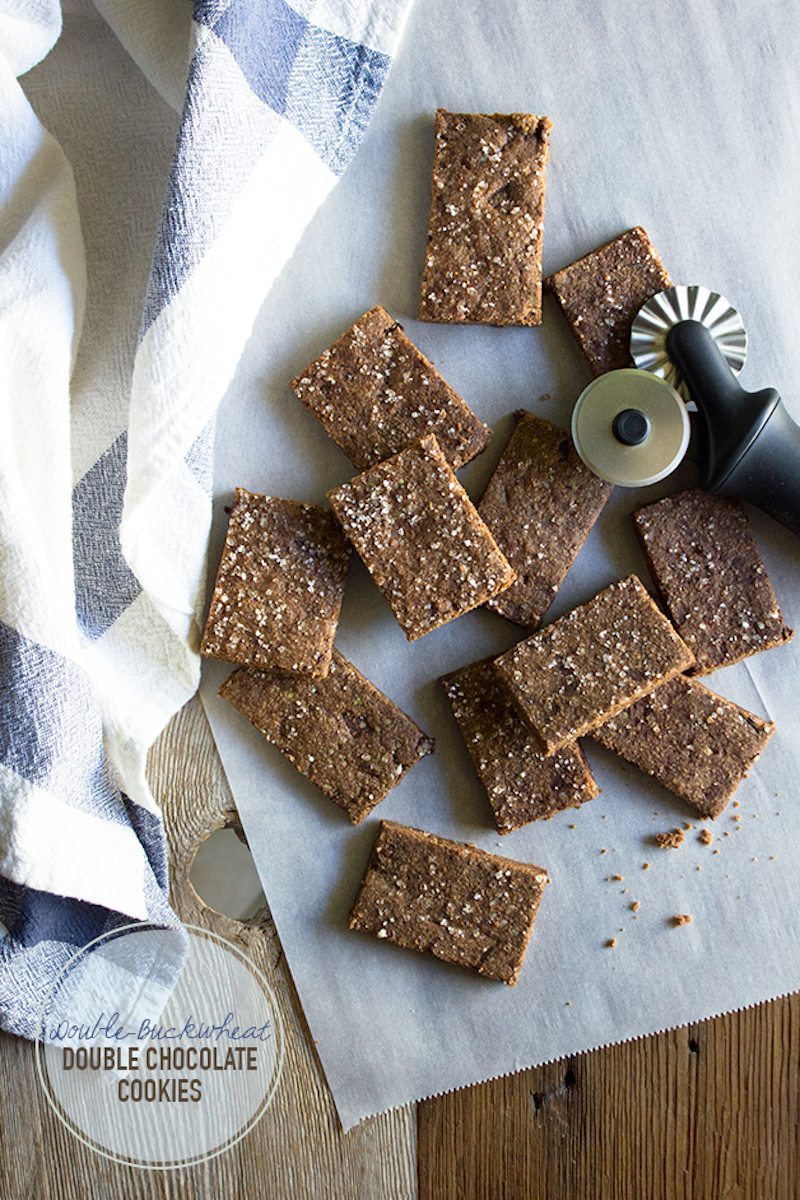 This recipe comes from Dorie Greenspan's upcoming book Dorie's Cookies, which is the only reason why a few fancy new ingredients are making there way onto this blog, because the truth is I had *zero* clue what kasha was before making these cookies. They're not your average cookies by any means…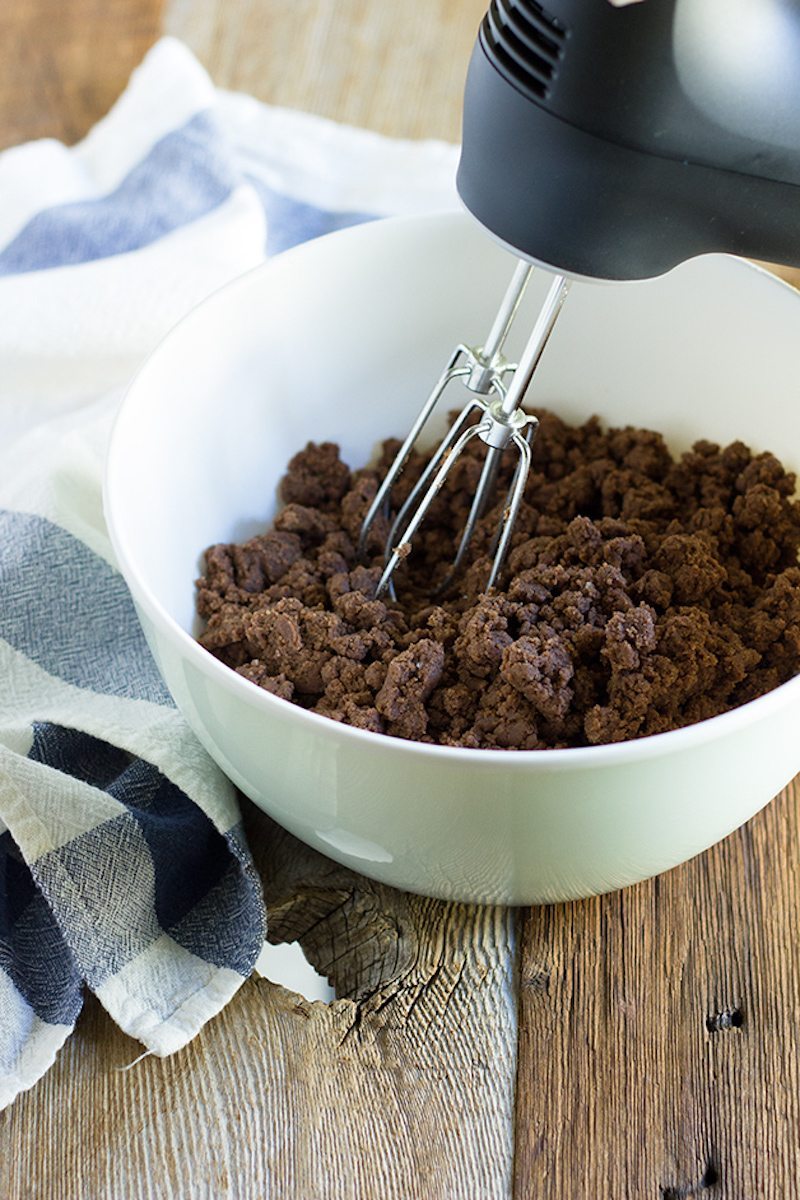 They're not your average cookies by any means – chocolate-y but not super rich, sweet but just sweet enough to be a cookie, and a little nutty thanks to the addition of buckwheat flour and kasha (which I've learned is actually just buckwheat groats). The kasha also adds a little bit of texture and crunch along with the combo of sanding sugar and fleur de sel sprinkled on top. Rolled-out, baked, and sliced (like I did here), they're soft and tender from edge to edge, but you can also slice and bake them for a cookie with a little more of a crispy edge and soft center.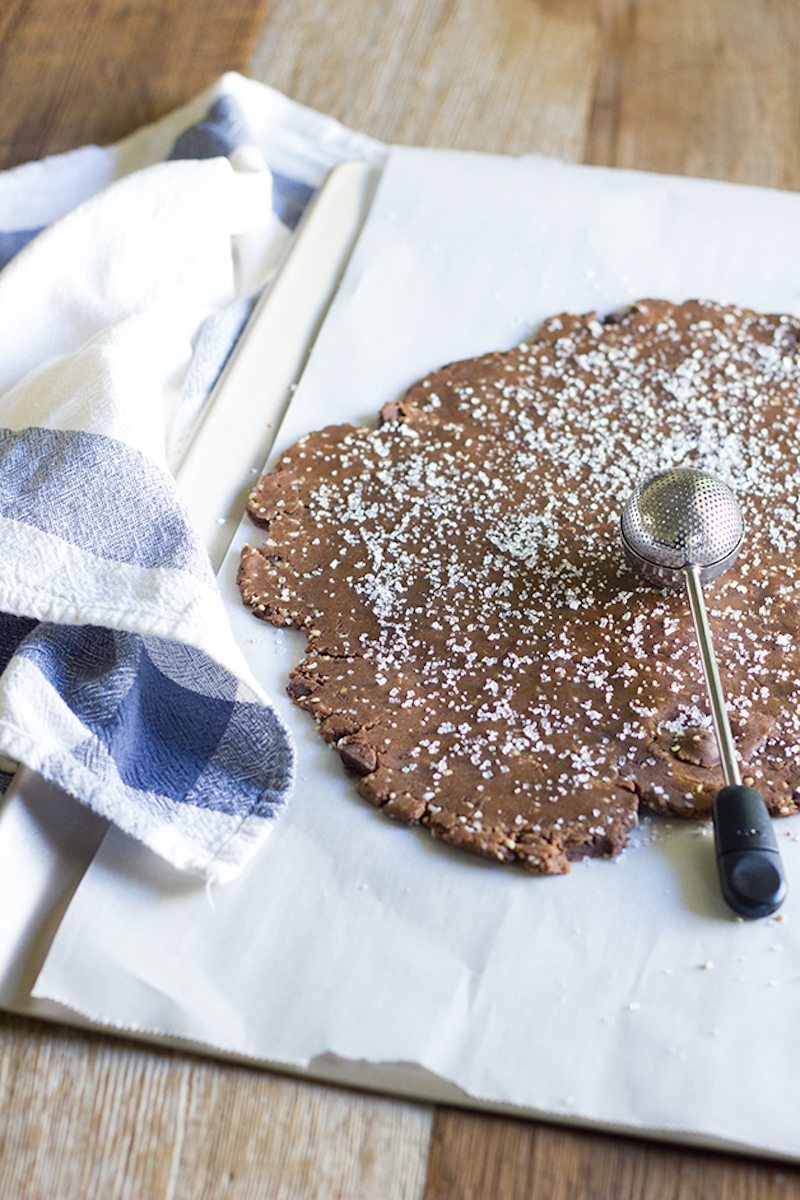 Even when they're rolled out and baked, they're super low-maintenance to make, which is kind of the vibe they give off in general. I'd call these good "snacking cookies" – nothing too desserty or serious, but perfect with a cup of tea or coffee, or just a little afternoon pick-me-up. ;)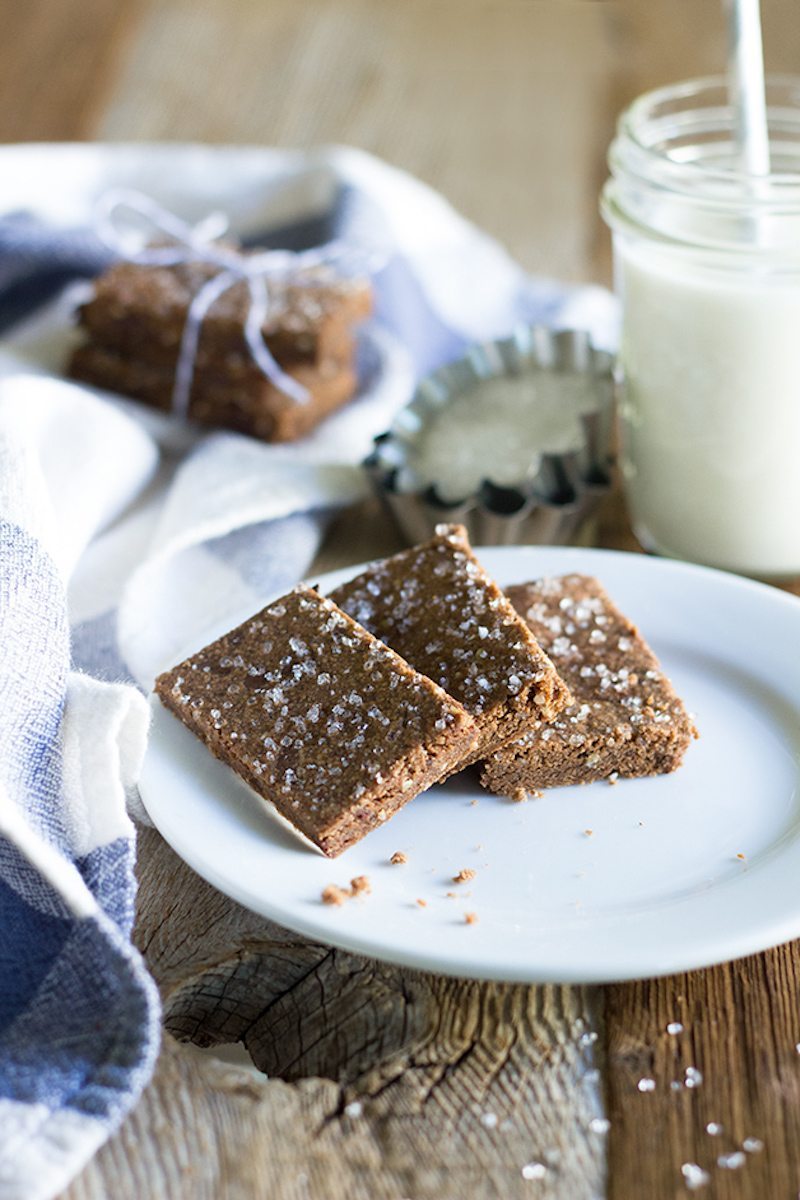 Print
Author:

Alexandra Azary

Yield:

60

-

80

cookies

1

x
Category:

Dessert, Snacks
1 2/3 cups

227 grams; 8 ounces all-purpose flour

1 cup

120 grams; 4 1/4 ounces buckwheat flour

1/4 cup

21 grams; 3/4 ounce unsweetened cocoa powder

2

sticks (226 grams; 8 ounces unsalted butter, cut into chunks, at room temperature)

1/2 cup

100 grams; 3 1/2 ounces granulated sugar

1/4 cup

50 grams; 1 3/4 ounces packed light brown sugar

1 teaspoon

fine sea salt

2

large egg yolks (at room temperature)

1 teaspoon

pure vanilla extract

1/4 cup

45 grams; 1 5/8 ounces kasha, preferably Wolff's medium granulation**

4 ounces

113 grams bittersweet chocolate, finely chopped

2 teaspoons

sanding sugar (mixed with

1 teaspoon

flake sea salt, such as Maldon, for sprinkling)
Instructions
If you're going to make free-form cookies, position the racks to divide the oven into thirds and preheat it to 350 degrees F. (If you'll be making slice-and-bake cookies, preheat the oven after the logs have chilled.)
Whisk both flours and the cocoa powder together. (If the cocoa is lumpy, sift the dry ingredients, then whisk to blend.)
Working with a stand mixer fitted with the paddle attachment, or in a large bowl with a hand mixer, beat the butter, both sugars, and the salt together on medium speed until smooth, about 3 minutes. Drop in the yolks and beat for another minute, scraping the bowl as needed, then add the vanilla. Turn the mixer off, add the dry ingredients all at once and mix on low speed until they are almost incorporated. This takes a minute more than you might think it should at first the dough looks crumbly and then it starts to darken, moisten and come together. Mix in the kasha and chopped chocolate. Use a large flexible spatula to give the dough another few turns and mix in any loose ingredients.
Turn the dough out and divide in half.
To make free-form cookies: Shape each piece of dough into a disk. One at a time, place between pieces of parchment paper and roll out to a thickness of 1/4 inch. It's the thickness, not the shape, that matters. (I usually go for a rough oval or round.) Peel away both pieces of paper from one piece of dough, then return the dough to one piece of paper and slide it onto a baking sheet (if you don't loosen the bottom paper, the dough will curl during baking). Repeat with the second piece of dough. Sprinkle the dough with the sugar-salt mixture.
Bake for 14 to 15 minutes, rotating the sheets top to bottom and front to back at the midway mark, or until the cookies are set — the edges will be more set than the center, which might still have a bit of give when gently prodded. Slide each cookie slab, still on the parchment, onto the counter. Using a pizza wheel or a knife, cut the big cookie into as many cookies of whatever shape you like. I cut it into strips about 1 inch wide and then cut these diagonally so that I end up with diamond-shaped cookies. Slide the cookies, still on the paper, onto a rack to cool to room temperature.
To make slice-and-bake cookies: Roll each piece of dough into a log that's 12 inches long. Wrap well and freeze for at least 1 hour, or refrigerate for at least 2 hours.
When you're ready to bake, preheat the oven as on page 203. Slice each log 1/3 inch thick and place the cookies about an inch apart on two baking sheets lined with parchment paper or silicone mats. Sprinkle with the sugar-salt mixture.
Bake for 11 to 12 minutes, rotating the sheets top to bottom and front to back at the midway mark until the cookies are firm around the edges and give slightly when pressed in the center. Transfer the cookies to racks to cool completely.
Storing
If you'd like, you can freeze the dough, either rolled out or shaped into logs, for up to 2 months; be certain to wrap it well. The logs can also be refrigerated for up to 3 days. The cookies can be baked (or sliced and baked) straight from the freezer; add a minute or two to the baking time. The cookies will keep covered at room temperature for about 4 days; they can be frozen, well wrapped, for up to 2 months.
Notes
*The amount of free-form cookies made will depend on how you cut them. In my batch I wound up with about 50.
**While the original recipe calls for granulated kasha, such as Wolff's medium granulation, I used buckwheat cereal, which is milled buckwheat groats and appears to be a similar product (if not entirely the same).
Recipe from Dorie's Cookies by Dorie Greenspan. (Note: I made the cookies using the weight measurements given in the book. Some of the volume conversions are different than what I typically use, so the volume measurements given here are the ones given by Dorie's book rather than the standard conversions I use. This is the perfect example of why measuring by weight is always more accurate!
Alexandra Azary
Alexandra is a self-taught baker and food photographer who shares her creations on her personal blog, Confessions of a Bright-Eyed Baker. She's passionate about food and aims to inspire more people to bake from scratch and get comfortable in the kitchen.