Coffee lovers, this is for you! Whip up a batch of mocha cupcakes filled with dark chocolate and topped with a coffee buttercream.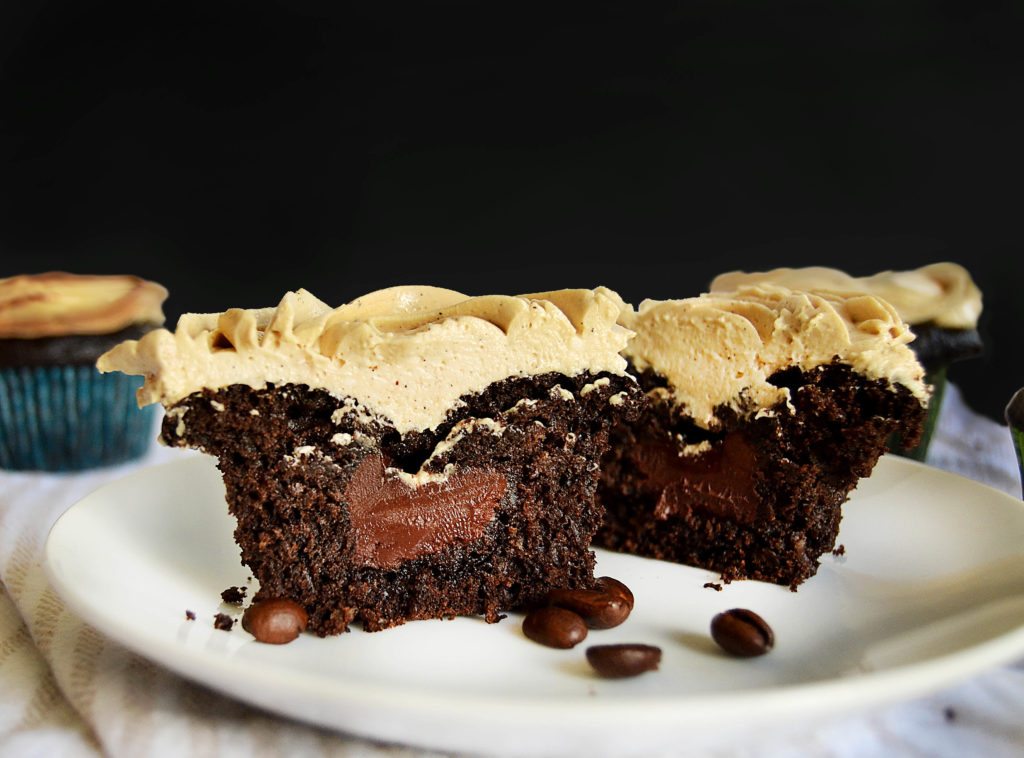 These bad boys are especially fun to make. Not only are the cupcakes themselves super easy to whip together, but the filling is deliciously dark and the buttercream tastes like like rich, creamy coffee ice cream. You may find yourself eating it with a spoon before it even gets the chance to sit atop a cupcake. And that's quite alright.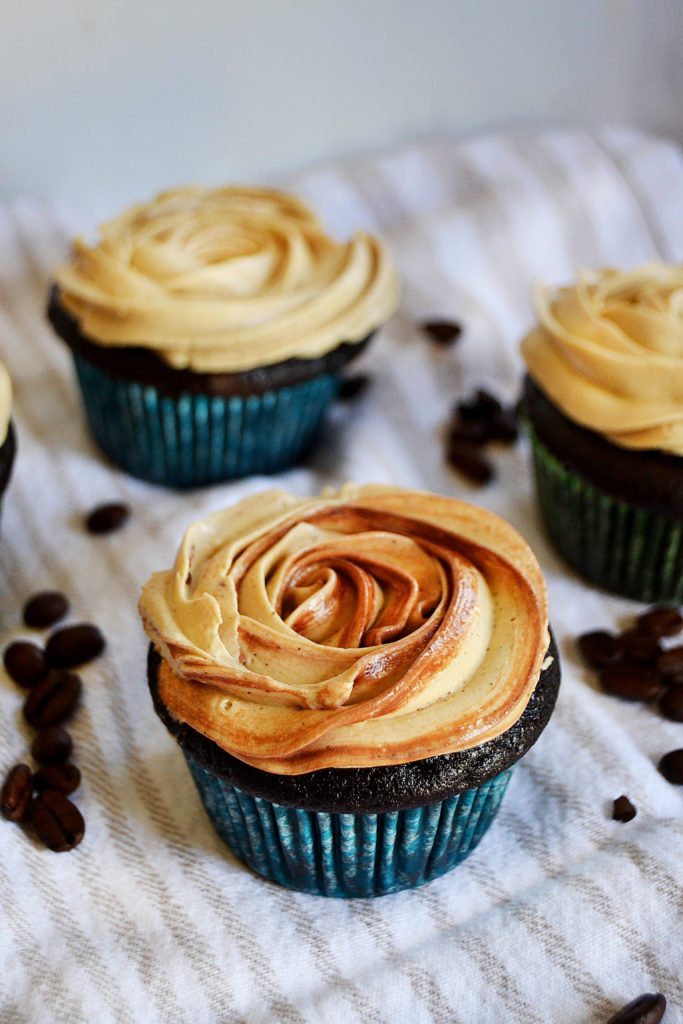 If your buttercream fails you, either by being too warm or separating into a curdled looking butter soup, read up on my tips here. To pipe your buttercream out into a pseudo-rose like I did, all you need to do is use a large 2D piping tip and start from the center of the cupcake. If you are piping from directly above the cupcake and move the tip slightly to move out towards the edges, you'll automatically have a rose. Ta-da!
If you like the dual toned look, mix together about a tablespoon or two of the buttercream with an equal amount of the remaining ganache filling (softened) and spoon that onto the inner sides of your piping bag before adding the buttercream. Just don't go too crazy or the chocolate will overpower the coffee flavor.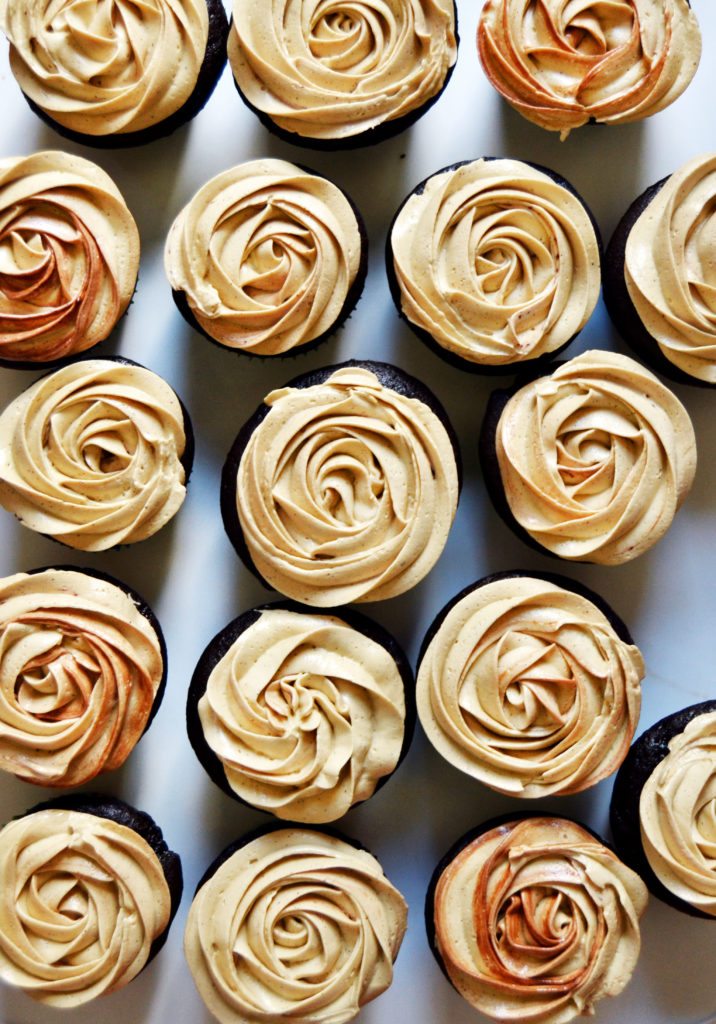 It's a good idea to make the ganache for the filling 12-24 hours ahead of time so it has time to solidify in the fridge. I threw in some Kahlua but that was just for funsies, and not at all mandatory for success.
Want more images of how to fill and frost the cupcakes? Check out my other chocolate-filled cupcakes here. If you'd like to go a little lighter on the cake to balance out the decadent buttercream, I highly recommend these chocolate walnut cupcakes instead. They're my fave – I would have used them here but I wanted to give you guys a new recipe. (And after the past few months, y'all deserve some fresh recipes!)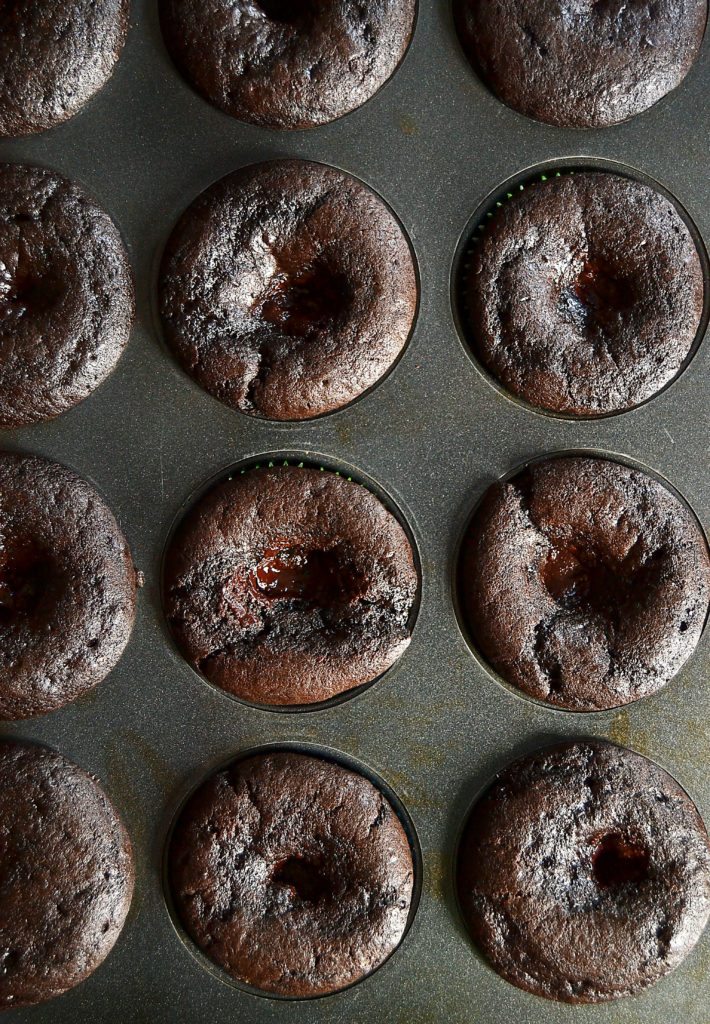 Click here for the coffee buttercream recipe.
Print
Dark Chocolate-Filled Mocha Cupcakes
Coffee lovers, this is for you! Whip up a batch of mocha cupcakes filled with dark chocolate and topped with a coffee buttercream.
Author:

Leili

Yield:

24

cupcakes

1

x
Category:

Baking
Chocolate Ganache Filling
6 ounces

semisweet or bittersweet chocolate (I used 56%)

1/2 cup

heavy cream

1 tablespoon

hazelnut liqueur (like Kahlua (optional))
Cupcakes
8 ounces

bittersweet chocolate I used a mix of 66% and 70%

1/2 cup

1 stick, or

8 ounces

unsalted butter

1/2 cup

water

1 teaspoon

espresso powder or instant coffee

2/3 cups

cocoa powder Dutch process if possible

1 3/4 cups

all-purpose flour

1 cup

granulated sugar

1/2 cup

light brown sugar

1 teaspoon

salt

1 teaspoon

baking soda

1 cup

yogurt (I used Greek, non-fat)

4

large eggs

2

egg yolks

2 teaspoons

vanilla extract
Coffee Buttercream
Click the link above for the recipe.
Instructions
For the Ganache Filling:
Chop the chocolate. Then scald the heavy cream and pour it over the chocolate. Stir until smooth and add the Kahlua, then set aside or refrigerate to solidify.
For the Cupcakes:
In a large bowl, melt together the chocolate, butter and water (I used the microwave, but double boiler works too). When the water is steamy, remove from heat and whisk to combine. Whisk in the espresso powder and cocoa powder until smooth. Set aside to cool slightly.
Preheat the oven to 350F and line two muffin pans (for 24 muffins) with cupcake liners.
In a medium bowl, mix together the flour, granulated sugar, brown sugar, salt, and baking soda.
In the cooled water/chocolate mixture, whisk in the yogurt, eggs and yolks one at a time, and vanilla extract. When it's all incorporated, slowly fold in the flour mixture until completely combined, but do not over-mix.
Scoop the batter into the prepared cupcake pans. Scoop out about a tablespoon of hardened ganache and plop it into the center of each cupcake. Throw 'em in the oven for 18-20 minutes, or until a toothpick in their side comes out clean. Meanwhile, work on your buttercream.
For the Buttercream:
Mix the espresso powder into the brewed espresso, and set aside or refrigerate to cool completely.
In the bowl of an electric stand mixer or another heat proof bowl, whisk together the egg whites, sugar, and pinch of salt. Place the bowl over a pot of simmering water, and stir occasionally as the egg whites heat up and the sugar dissolves. After about 7-9 minutes, the whites should be hot. Remove from heat and get ready to beat it.
Beat on medium speed to thicken the egg whites, then bump it up to high until stiff peaks form and they've cooled somewhat, about 10 minutes.
Slowly add the softened butter, a tablespoon at a time. Not only is this how your egg whites become buttercream, but it also serves to slowly lower the temperature of the egg whites. Take your time to add the butter, it should take at least 15 minutes.
With the mixer on low, add the cooled brewed espresso slowly. Continue to beat on medium-high speed until it all comes together. It may curdle and come apart at first, but have faith. If you're having issues, check out my tips on buttercream here.
Once the cupcakes are done baking and have cooled completely, use a piping bag and a 2D piping tip to frost the cupcakes. Leftover buttercream can be refrigerated or frozen, and can be brought back to life by bringing it back to room temperature before beating it together. Cupcakes will last for a few days in the fridge, or even at room temp if you've got a cool-ish kitchen.
Leili Ansari
Leili is a Boston-based food writer and recipe developer who shares all of her kitchen adventures on her food blog, Yin and Yolk. She loves cooking up healthy comfort food dishes but also has a passion for pastries, and strives to create recipes that are both delicious and wholesome. When she's not experimenting in the kitchen, she can be found perusing the local farmer's market, jogging through the city, or trying out new places to eat.