Dark Brown Sugar Bundt Cake with Almond Streusel and Lemon Curd Glaze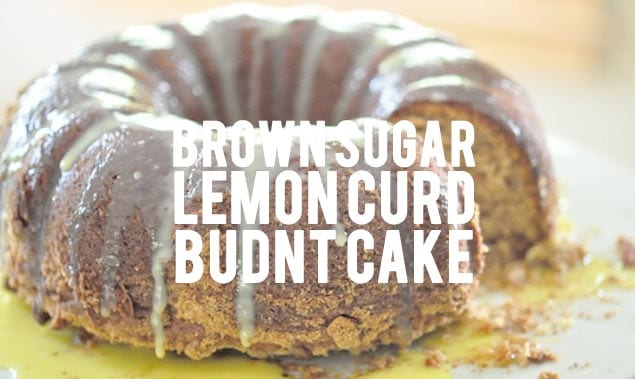 [adrotate banner="39″]
This comforting cake uses dark brown sugar to give it a dark, smoky, molasses flavor, perfect for morning coffee or afternoon tea. The bottom is crusted in an almond streusel crunch and it topped with a lemon curd glaze.
By
Sarah Dodge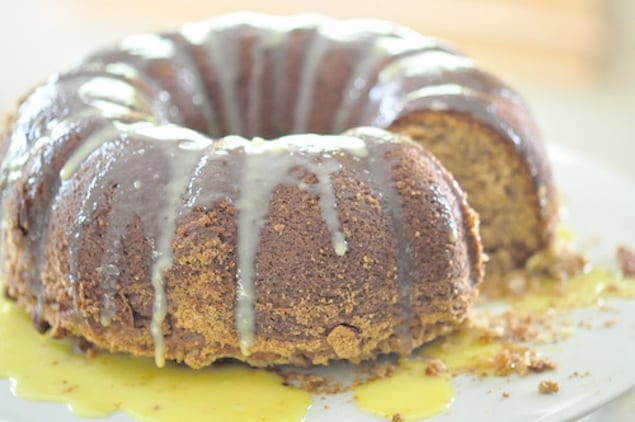 I'm a farmer's market girl. As often as I can, I buy many of my fruits, vegetables, and kitchen staples at my local markets. Additionally, I used to have access to my own chickens, but now I oftentimes rely on friends in the neighborhood for eggs.
But sometimes a compromise must be made, and when I'm involved in a lot of baking or cooking for my private parties, there are times that call for buying eggs in bulk. It is those times that I purchase Safest Choice Eggs. Through a process of dipping certified humane laid eggs in a warm water bath, Safest Choice Eggs ensures that their is no chance for salmonella in their consumer's eggs. So when I know I'm not able to support my local farmer's and buy their eggs, I definitely want to use eggs that I know will be safe when cooking with partially cooked or even raw eggs. After all, pasteurized equals peace of mind.
I recently bought a couple dozen Safest Choice Eggs and put them to good use recreating one of favorite cakes: a dark brown sugar bundt cake with a lemon curd glaze.
I love bundt cakes and I wish I saw them more often. I love the way they taste. I love the way they look. And I love the word "bundt" which derives from the german word "bund" meaning "tied together." Being the nerd that I am, I think that's pretty great and it makes me wonder why more weddings don't contain bundt cakes?!
Anyway, after a great, but exhausting weekend in Charleston, I returned home to a rainy Atlanta which I gladly welcomed. Rainy days always find me wanting to bake and create something comforting. This cake is as traditional and as comforting as it gets. Using dark brown sugar gives this cake a darker, smokier more molasses taste which I love with my morning coffee or afternoon tea. I added an almond streusel on the bottom for a nice little crunch and played around with a partially cooked lemon curd to make more of a glaze. Using the Safest Choice Eggs allowed me to get the glaze consistency that i was looking for while not worrying that the eggs weren't entirely cooked.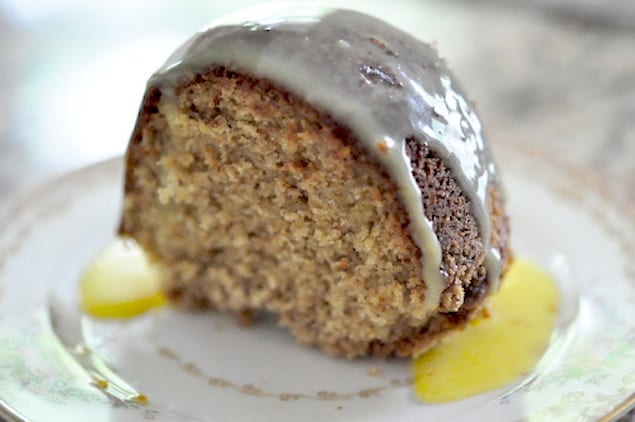 Dark Brown Sugar Bundt Cake with Almond Streusel and Lemon Curd Glaze
This comforting cake using dark brown sugar to give it a dark, smoky, molasses flavor, perfect for morning coffee or afternoon tea. The bottom is crusted in an almond streusel and it topped with a lemon curd glaze.
Ingredients
Cake
2 cups dark brown sugar
1 cup granulated sugar
1 cup butter, at room temp
6 Safest Choice Eggs
1 tablespoon vanilla
3 cups cake flour
½ teaspoon salt
8 ounces sour cream, light or regular
½ teaspoon baking soda
1 TBS cinnamon
2 tsp ginger
½ tsp ground cloves
Streusel
½ cup light brown sugar
6 tablespoons all-purpose flour
6 tablespoons slivered almonds
6 tablespoons rolled oats
1 teaspoon cinnamon
1 teaspoon salt
6 tablespoons cold unsalted butter, cut into small pieces
Lemon curd glaze
3 lemons
1½ cups sugar
¼ pound unsalted butter, room temperature
4 Safest Choice Eggs
½ cup lemon juice (3 to 4 lemons)
⅛ teaspoon kosher salt
Instructions
Cake
Grease and flour a bundt cake pan or tube cake pan. Heat oven to 325°.
whisk flour, salt , and baking soda, cinnamon, cloves, and ginger together in a bowl and set aside.
in a stand mixer or using a hand mixer, beat sugars with eggs on medium speed until light and fluffy.
add eggs one at a time beating well in between each addition. add vanilla and mix until incorporated.
add flour mixture and sour cream to the sugar mixture alternating between the two and starting and ending with flour. mix on slow and mix just until incorporated. make sure to not over mix or else your cake will lost it's nice tenderness.
bake for 1hr 20min or until cake tester comes out clean. rotate cake every 20 minutes or so in oven to ensure even cooking. remove from oven and allow to cool for 20-30 minutes in pan before removing.
Streusel
In a bowl, combine the brown sugar with the flour, almonds, oats, cinnamon and salt. Add the butter and with a pastry cutter or your hands, cut or rub the butter into the mixture evenly. Refrigerate the streusel.
Lemon Curd Glaze
using a micro-plane, remove the zest of 3 lemons, being careful to avoid the white pith. pulse the sugar and lemon zest in a food processor until well blended.
Cream the butter and beat in the sugar and lemon mixture. Add the eggs, 1 at a time, and then add the lemon juice and salt. Mix until combined.
Pour the mixture into a 2 quart saucepan and cook over low heat until almost thickened (about 8 minutes), stirring constantly. at 170 degrees the curd will thicken. i took it off at about 140 degrees where it was still runny and would create a nice glaze for the cake. serve warm or refrigerate and keep for further use.
[adrotate banner="38″]
Sarah Dodge
Sarah is a pastry chef by day and a photographer by night. She fuses her two passions together to share with others in Atlanta, Georgia.