Two stunning national dishes. One winner. Spain competes against Australia in the next installation of the Culinary World Cup.
By Maya Dangerfield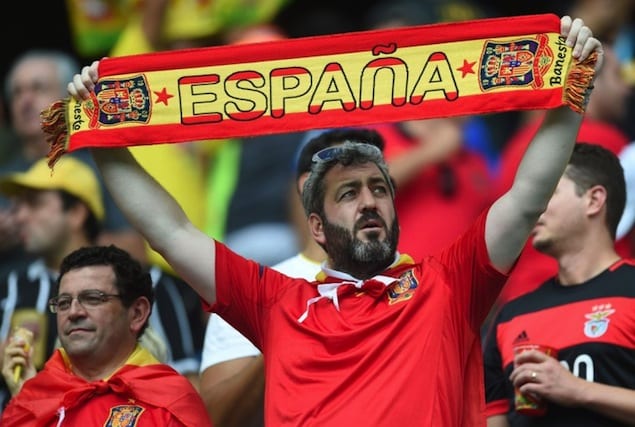 darkroom.baltimoresun.comAlthough Spain's match against Australia won't take place until June 23rd, we couldn't wait for this culinary matchup. So far both teams suffered disappointing starts to the World Cup; Spain was unceremoniously trounced by the Netherlands and Australia faced a solid 1-3 loss against Chile. While it may look bleak on the pitch, the teams have brought their A-games in this installment of Honest Cooking's Culinary World Cup.
Honest Cooking's Culinary World Cup is a competition that pits restaurants producing the best national cuisines against one another in a head-to-head cooking competition. Australia and Spain are the next competitors in the culinary series that will determine which nation boasts the best food (and hopefully soccer team).
Perhaps they had something to prove. Maybe their national pride was wounded. Or, luckily for them, perhaps it was a good day. Each country's contributions to the Culinary World Cup prove that Australia and Spain are formidable competitors whose initial losses on the field  won't discount their later successes. In the fiercest competition by far, Australia and Spain compete for national pride in  this installment of Honest Cooking's Culinary World Cup.
The Matchup.
It's hard to talk about Spanish cuisine without mentioning paella. The much beloved national dish was chosen by Boqueria, a Soho tapas restaurant known for their flavorful Paella de Mariscos. Their Australian competitor, represented by the East Village's Tuck Shop,  submitted a traditional beef meat pie.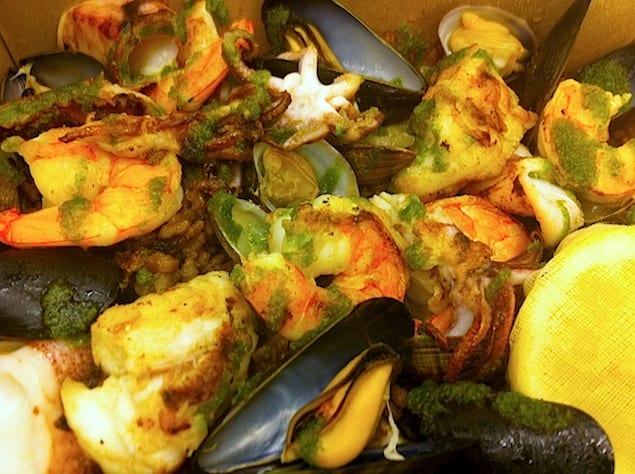 Both dishes are powerful statements that represent some serious national pride. Marc Vidal of Boqueria knows that paella, like the Spanish national team, is a serious contender in any culinary challenge. Vidal notes that "it can be made with meat, seafood, fresh spring vegetables – pretty much anything you can imagine. If made well it's dark, rich, smokey and has a perfect socarrat at the bottom that your friends will fight over!" Undeterred by their world champion competition the Aussies submitted an unassuming dish that packed a wallop. According to Niall Grant of the Tuck Shop the meat pie is not only "the original football food" but a "bloody birthright." "It's handheld and delicious. Perfect for the terraces. In England, it's the only thing one eats at a footie match."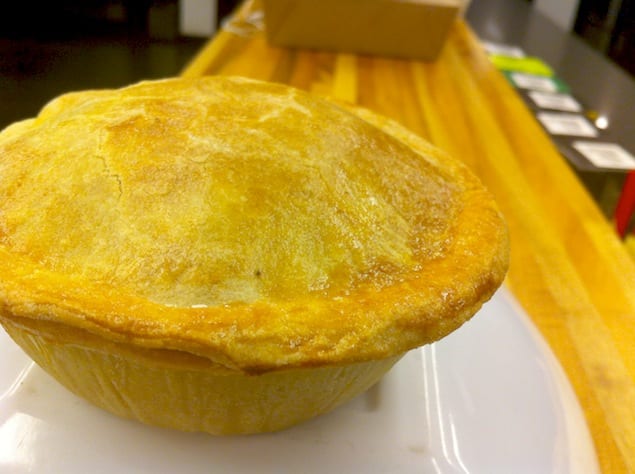 The Game
Spain's paella was sensory delight. Chockfull of mussels, shrimp, and octopus , it emitted a tempting aroma that brought a series of onlookers (even some from other offices) to inquire about the dish.
Besides being visually stunning the paella was delicious. Not overly oily or under flavored, the rice was perfectly cooked and had the crisp char found in any well-made paella.  The mussels and squid were standouts in the dish and were complemented nicely by a salsa verde. No wonder the team at Boqueria compared the dish to Lionel Messi (An Argentina native who plays for FC Barcelona) , a technically gifted forward whose goal scoring is rivaled only by his many accolades. Stiff competition indeed, but Australia came prepared with another powerful, brilliant, and adept player—Lionel Messi (it's generally agreed upon that he's one of the best). The Tuck Shop's traditional meat pie seemed a straightforward affair—beef filling tucked away in a pastry shell. Meat pies typically have two problems: either they're overly dry with little flavoring or they've overly sauced, which gives the dish an unfortunate school cafeteria quality. The Tuck Shop's filling did neither—carefully constructed to give a moist, slightly spicy, flavorful filling tuck inside a flaky golden-brown crust.
The  Final Score
It came to the last minute of play before overtime when the 2-1 decision was made in favor of Australia's meat pie.   Expertly crafted with a surprising robust flavor, Australia squeaked by with the win. When asked about his national team's chance of winning the World Cup Grant's reply was poignantly self-aware. "Less chance than an ice cube in the Outback!"
Want some more world cup action? See if Australia scores again with their World Cup game against Spain which airs June 23rd at 1pm.  Stay tuned for the next Culinary World Cup match between Ghana and Portugal.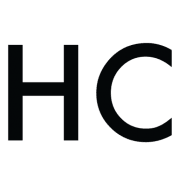 Maya Dangerfield
A recovering teacher and editorial intern for Honest Cooking, Maya began her journalism career at Greatist.com. A food lover who never misses dessert, she is also a passionate sports enthusiast. Currently Maya freelances for FoodmakerMedia and copywrites for Techturized. Her writing has been published for Greatist.com, Shape.com, and The Washington Post.