A creamy soup to lift tempers and temperatures during the last cold weeks of winter.
By Priya Mahadevan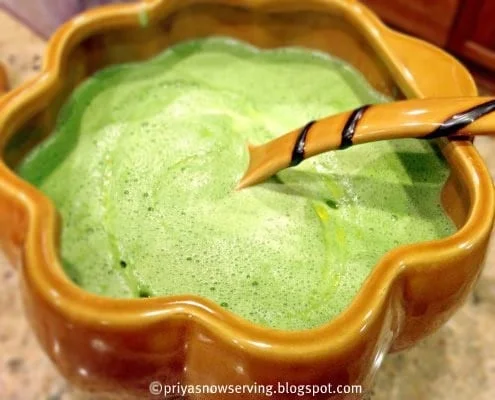 Earlier this month, I was praying that that darned groundhog would not see his shadow – but he did and what's more, ever since the weather has altered to winter-like conditions with nasty wind-chills. This, after a really balmy spring like January is not cool – I mean for the weather to be so cool.
This weather has warranted some warming of them cockles – so I made me a cream of spinach soup that got eaten to the last drop.
Agreed, I actually used cream in this recipe, but a cup for about 10 cups of spinach and a small fistful of pine nuts.  The Fat content is hopefully negated by the goodness of the greens. It yielded about 6 servings. A winner soup for those who love spinach.

Cooking & Prep time – 15- 20 Minutes Servings 6
Ingredients
1Family Sized Box of Organic Baby Spinach
1Small fist ful (about 2 tbsp) pine Nuts
1-2 Dry red chilies (cayenne) (not for the faint hearted)
1 tsp of whole black peppers (this is a must ;)
1 cup of heavy cream
1cup of milk (if required)
2 cloves of garlic
2 tsp olive oil
Preparation
In a wide mouthed pan, heat the olive oil and temper the chilies, peppers and brown the garlic
Add the spinach and swiftly toss it around –
NOTE: A whole box of spinach is a lot volume-wise. So stir in handfuls at a time so as not not get overwhelmed
Once the leaves have softened a bit, add the cream and the pine nuts and allow them to boil together – this should take 3-5 minutes
Add some milk if you want more volume
Salt to liking
Cool it before you grind.
Refrigerate if you like cold soups.
Pour back in the pan and allow it to heat up again, if you like it hot – like we do chez moi.
This can be served with warm bread or crackers