SPONSORED POST: We're celebrating the twelve weeks of summer with delicious, refreshing recipes using Hills Bros. Cappuccino. Be sure to enter below for a chance to win a one year supply of coffee! #CappontheRocks
Perfect to pack for a picnic or to go to the beach, these cool, no-bake cappuccino trifles are layered with buttery shortbread and vanilla cappuccino mousse for a delicious summer treat.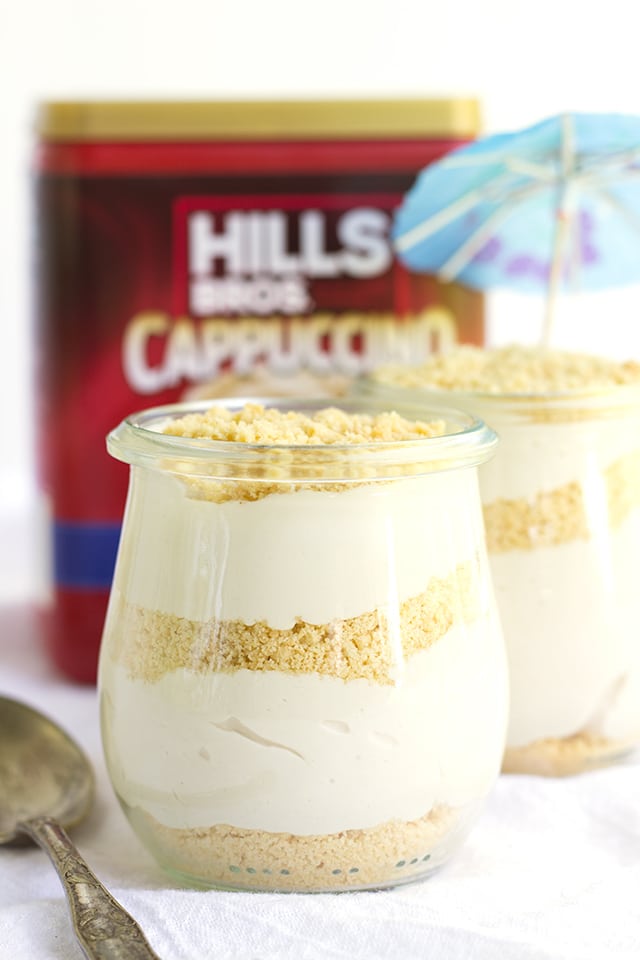 Are you ready for some quick and easy no bake cappuccino trifles that you can pack in the cooler this summer? There are layers of buttery shortbread and a french vanilla cappuccino mousse packed in a cute little jar. If you're a cappuccino lover, these are a must try! Thanks to Hills Bros. Cappuccino for sponsoring this post.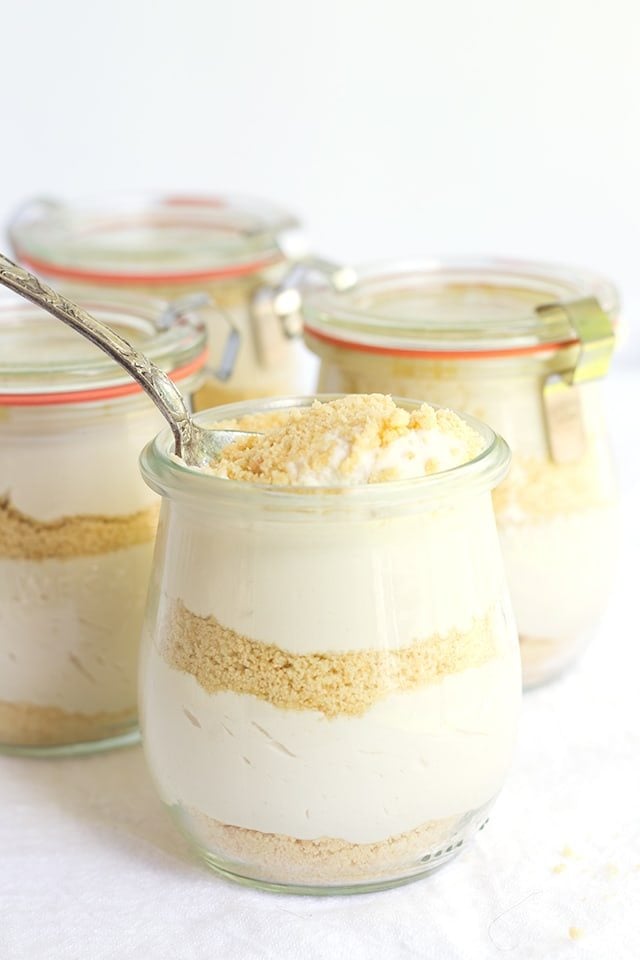 Summer is here and you can never have enough no bake recipes. Instead of spending your time baking, you can now spend your time at the beach! Yessss! These trifles seriously only take about 10 minutes to put together and it makes four so you can share. Or don't, I won't judge.
Just toss them in your cooler with a couple of ice packs and you have the perfect treat.
I used the french vanilla cappuccino from Hills Bros., but you can use any of their flavors. There are 6 other flavors and I already have this lined up to try with the english toffee flavor. The buttery, nutty flavor in the english toffee would taste amazing with the shortbread. By the way, I bought the shortbread because we're going for no bake and quick.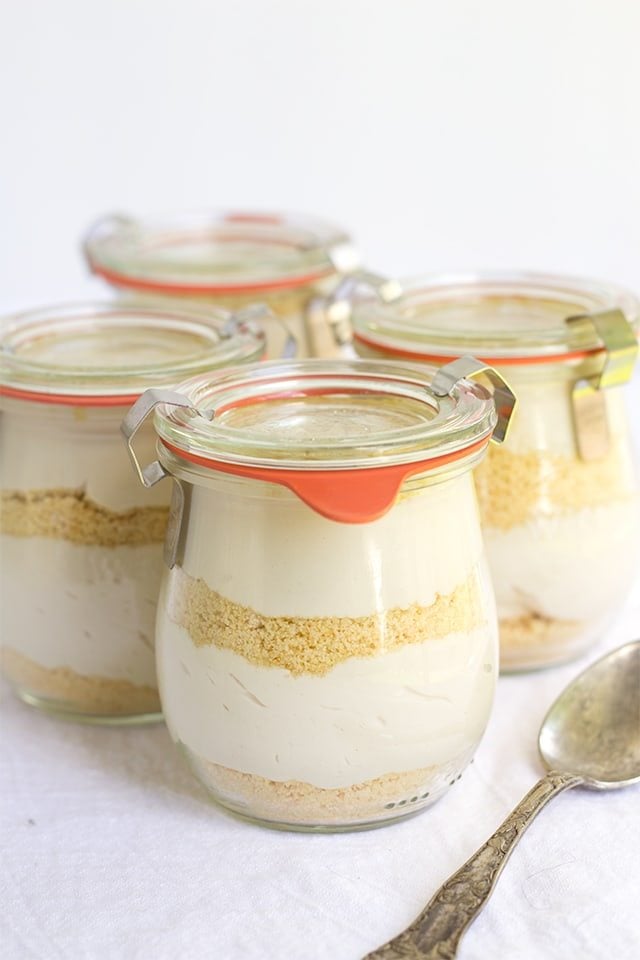 I found some cute umbrellas to stick in my cappuccino trifles too. I'm telling you, I'm feeling that beach. Maybe it's because I just came back from a week at the ocean. Okay, it's definitely because I just came back from a week at the ocean in North Carolina. It was beautiful except for the fact that a few months ago my son had watched shark week and reminded us daily that sharks could be out there waiting for us. Talk about paranoia! We survived though. Wooohoo!
So the best part of buying the cappuccino mix for this recipe is when it cools down at night, you can have a warm cup of cappuccino. You can even do a frozen cappuccino if it doesn't cool down. I'll have to give it a try and if it works out, I'll share the recipe with you. Deal? Deal!
As you're planning your next beach trip, be sure to add this to your cooler and enter to win a supply of cappuccino and coffee for a year below!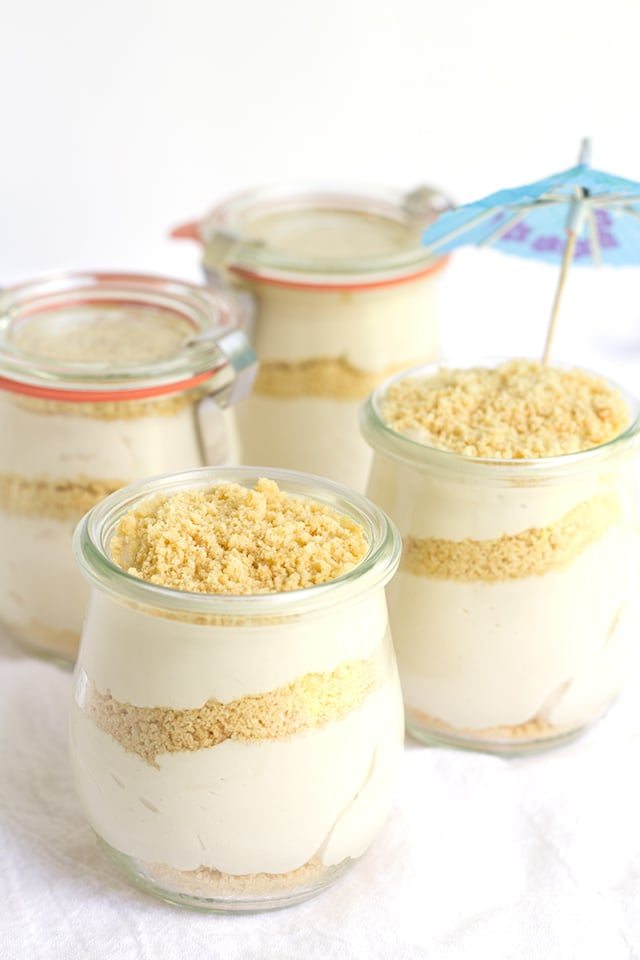 Print
Cool Cappuccino Trifles
Author:

Miranda Couse

Prep Time:

10 minutes

Total Time:

10 minutes

Yield:

4

servings

1

x
Category:

Dessert
8

shortbread cookies (crushed)

2

T. hot water

3

T. Hills Bros. french vanilla cappuccino mix

1

brick (8 oz. cream cheese, room temperature)

1/3 cup

granulated sugar

1 cup

heavy cream (whipped)
Instructions
Add the shortbread cookies into a storage bag and crush with a rolling pin. You can use a food processor as well.
In a small bowl, stir together hot water and french vanilla cappuccino mix until smooth. Set aside.
In a large bowl, cream together cream cheese and sugar with a hand mixer until smooth.
Add the cappuccino mixture into the cream cheese and beat until incorporated. Using a spatula and scrape down the sides and bottom of the bowl.
In a separate bowl, beat the heavy cream until stiff peaks form.
Fold the whipped cream into the cream cheese mixture until incorporated.
Add the cappuccino mousse into a large storage bag or disposable piping bag. Cut the corner out of the bag.
In four 1 cup jars, add in 2 tablespoons of shortbread crumbs.
With some heavy pressure, pipe the mousse on top of the shortbread. Give the jar a few taps to even out the mousse.
Repeat the layers of shortbread crumbs and mousse. Finish with another layer of shortbread crumbs.
Store in the fridge or cooler with an ice pack until ready to serve.
Miranda Couse
I'm Miranda. I'm a self-taught baker, recipe developer, writer, and photographer behind the blog http://cookiedoughandovenmitt.com. When I'm not satisfying sweet teeth, I can be found spending time with my family, reading cookbooks, attempting crafts and crocheting.