Longtime Honest Cooking contributor, Michelle Tchea, has debuted a new cookbook, Chefs Collective: Recipes, Tips and Secrets from 50 of the World's Greatest Chefs, that showcases recipes from chefs around the world. Check out one of the recipes for the Dragonfly, a small bite that is truly edible art.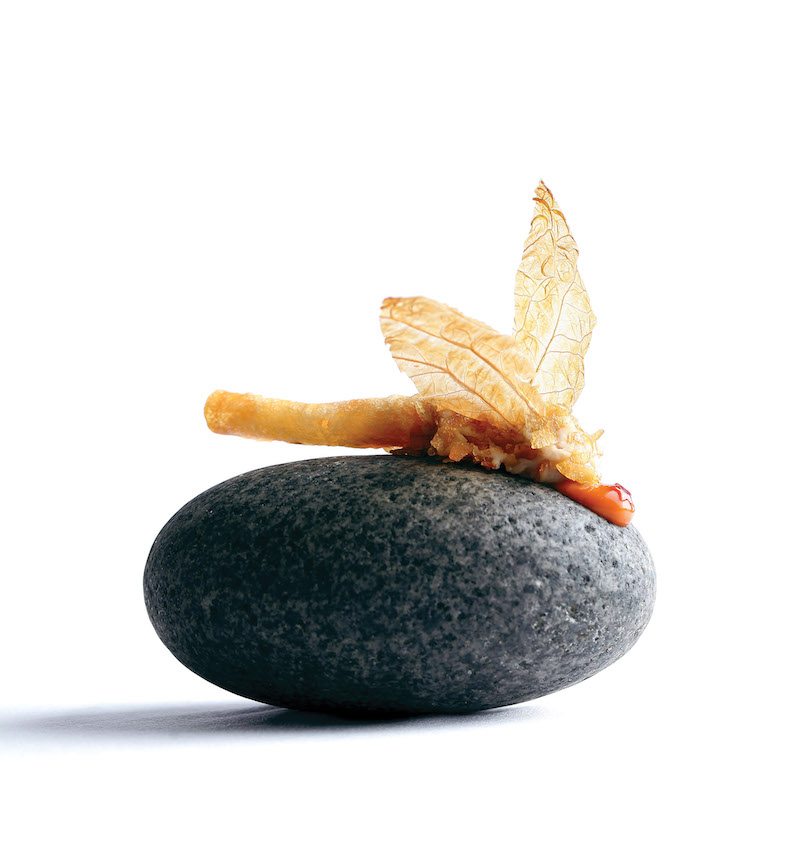 Chefs Collection by Michelle Tchea is a book compiling recipes from rising and renowned chefs around the world. Highlighting chefs with Asian roots, family and background, food and travel expert, Michelle Tchea shares recipes, tips and secrets from the world's greatest, in her fourth book.
Enter below to win a copy!
This recipe for the Dragonfly can be found in the book. It comes from Chef Tae Hwan Ryu at Ryunique in Seoul, Korea.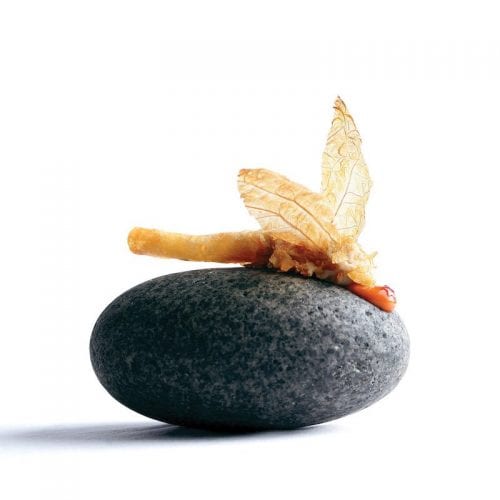 Chestnut and Kimchi Dragonfly Edible Art
Ingredients
Dragonfly Body
100

g

3.5 oz chestnuts

1/4

bay leaf

1/3

stem of thyme

500

ml

16 fl oz or 2 cups milk

salt to taste
Dragonfly Wings
5

pieces

kimchi

rinsed

Olive Oil as needed
Dragonfly Tail
1

potato

peeled and thinly sliced
Dragonfly Head
100

g

3.5 oz kimchi sauce

1

g

agar agar powder
Dragonfly Eyes
20

g

2/3 oz gochujang (Korean chili paste)
Instructions
Prepare dragonfly body. Bring all ingredients except salt in a pot to a boil. Remove bay leaf and thyme. Place boiled chestnuts in a food processor to obtain a pure?e. Push chestnut pure?e through a sieve. Season with salt. Set aside.

Preheat oven to 63°C (145°F).

Prepare dragonfly wings. Brush kimchi leaves with olive oil. Dehydrate in oven at 63°C (145°F) for 12 hours. Cut leaves to resemble wings of a dragonfly. Prepare 4–8 wings.

Prepare dragonfly tail. Roll potato slices into cylinders and fry until crisp. The tail should be approximately 7 cm (24/5 in). Prepare 2–4 tails.

Prepare dragonfly head. Place kimchi sauce and agar agar in a pot and bring to a boil. Remove from heat, then place in refrigerator to set. Once set, puree by hand or using a food processor. Place puree through a sieve until fine. Prepare 2–4 heads.

Preheat oven to 160°C (320°F). Prepare dragonfly eyes. Spread gochujang out in a thin layer on a baking tray and place in oven to dry roast until slightly soft and chewy in texture. Cut out according to the shape of the eyes of a dragonfly. Prepare 4–8 eyes.

Pipe 8 g (1/3 oz) chestnut pure?e on serving plates for each dragonfly body. Assemble wings, tail, head and eyes.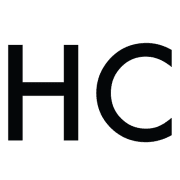 Honest Cooking
The Honest Cooking editorial team handpicks inspiring culinary stories to share with you that we think are beautiful. As an international online culinary magazine with the ambition to truly change the face of online food media we hope to create an inspiring place for serious culinary debate, salivating recipes, interesting food news and international food-fun.