A simple Bengali inspired fish curry with cauliflower, coconut and fragrant garden cilantro. Enjoy.
By Rinku Bhattacharya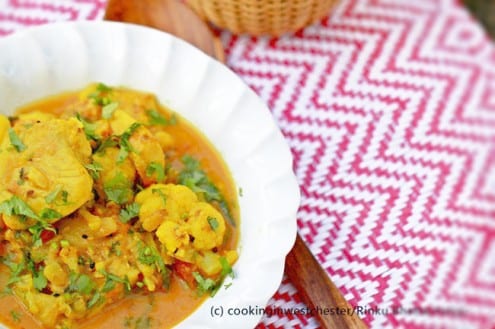 Sunday evening was a day I was tired beyond measure, so I turned to this fish curry that served as a one dish meal built in with vegetables and fish served with steaming hot white rice. Yes, a meal that is fairly Bengali in its roots and overall super comforting.
Coconut Fish Curry with Cauliflower and Potatoes
A simple Bengali inspired fish curry with cauliflower, coconut and fragrant garden cilantro. Enjoy.
Author:
Rinku Bhattacharya
Ingredients
11/2 pounds of tilapia fillet, cut into 2 inch sized pieces
1 teaspoon turmeric
Salt to taste
2 tablespoons oil (preferably mustard oil)
1 teaspoon nigella seeds or panchphoron
1 medium sized red onion, cut into a fine dice
2 teaspoons fresh ginger paste
1 medium head (about ¾ pound) of cauliflower
1 medium sized potato, peeled,halved and thinly sliced
1 to 2 medium sized tomatoes
2 green chilies finely chopped
½ cup coconut milk
¾ cup of water
2 tablespoons of finely chopped cilantro
Instructions
Rub the tilapia with the turmeric and the salt and set aside.
Heat the oil and add in the nigella seeds or the panchphoron and wait until the seeds begin to crackle.
Add in the onion and the ginger and saute for about 3 to 4 minutes, until the onions soften and begin to turn gently golden.
Add in the cauliflower and the potato and add in a little salt and mix well.
Cover and steam cook the vegetables for 6 to 7 minutes.
Remove the cover and add in the tomato and cook for about 3 minutes.
Gently add in the fish and the green chilies.
Add in the coconut milk and bring to a simmer and mix in the water.
Simmer the mixture for 10 minutes, until the vegetables are well done and the fish is soft and the flavors are well mixed.
The sauce should also thicken at this time.
Garnish with the cilantro and serve with steamed rice.
Rinku Bhattacharya
Rinku Bhattacharya, is a teacher of Indian Cooking and the author of the blog, Spice Chronicles. A busy working mother Rinku is committed to offering a practical approach of flavorful, everyday cooking often with an Indian Accent. An author of three cookbooks, Instant Indian, Classic Foods for Every Region of India made easy in the Instant Pot, Spices and Seasons, Simple, Sustainable. Indian Flavors and The Bengali Five Spice Chronicles. Rinku's passion for food starts with cooking and trying new recipes and extends to pairing and drinking wine with food and trying usual combinations by fusing various culinary influences. Rinku and her family are very committed to a sustainable lifestyle, and she uses mostly local produce for her recipes. She is joined in this effort by her husband who is an avid gardener and her children, Deepta and Aadi.