Tannerhof is one of those places you wish you could find. The wellness spa is so exclusive that only until recently has the website been updated to include English – so yes, it is a local hot-spot.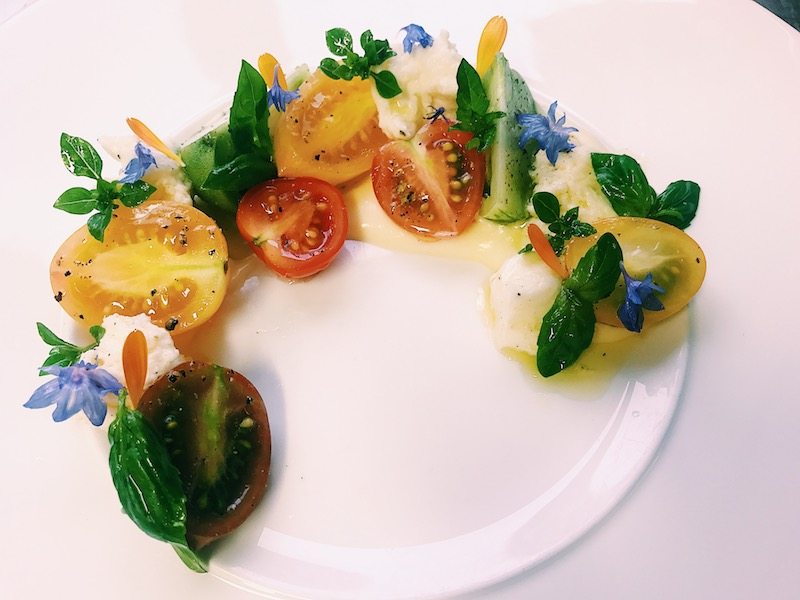 Tannerhof has a lot of things going for it including the designer huts by Munich design Florian Nagler as well as health events which change daily from water pilates to Qi-Gong. But if you think The Tannerhof is just another health resort for celebrities on another detox program, think again.
Tannerhof is 100% Organic – sourcing only the finest regional organic products, including herbs and vegetables from their own garden.
Keeping things sustainable, the chef of Tannerhof alternates his menu from vegetarian, meat and fish so you don't leave Tannerhof hungry ( unless you are on the fasting program).
If you are following a clean eating diet, here is a delicious seasonal salad from Chef Nico Sator of Tannerhof
Print
Homegrown or seasonal tomatoes with creamed Mozzarella, Burrata & olive oil
Author:

Tannerhof Chef Nico Sator

Yield:

4

to

5

servings

1

x
Tomatoes:
8

large seasonal tomatoes (variation of different types makes it colourful)
olive oil
salt
ground black pepper
sugar
white balsam vinegar
Garlic to taste
Creamed Mozzarella:
50 g

Mozzarella

50 g

egg (yolk and egg white combined)

50 g

yoghurt

5

leaves of gelatin
salt
pepper

250

ml fresh cream
Burrata:
200 g

(pulled into pieces)
salt
pepper
olive oil
fresh basil leaves
Instructions
For the creamed Mozzarella combine the egg with salt and whisk over bain marie, leave to cool in the fridge.
Dissolve the Mozzarella in 50ml fresh cream, add the soaked gelatin and leave at room temperature. Beat the rest of fresh cream and combine with the dissolved mozzarella and cold egg mixture.
Season with salt, pepper, garlic and sugar. Chill for min. 3 hours.
Cut tomatoes according to size, marinate with olive oil, salt, ground pepper, and white balsam vinegar.
Also marinate the pulled burrata.
Paste creamed mozzarella onto decorative plates, arrange tomatoes and burrata, decorate with fresh basil leaves, finish with a thread of olive oil.
Michelle Tchea
Michelle Tchea is a 4-time bestselling author. Her books include, Building a Perfect Meal, My Little SoHo Kitchen, Signature Dishes (Australia's Best) and Chefs Collective. Her work can be found in other leading luxury travel and food magazines including Travel+Leisure Asia, SMILE, NUVO Magazine and The Telegraph