The classic truffle is a delightfully chocolatey pop and a simple, gourmet gift for family, friends and coworkers.
By Kara and Marni Powers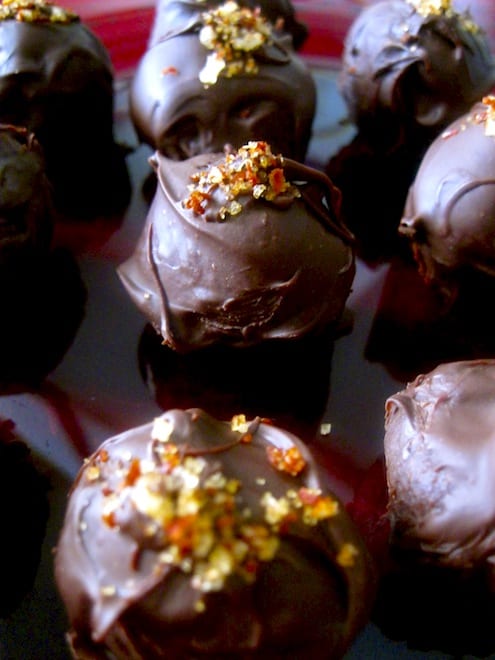 Print
Chocolate Truffles with Chile Salt
The classic truffle is a delightfully chocolatey pop and a simple, gourmet gift for family, friends and coworkers.
Author:

Kara and Marni Powers

Prep Time:

20 mins

Cook Time:

1 hour 15 mins

Total Time:

1 hour 35 minutes

Yield:

20

truffles

1

x
8 oz

Semi Sweet Chocolate

1/2

c heavy cream

2

T butter

1

t vanilla extract

4 oz

Semi Sweet Chocolate
Aleppo Chile Salt for sprinkling
Instructions
In a small saucepan, heat the heavy cream and butter on medium heat. When it starts to boil slightly, remove from the heat and pour over the chocolate chips in a separate bowl. Let stand for a minute.
With a spatula, stir the chocolate mixture until smooth. Stir in the vanilla. Cover and let cool in the refrigerator for at least 1 hour.
Remove the ganache mixture from the refrigerator and with a melon baller (or Tablespoon), spoon out balls.
With your hands, roll the chocolate into perfect round shapes and place them on a lined baking sheet.
After you have formed all the ganache into spheres, return them back into the refrigerator.
While the truffles chill, microwave the extra 4 ounces of chocolate in 20 second intervals. After 20 seconds, stir the chocolate mixture and place back into the microwave. Repeat this process three times.
Remove the chocolate balls from the refrigerator. With two forks, place the truffles into the melted chocolate.
Cover the spheres with the melted chocolate evenly, tapping off the excess with the forks, and place back onto the lined baking sheet.
Sprinkle each truffle with a pinch of the Aleppo Chile Salt.
Return the truffles back into the refrigerator to completely harden. Makes 20 truffles.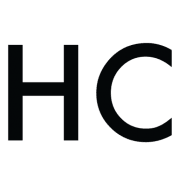 Kara and Marni Powers
Kara and Marni Powers are twin sister cooks, dining and blogging their way through Boston's North End and beyond. They see the act of cooking and entertaining as a form of creative expression, an art that encourages the mixing of flavors, spices, techniques and stories. Their interest in cooking dates back to their Greek grandmother's open-arms approach, letting them taste her savory creations like her famous spanakopita. Kara and Marni's fascination with food and culture continued during their travels abroad in Europe where they saw firsthand the limitlessness of cooking.