Chocolate Goat Cheese Ice Cream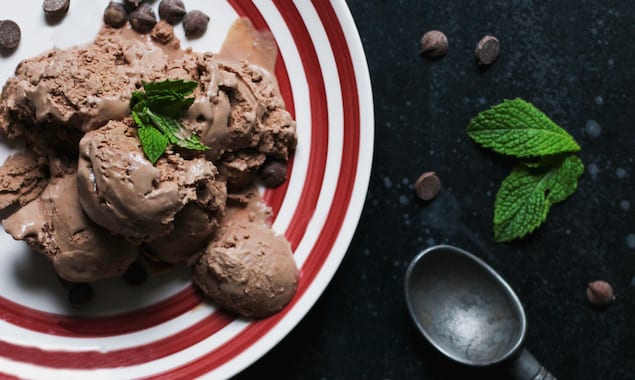 Creamy, rich, and not too sweet, this bold goat cheese ice cream with chocolate taste likes a gourmet frozen cheesecake.
By Jordan LaCount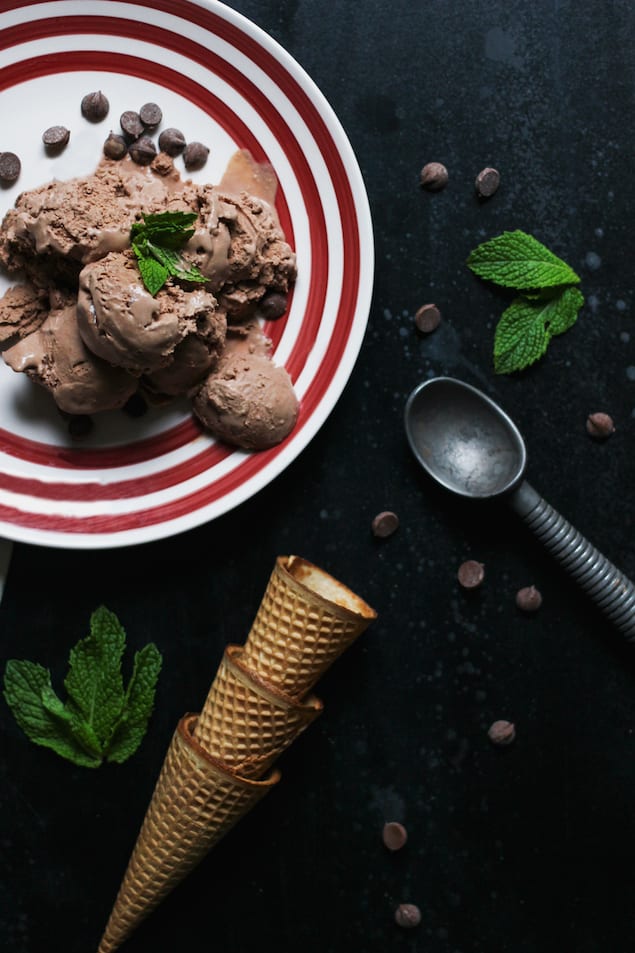 I have a serious cheese complex.
You'll find 'Made in Vermont' stamped on every cheese (and dairy product) in my section of the fridge. We just have the best stuff here — I see no reason to purchase anything else.
I clearly have a thing for making goat cheese into a sweet treat (chevre + pumpkin brownies anyone?), so ice cream was an obvious choice.
My first experience with goat cheese ice cream was super early on in my food exploration days. Working at a health food store, I discovered beautiful pints of ice cream in the cooler section.
I wasn't sure how to even go about making my own. How much chevre is too much? How much isn't enough. I scoured the interwebs — 'goat cheese ice cream'. I found that the easiest way is to simply whisk up a cup of good chevre and throw it into your typical heavy cream + whole milk ice cream base. Easy enough. I needed something a bit more next level though…because if you're throwing cheese in your ice cream, why not add some chocolate too.
Guys, it tastes like chocolate cheesecake. Creamy. Rich. Not overly sweet. It's damn near perfect. Try it try it try it!

Chocolate Goat Cheese Ice Cream
Creamy, rich, and not too sweet, this bold goat cheese ice cream with chocolate taste likes a gourmet frozen cheesecake. Barely adapted from How Sweet It Is
Recipe Type:
Ice Cream, Dessert
Ingredients
8 OZ Goat Cheese, at room temperature
2 CUPS Heavy Cream
2 CUPS Whole Milk
¾ CUP Sugar
? CUP Unsweetened Cocoa Powder
1 TBSP Maple Syrup
2 OZ Milk Chocolate, chopped
Instructions
Don't forget! Throw the freezer bowl of your ice cream maker into the freezer the day before to make sure it's fully frozen!
Place goat cheese on the counter for an hour or two to soften to room temperature.
Using an electric beater, whisk the goat cheese until it's creamy (a minute or two).
Over medium heat, combine heavy cream, whole milk, sugar, unsweetened cocoa powder, and maple syrup in a large sauce pan.
Whisk constantly until sugar has dissolved and all is combined.
Bring to a boil, then turn heat to low.
Add chopped milk chocolate, whisk, and remove from heat.
Pour mixture over goat cheese and whisk until goat cheese is completely melted into the mix.
Place in fridge for two-three hours to cool.
When cooled, churn in ice cream maker, according to manufacturers directions (mine took about 20 minutes).
Scoop into freezer-safe container and freeze for an additional 4-6 hours.
Jordan LaCount
Designer by day. Lifestyle blogger by night. I'm a Vermont native who takes her CSA veggies and craft beer seriously. I created "vermodern" to share my take on living a modern lifestyle through learning about, creating, and consuming healthy food...with the occasional treat of course!