In one pot, make a flavorful Indian spiced chicken in a creamy tomato sauce.
By Sarah Mason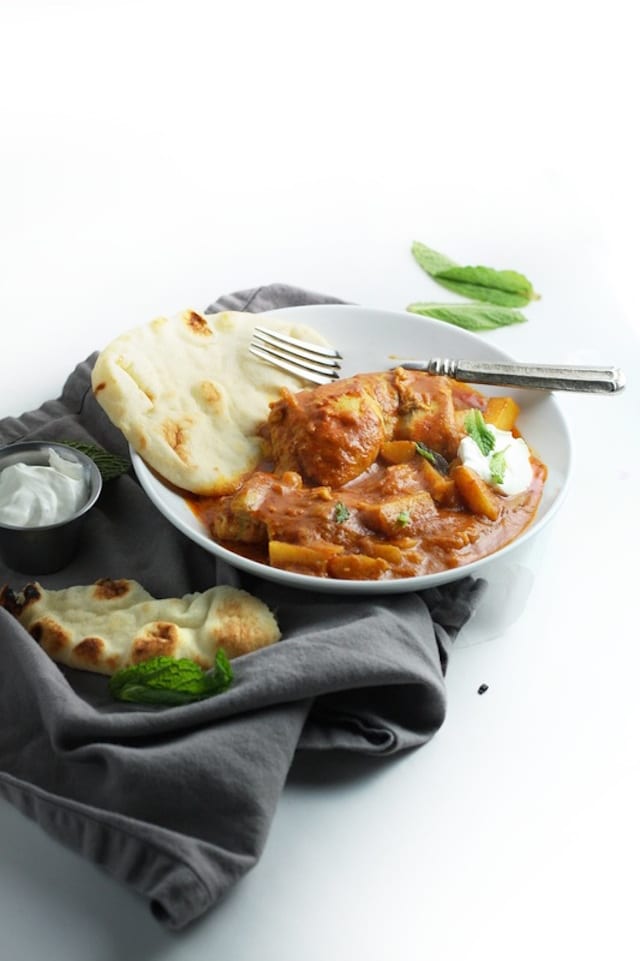 This Indian chicken is a one-pot gig, and it's delicious. Like, really really good.
It's warm. It's hearty. It's winter wonderland friendly. It's made with chicken thighs, because don't you dare buy chicken breasts.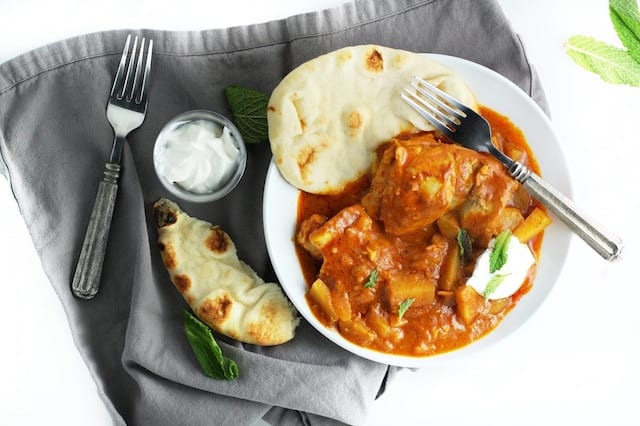 The spices are classically Indian, and the tomato cream combines with the dish to add a beautiful smooth texture.
Chicken in Indian Spiced Tomato Sauce
In one pot, make a flavor Indian spiced chicken in a creamy tomato sauce.
Ingredients
3 tablespoons vegetable oil
3 pounds boneless skinless chicken thighs
Salt and pepper
1 medium onion, finely chopped
4 cloves garlic, minced
2 tablespoons ginger, peeled and minced
2 tablespoons tomato paste
2 teaspoons garam masala
2 teaspoons ground cumin
2 teaspoons ground turmeric
½ teaspoon ground coriander
¾ teaspoon cayenne pepper
¾ teaspoon ground cardamom
8 cups low-sodium chicken broth
¾ cup canned tomato purée
½ cup heavy cream
1 pound small potatoes, cubed
Plain yogurt, for serving
Fresh mint, for serving,
Naan or rice, for serving
Instructions
In a Dutch oven over medium heat, heat vegetable oil. Season chicken with salt and pepper. Working in batches, sear chicken on both sides (don't fully cook) for about one minute per side. Transfer to a plate.
Add onion, garlic, and ginger to pot and cook, stirring occasionally, for 8-10 minutes or until onion is golden brown. Add tomato paste, garam masala, cumin, turmeric, coriander, cayenne, and cardamom. Cook, stirring, for 4 minutes.
Add chicken, broth, tomato purée, and cream to pot. Season with salt and pepper. Bring to a boil, reduce heat and simmer until chicken is cooked through, about 45 minutes.
About halfway through, add potatoes to the pot. Potatoes should be fork-tender by the time chicken is cooked through. Liquid should also thicken.
Serve in individual bowls topped with yogurt and mint. Serve with naan or rice.