Try this wonderful Chicken Biryani tonight, packed with flavors. Alida Ryder also gives a few tips on some shortcuts for this classic Indian dish.
By Alida Ryder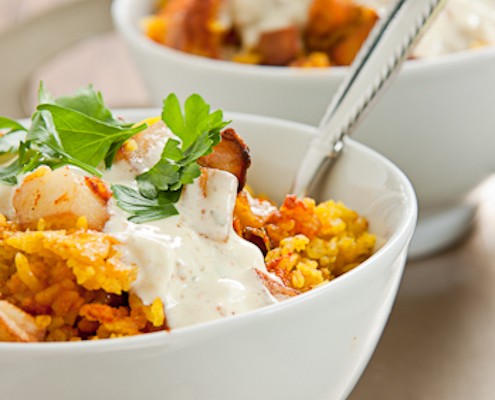 I've said it many times before and I'll say it again, I love India. I've never actually been there but my mind has been taken away on a Turmeric flavoured cloud many times in my life. I love the vibrant colours, the intense aroma's and the beautiful Sari's. I would easily walk around in a blinged-out Sari with jewels dripping off of me everyday.
I wouldn't say Indian cuisine is my absolute favourite but it's definitely in my top 3. There is just nothing like walking into a kitchen where a pot of curry is on the stove. The smell is intoxicating and I am almost always reduced to a puddle of drool by it. And any dish you add a pinch of Turmeric or Garam Masala to, just transforms into something magical.
During Winter, curry, in any shape or form is on our menu at least twice a week, but during the hotter Summer months when a blow-your-head-off curry just seems too unbearable to handle, I still need my spicy fix, so I often revert to Biryani. I have an intense love of anything Lamb but Chicken is a close second. Not only is it cheaper but it also requires less cooking time which means the Biryani gets to be eaten sooner.
I take a lot of short-cuts with my Biryani and food-purists might get upset at my ways, but I just cannot stand infront of a hot stove for hours on a hot day. It's just not going to happen. So I try to take shortcuts wherever I can without compromising the flavour of the end product. One of these shortcuts is the use of spices in two forms. I use a mild curry paste packed with coriander, cumin, cinnamon, turmeric, garlic, ginger and onions, and then I also use all of the above in it's original or ground form. I know it sounds like that would result in a 'too-spicy' curry, but I assure you it works. Especially because the actual chicken curry is layered with Jasmine rice and fried potatoes. If you don't have all the spices in your pantry and you don't want to buy all of them, just omit them and use a good quality curry paste and curry powder/garam masala.
And under no circumstances are you allowed to serve this without the Buttermilk Raita. It compliments the Biryani perfectly and without it, even though still delicious, the Biryani tends to be a bit dry.
Serves 6-8
See Also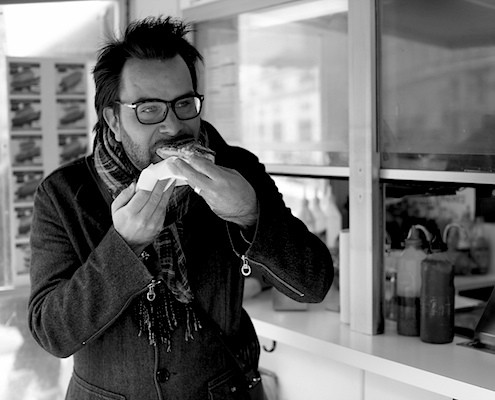 2kg / 1.1 pounds chicken breasts, skin removed and deboned
2 onions, finely chopped
3 garlic cloves, finely chopped
2cm piece fresh ginger, grated
2tbsn curry paste (I use a mild one) – optional
2tsp each ground coriander, ground turmeric and ground cumin
1tsp ground cinnamon
1/2 tsp each ground nutmeg and ground cloves
2tbsn hot garam masala (I use the mother-in-law spice you find at most spice shops)
2 bay leaves
1 tin chopped tomatoes
1tsp sugar
2 cups /500dl chicken stock
salt to taste
4 large potatoes, peeled and cubed
oil for frying
3 cups /750dl Jasmine/ Basmati rice, cooked (I cook mine in the microwave oven with 1tbsn turmeric and salt)
1 cup chicken stock
Buttermilk Raita:
1 cup / 250dl Buttermilk
1tsp Ground Cumin
1 ½ tsp Ground Coriander
½ tsp Turmeric
½ tsp Chilli powder
1tbsn lemon juice
1 tsp Salt
1. Pre-heat the oven to 340°F / 170°c.
2. Heat 3tbsn oil in a large pot.
3. Cut the chicken breasts into large chunks and fry in the oil until they start to brown. Remove and set aside.
4. Fry the onions, garlic and ginger for 2 minutes before adding the curry paste and spices. Allow to fry for another minute and add the chicken back into the pot. Stir to coat the chicken in all the spices and add the tomatoes, sugar and chicken stock. Lower the heat and allow to simmer for 15 minutes.
5. Heat 1/2 cup of oil in a large frying pan and fry the potatoes until golden and crisp. Season with salt and set aside.
6. To assemble the dish, layer a 1/3 of the rice at the bottom of  a greased oven-proof dish. Next, cover the rice with the chicken curry but reserve some of the sauce. Follow with the rest of the rice and spoon over the remaining sauce. Finally, cover the rice with the fried potatoes. Pour over the chicken stock and cover with foil (or a lid if your oven-dish has one).
7. Place in the oven for 25-30 minutes.
8. To make the raita, simply combine all the ingredients.
9. Serve the Biryani with the Buttermilk Raita and fresh Coriander leaves.
Alida Ryder
Alida Ryder is a South African food writer and blogger. She has a passion for simple and delicious food, as well as fun and healthy family cooking. She shares her tips and recipes on her Simply Delicious blog and of course here at Honest Cooking.