A delicious chicken filled take on paranthas, traditional North Indian flatbreads.
By Shuchi Mittal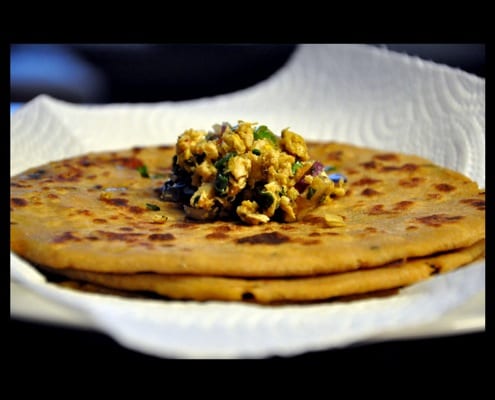 Stuffed paranthas or whole-wheat flatbreads are a staple in every North Indian household. Be it a celebrated sunday family brunch, or a lazy day all-in-one meal, it is something we have grown to love, and totally loved while growing. Usually stuffed with vegetarian fillings such as potatoes, cauliflower, cheese, peas or onions, this is a meaty take on the same scrumptious beings.
A whiff of these, and it takes me right back home. And they say time travel is fiction.
Chicken & Lentil Flatbread
A meat filled take on traditional indian flatbreads
Ingredients
For the dough
2 cups whole wheat flour
1 teaspoon ajwain or carom seeds
1 teaspoon salt
½ teaspoon red chili powder
1 tablespoon oil
¾ cup warm water
For the filling
250 gm boneless skinless chicken, cut into very small pieces (or chicken mince)
1 cup yellow lentils (toor or arhar dal), boiled and drained
1 large tomato, chopped
1 medium onion, finely chopped
1 teaspoon garlic ginger paste
½ teaspoon cumin seeds
½ teaspoon turmeric powder
1 teaspoon dry mango powder
2 tablespoons coriander powder
1 teaspoon garam masala
Salt to taste
Others
3 tablespoons onions, finely chopped
2 green chilies, chopped
1 teaspoon fresh coriander, chopped
1 teaspoon fresh mint, chopped
Instructions
Make the dough
Mix the ingredients for the dough to make a soft workable dough. It should not be wet.
If the water is too much, add some extra flour till the dough stops sticking to the hands and can be rolled.
Keep aside for 20-25 minutes.
Make the filling
Heat oil in a pan.
Add the garlic ginger paste, cumin seeds and onion till the onions begin to brown.
Add the tomatoes and all the dry spices, along with ¼ cup of water.
Cover and cook till the tomatoes are tender.
Add the lentils and cook for another few minutes.
Stir in the chicken pieces, along with another ¼ cup of water.
Cover and cook on medium flame till the chicken is completely cooked.
Open cover, and mash the chicken pieces into smaller sizes.
Sauté on high flame till all the liquid has been soaked in.
Remove from heat and cool.
Once cooled, chop any remaining chicken pieces finely (if you used boneless chicken instead of mince).
Add in the "other" ingredients and mix well. Keep aside.
Put it all together
Make 3 inch rolls from the dough.
Flatten in the center to make a cavity.
Spoon 2 teaspoons of the chicken mixture and fill the cavity.
Pull the dough from the sides to cover and seal the cavity so as to make a bundle with the mixture inside.
Flatten and roll out into 6-7 inch rounds using a rolling pin.
Repeat steps 1-5 with all the dough . Should make around 6-8 Paranthas.
Heat a pan. Cook the Paranthas on both sides with a little oil, till they turn slightly brown and crisp.
Serve hot with yogurt and pickle.Slightly tedious, but worth the wait!