An interview with the chef of NYC's Gradisca, a classic Italian restaurant serving modern creations and interpretations.
By Riccardo Costa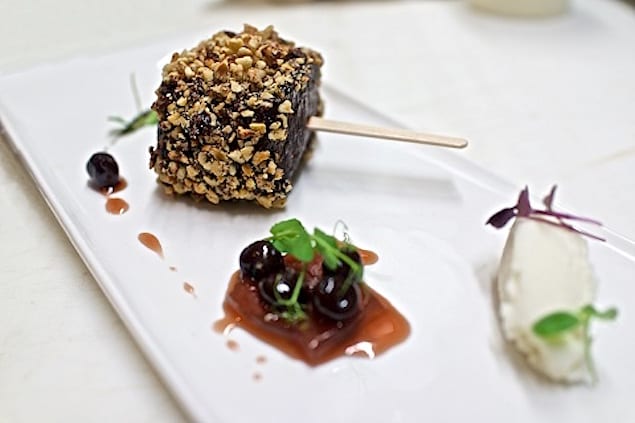 What a wonderful creation made by chef Enzo Neri combining sweet and savory and served as an entrée with the look of a gelato. I'm talking of the crispy venison with a hazelnut crumbled grain, Amarena Fabbri marbled and spicy chocolate. It's not just perfect for brunch but it's a fully complete dish. When you eat it, you satisfy all your needs for sweet and sour. Enzo Neri, has been working at luxury worldwide locations, bringing his undivided attention to any aspect of culinary perfection. Chatting at the table with him while savoring Tagliolini with wild boar (he's from Umbria so there's a particular attraction to game meats) I can talk for hours and hours about food, new plates and I sense a playful behavior in researching and continuing to create spectacular new recipes. After a couple of exquisite martinis by celebrity mixologist Cristina Bini, who was pairing the cocktails with the food I felt relaxed enough to ask Enzo a few questions.
What are the new dishes you're bringing to Gradisca's menu?
EN: I don't think a successful restaurant for 14 years doesn't need big changes. What I mean to bring to Gradisca is mainly my signature, focusing on executions that reduce fats to a minimum in an increasingly healthy way (but flavored!).
What's your vision of Gradisca? From being the voluptuous Fellini Icon in the movie Amarcord to a cute culinary concept, how do you combine the two?
EN:My vision of Gradisca corresponds exactly to what is my idea of cooking today: a simple cuisine expressed in the best way possible, which means a cuisine based on raw materials and therefore with rigorous research of the best ingredients, as far as possible in the local markets (zero km) and with respect for seasons. . It's also important to apply a treatment to ingredients that does not distort their nature and flavors, using new techniques and always respecting tradition. The pleasure of life, and also of good food, is the liaison that I see between Fellini's Gradisca and my idea of cuisine: we both aim to arouse the pleasure in others. Our ancestors in Italy used the term "Gradisca" to offer some good food to guests to entertain them, and this is what I want all the time too.
In your opinion, what are the three most important elements to serve the perfect dish?
EN:The ingredients, passion and culture.
What inspires you to search for and create culinary brilliant ideas and with an Italian taste?
EN:There are a thousand things that lead me to try and experiment with new recipes. It can be a rare ingredient found in a street market during a trip, a flavor tested in a new place, a movie, a book…
How do you envision the Italian cuisine in the next 10 years?
EN:Italian Cooking has always been linked to an old tradition that has evolved over the years with the influence of many cuisines introduced by the people who conquered us over the centuries. Probably, apart from the period of the consumerism in the 80s, our cuisine, much broader than what is presented abroad, has always remained joined to tradition even if revisited with a bit of modernity due to the discovery of new techniques. Probably in the next 10 years we will not see major changes except for the need to discover more and more true flavors and the cult of ingredients.
After another superb Martini, the night was late and over. I enjoyed chatting with Enzo and discovering more things about him like his passion for ingredients, and his meticulous search in discovering new flavor combinations.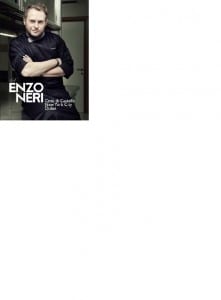 Gradisca
126 West 13th Street,
New York, NY 10011
(212) 691-4886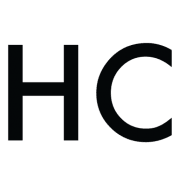 Riccardo Costa
Riccardo Costa, was born in Bologna, one of Italy's food capitals. From the Tisch School of the Arts at NYU, Riccardo earned a BFA. In Italy and New York he worked as an assistant to director Spike Lee, among others. In his free time Riccardo is an accomplished chef. Learning to cook from his grandmother, a famous Bolognese socialite from the '50s, he assimilated all the century-old family culinary secrets. He has recently penned a cookbook of some of these traditional Italian recipes, which he shares with friends, acquaintances, celebrities, intellectuals, politicians, and artists who come to his apartment to eat exceptional food, discuss ideas, and network.