Sweet potato has such a mild flavor that it's really providing the moisture and texture in these muffins, while all the spices give them a kick.
By Rachel Crawford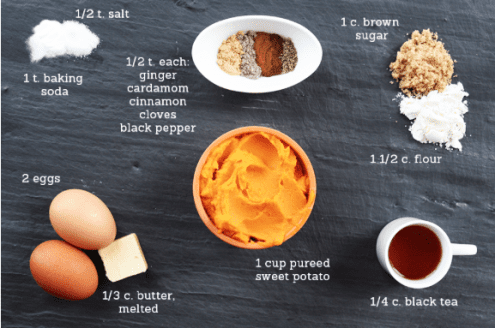 Chai Spiced Sweet Potato Muffins
Sweet potato has such a mild flavor that it's really providing the moisture and texture in these muffins, while all the spices give them a kick.
Ingredients
1½ cups flour
1 cup brown sugar
1 teaspoon baking soda
½ teaspoon salt
½ teaspoon ginger
½ teaspoon cardamom
½ teaspoon cinnamon
½ teaspoon cloves
½ teaspoon black pepper
1 cup pureed sweet potato
¼ cup black tea
2 eggs
⅓ cup butter, melted
Instructions
Heat over to 350 degrees. Line or oil a muffin tin.
Whisk together flour, sugar, salt and baking soda.
In another bowl, whisk together eggs, sweet potato puree, melted butter, spices and tea.
Add the dry ingredients and wet ingredients together and stir until just combined.
Evenly distribute batter amongst tins.
Bake for 25-30 minutes.
Eat.
Rachel Crawford
Rachel is a lover of vegetables and an avid home cook. She has catered parties, participated in cook-offs, hosted elaborate supper clubs, and volunteered with Slow Food teaching elementary school kids about seasonal food and how to cook. Recently, she left her full-time job as a branding consultant to spend more time in the kitchen. Her personal blog, madeweekly.tumblr.com, focuses on one seasonal ingredient every week, with a new recipe each day. She can also be found on kitchensurfing.com, a new site that allows anyone to search for and hire personal chefs online. Rachel studied acting at NYU's Tisch School of the Arts, and has lived in New York, NY for almost 12 years, which means she can officially call herself a New Yorker.