PARTNER POST – Get inspired with creatively crafted Castello Blue Cheese as we celebrate a Summer of Blue with #BluesdayTuesday.
Creamy blue cheese and sour cream coat beautifully roasted onions and potatoes for an awesome summer side dish.
By Rachael Dart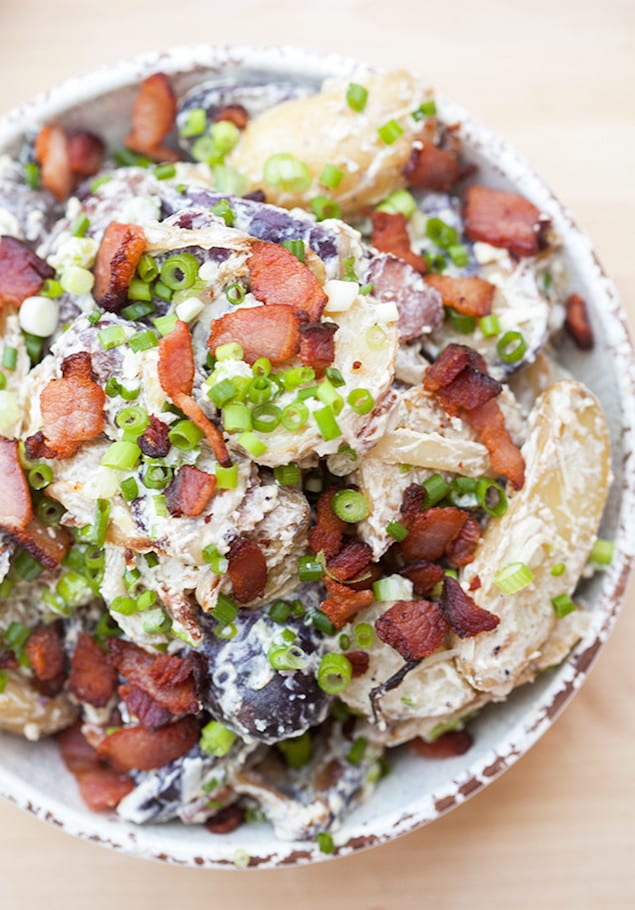 I really love potato salad. I think it screams summer, and is basically a necessity at any gathering. BUT I'm not really into mayonnaise-based potato salad. It's just too creamy. And weird.
You know what's a million times better than a mayo-based potato salad? A sour cream and blue cheese-based potato salad.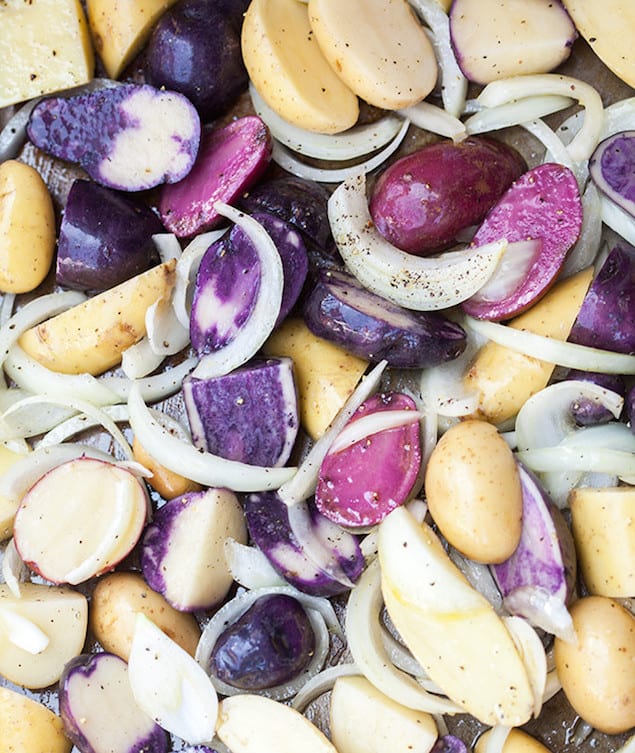 I also think that potatoes in potato salad should be roasted. Why? Because it gives it so much more flavor and texture! Plus, when the potatoes are slightly warm and you toss them with the sour cream and blue cheese, it creates a light creamy coating that is pretty ridiculously delicious.
I also added a sweet onion when roasting the potatoes. The caramelized flavor offsets the tang from the soft and almost nutty-tasting crumbled blue cheese.
And then I threw in bacon, because well…bacon makes literally everything better, and bacon and blue cheese are one of those pairings that just works so beautifully.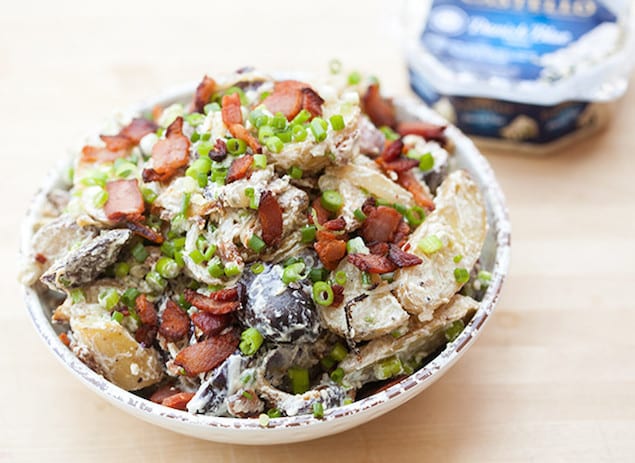 I'm a bit of a blue cheese fiend. The Castello Traditional Crumbled Danish Blue works perfectly in this recipe because it is ultra creamy and tangy, but not over-powering.
If you're also obsessed with Blue cheese, you'll want to keep an eye out for the #BluesdayTuesday hashtag across the internet, every Tuesday through September, for more amazing recipes featuring blue cheese.
You can also enter for a chance to win a supply of blue cheese from Castello by clicking on the image below!
Castello Summer of Blue — Bacon and Blue Cheese Roasted Potato Salad
Creamy blue cheese and sour cream coat beautifully roasted onions and potatoes for an awesome summer side dish.
Serves:
about 6 side servings
Ingredients
2 and ½ to 3 lbs baby rainbow baby/new potatoes
1 medium sweet onion, sliced
¼ cup olive oil (I like using a roasted garlic olive oil)
coarse salt and freshly-ground pepper
5 slices thick-cut bacon
½ cup sour cream
½ cup Castello Traditional Crumbled Danish Blue cheese
½ cup sliced green onions
Instructions
Preheat oven to 400 degrees.
Halve or quarter the potatoes so that they are somewhat bite-sized (you can leave any super small ones whole). In a large bowl, toss together the potatoes, onion, olive oil, salt, and pepper. Spread out on a large sheet pan, and roast for 35-45 minutes, until golden and cooked through.
Meanwhile, slice the bacon into small strips. Cook the bacon until crispy. With a slotted spoon, remove the bacon pieces from the pan and place them on a plat lined with a paper towel.
In a large bowl, gently combine the roasted potatoes and onion, sour cream, blue cheese, and most of the bacon and green onions, reserving just a bit to garnish. Carefully toss to coat. Taste and add more salt and pepper, if necessary. Sprinkle the remaining bacon and green onions over the top.
Rachael Dart
Rachael Dart is a freelance writer and food blogger living in Seattle. After earning her BA in English from the University of Washington, she quit her short stint as a Technical Content Writer to focus on food full-time! On her food blog, Spache the Spatula, she shares recipe creations and adaptations with personality and attitude.