This lovely carrot cake takes literally no time to make and it's endlessly delicious.
By Tamara Novacoviç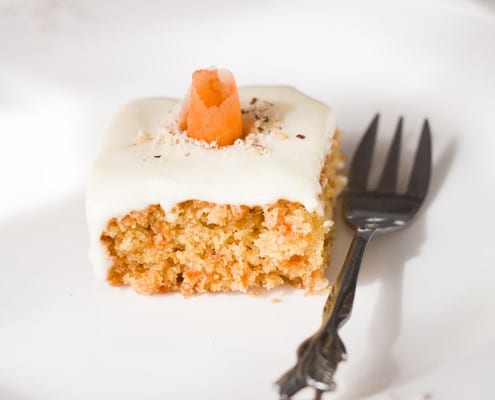 This is one of my favorite cakes. It takes literally no time to make and it's endlessly delicious.
I remember when I first heard about carrot cake and simply couldn't imagine carrots inside a cake batter. However, this combination makes the cake moist and flavorful due to cinnamon, nutmeg and ginger. It pairs beautifully with cream cheese frosting, flavored generously with vanilla and orange zest and results in one of the best cakes ever.
Carrot cake is one of all-time favorite classics!
Ingredients
Cake batter
1 egg
7 oz (200 g) all-purpose flour
1 tsp baking powder
½ tsp baking soda
pinch of salt
½ tsp cinnamon
¼ tsp nutmeg
¼ tsp ginger
5.9 oz (170 g) butter
3 tbsp milk
7 oz (200 g) brown sugar
4 medium carrots
Cream cheese frosting
14 oz (400 g) cream cheese
2 tbsp vanilla extract
7 oz (200 g) powdered sugar
1 tsp finely grated orange zest
Instructions
Preheat oven to 374F.
Whisk flour with baking powder, soda, salt and spices. Set aside.
Melt butter. Whisk egg with sugar, add melted butter, milk and vanilla. Wash, peel and grate carrots, add them to this mixture. In the end, add dry ingredients and whisk to combine.
Lightly grease and flour smaller rectangle pan. Spread the batter evenly. Bake for about 25 minutes. Let cool completely.
For the frosting, beat cream cheese with vanilla. Use electric mixer. Gradually add sifted powdered sugar, mix well to combine. Add orange zest. Spread the frosting over cooled cake and let chill in the fridge for at least 30 minutes.
Cut in squares and serve.