Buttery, pillowy brioche is delicious anytime of the day. Inspire by the baked good in Lyon, pink candy-coated almonds add a sweet crunchy to the bread.
By Michelle Rose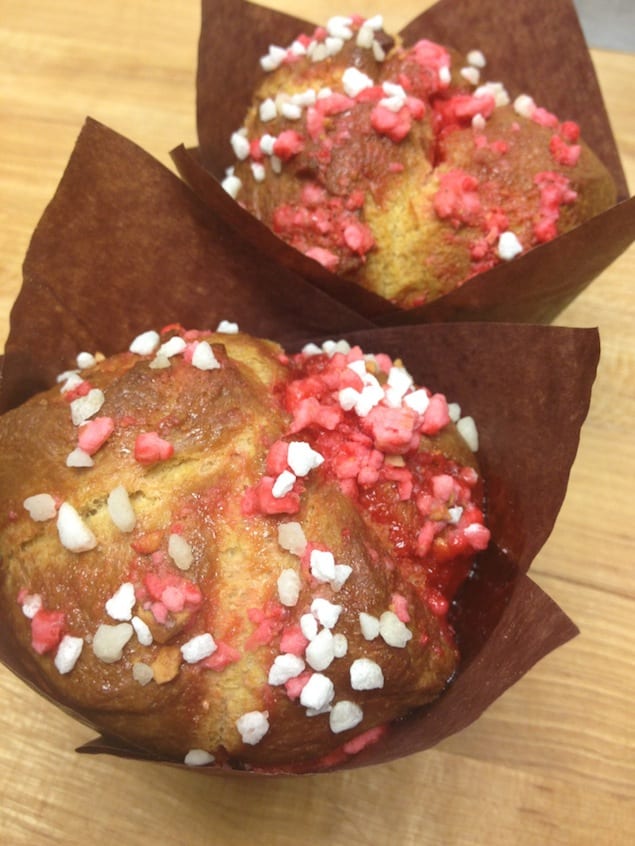 The outdoor markets of Lyon bring together perhaps the best produce, meat, pastries found anywhere in France. Frequented by the Chefs that make Lyon a culinary hotspot, it is truly no surprise that the markets here inspire them to make some of the finest food found anywhere in the world. While touring the Sunday market at Quai Saint-Antoine, you rub shoulders with Chefs, housewives, foodies all looking for the same fresh produce to inspire the nights dishes or a simply looking for a quick bite on the go. Walking through the stalls, my eyes are always inevitably drawn to the fresh morning pastries – croissants, cakes and various types of brioche all competing for my attention. I'm drawn to a brioche I have never seen before a bun dotted with bright pink and pearl sugar that I just can't resist. Brioche praline is made with a pillowy soft brioche formed into either a loaf or a muffin (or craqueline), and neon pink candy coated almonds that are a burst of colour when you tear into them.
Unfortunately for me, I didn't bring any of the pink pralines home with me and they are nearly impossible to find anywhere outside of Lyon. Devastated, I set out to somehow recreate them at home. I experimented with different candying techniques and different colouring agents with varying success (mostly huge disappointing failures) until one day in one magic combination against all hope, I finally came across my ideal homemade pink almond praline. I paired it with my go to sweet brioche and there it was, the brioche praline that I thought I'd very well have to travel back to Lyon to get my hands on.
Print
Brioche with Almond Praline
Buttery, pillowy brioche is delicious anytime of the day. Inspire by the baked good in Lyon, pink candy-coated almonds add a sweet crunchy to the bread.
Author:

Michelle Rose

Yield: makes

1

×8? loaf or

6

muffins

1

x
Category:

Baking
Brioche
375g

All Purpose Flour

16g

fresh yeast or

8 grams

Instant Yeast

45g

sugar

8 g

salt

190g

eggs

60g

whole milk

170g

butter (cut into cubes)
Almond Praline (For the First Coating)
100

ml water

300g

sugar

150g

blanched skinless almonds
Almond Praline (For the Second Coating)
100

ml water

300g

sugar
a few drops of red gel food colour
Instructions
Brioche
Combine all ingredients except the butter in a mixer fitted with a dough hook and mix on low speed about 5 minutes to combine. Once combined add butter and mix on medium speed for around 8-9 minutes or until dough comes away from the bottom of the bowl. If the dough seems to be stuck and isn't really coming together, help it along with a bench scraper and pull together by hand. Mix for another minute.
Remove from mixer and lightly knead by hand. Put into a greased bowl, cover and let it ferment in your fridge overnight.
In a saucepan combine sugar and water. Gently dissolve with spatula or whisk taking care not to spread sugar and water up the sides of the pan. Keep a moist brush handy to brush the sides of the pan to prevent crystallization. Bring to boil until sugar reaches 275F.
Almond Praline (For the First Coating)
Add almonds and stir until the almonds have a sandy texture. Pour out onto a cooling rack. Once cool, separate any almonds that may have stuck together or sugar that may have clumped
Almond Praline (For the Second Coating)
Once almonds are cooled, bring the water, sugar and gel colour to a boil until it reaches 275F. Stir in the nuts quickly just until they are coated and not sandy this time. Coat each nut in this pink sugar well though.
Remove from heat and pour onto a cooling rack. Once cool chop up about 100-150g of the praline for the brioche. The unused praline can be stored in an airtight container for months
To Assemble
Turn out brioche onto a floured surface. Push down on dough to deflate and roughly chop. If making loaves you can make the pieces somewhat bigger. Muffins will require smaller pieces.
Toss the chopped up brioche with the almond praline, saving some praline for later.
Spray loaf pan with non stick spray and fill both muffin cups or loaf pan about halfway.
Cover with plastic wrap and let proof until the dough reaches almost to the top. Brush well with egg wash and top with remaining praline and some pearl sugar.
Bake loaf at 325F for 45 minutes and muffins for 20 minutes or until deep golden brown
Release loaf from pan immediately and let cool on a rack.
Michelle Rose
After quitting her job, Michelle packed a bag and set off on a four year trip around the world. The one souvenir she brought back: a love of food and cooking. Taking a cooking class while traveling is the only thing that weighs nothing and stays with you forever. Returning home, she enrolled in the Pastry Arts program at the French Culinary Institute in New York City and has worked in some of North Americas finest restaurants and pastry shops. She currently resides in Toronto where she chronicles her travels and recipes on her blog Sweet Escapes.