An airy Croatian soft bread with a flavorful tomato and anchovy filling.
By Tamara Novacoviç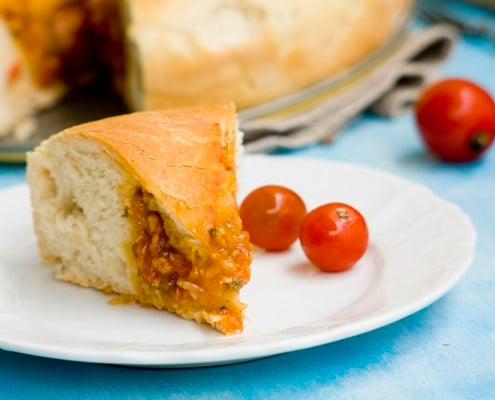 This bread is a version of the so called Croatian Komiska pogaca. It is a bread filled with a layer of anchovies and tomatoes, traditionally coming from the island Vis. Anchovies combined with tomatoes produce a delicate and beautiful aroma and make this bread soft and moist. It is usually made in rectangle form and cut in squares, but I opted for the round version this time.
Bread with anchovies and tomatoes
Soft bread with flavorful tomato and anchovy filling
Ingredients
5 cups (500 g) all purpose flour
1 tsp (7 g) dry yeast
1 tbsp sugar
2 tsp salt
2 tbsp olive oil
¼ cup (60 ml) warm milk
1 cup (250 ml) warm water
1 onion
2 garlic cloves
3 cups (500 g) fresh tomatoes
15 anchovy fillets
Instructions
Combine yeast with warm milk and sugar, leave for 5 minutes.
Preheat oven to 392 F (200 Celsius).
Combine flour with salt, olive oil and warm water. Add yeast mixture, knead until smooth dough forms. Leave the dough in slightly oiled bowl, covered, for 1 hour. Then separate it into 2 equal parts. Roll out each part on floured or oiled surface. Put first part on the bottom of large rectangle baking pan or round pan. Cover it with the filling: assemble anchovy fillets over it, then tomatoes. Cover it with the second part of the dough.
For the tomato filling, saute onion and garlic (finely chopped) on some olive oil. Put tomatoes into boiling water for 3 minutes, then put into a bowl of ice cold water and peel. Chop into pieces and add to onion and garlic, saute for 10 minutes. This is your tomato filling.
Bake the bread for 40 minutes.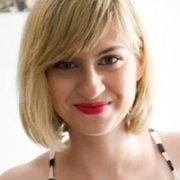 Tamara Novakoviç
Tamara Novakovic is a passionate self-taught cook, food blogger, freelance food writer and photographer behind bite-my-cake.blogspot.com. Her life journey has led her through Faculty of Humanities in Zagreb, Croatia to discovering passion for making cakes. She is currently a weekly food columnist for Croatian newspaper V magazine and food magazine Repete.