Braised soy sauce pork belly is a favorite in many Chinese kitchens and is about to become a staple in yours too. Let the warm, caramelized, comforting flavors and spices envelop you on a fall day.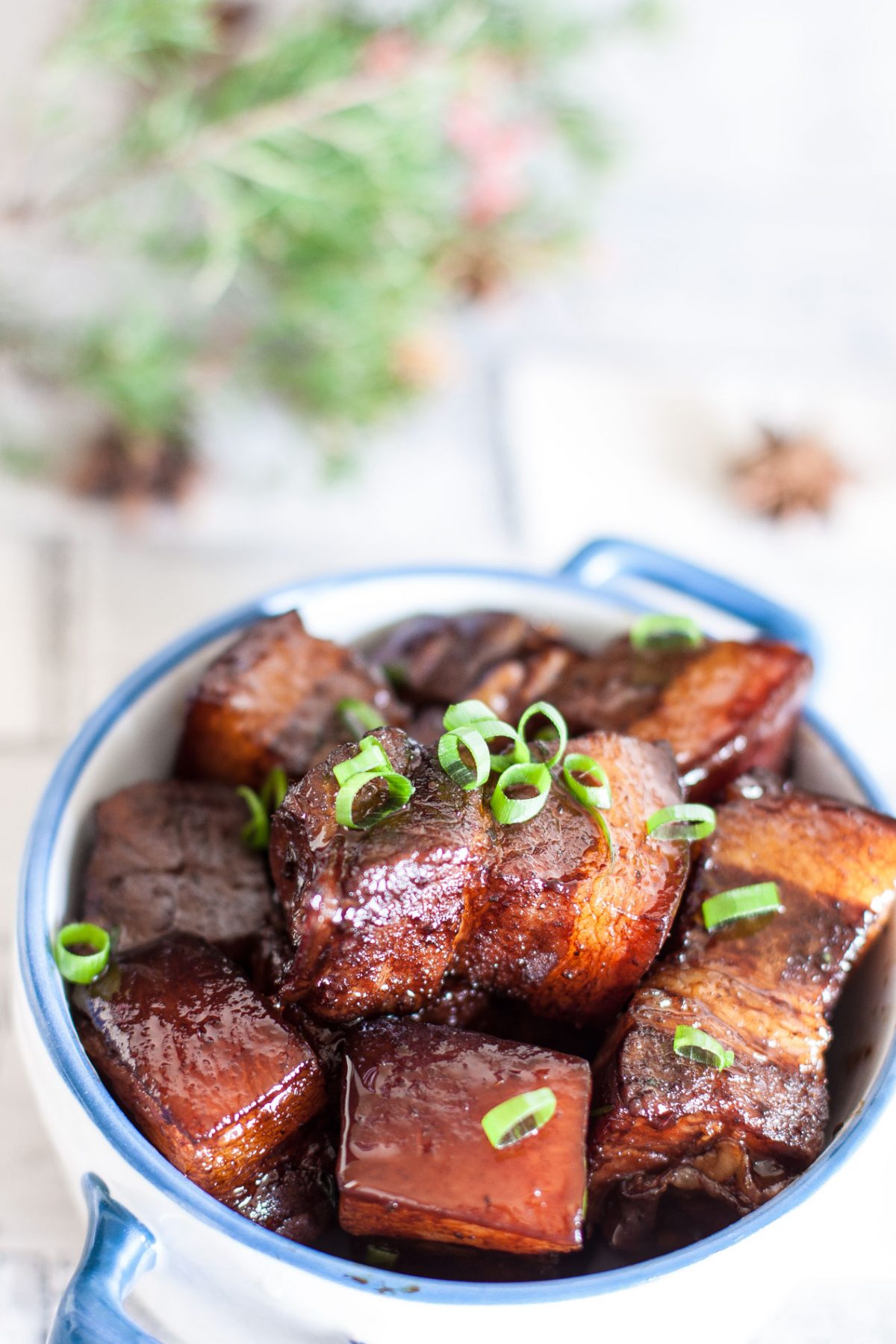 Braised Pork Belly is a very famous dish in China. Almost every household cook may have their own formula and twists based on the original. This is a meal that is built around the flavor of soy sauce and a handful of Chinese ingredients. The tender velvety meat of the pork belly surrounded by sweet soy sauce and star anise flavors will truly whets your appetite.
The recipe today is very simple. Three main steps, parboiling, braising and caramelizing together impart superior flavor and increase visual appeal.
Once you master the basic, you can add other ingredients to layer the flavors. The matched ingredients are spring onion, garlic, dry chili, bay leaf and cinnamon sticks.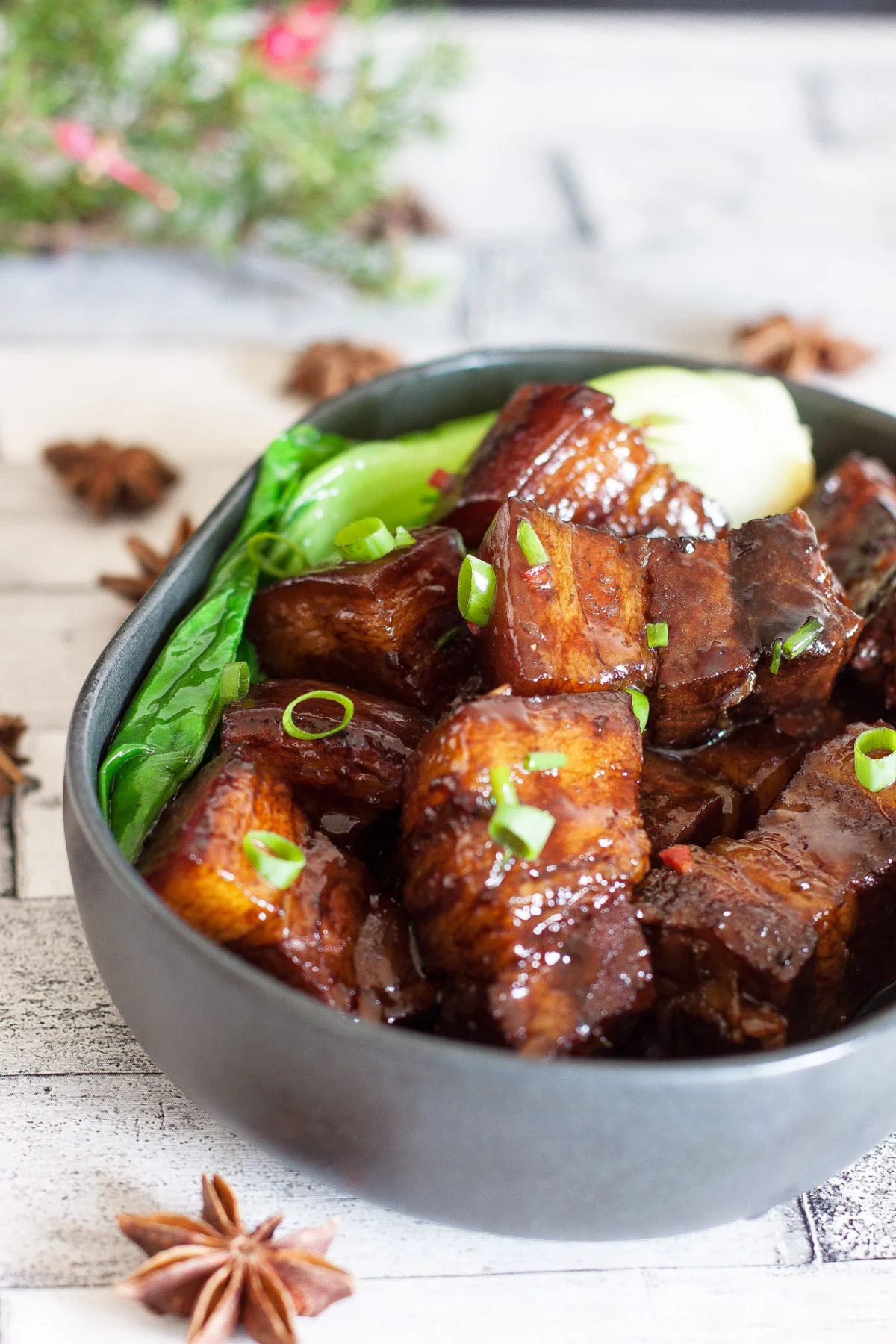 For more favorite Chinese recipes, click here.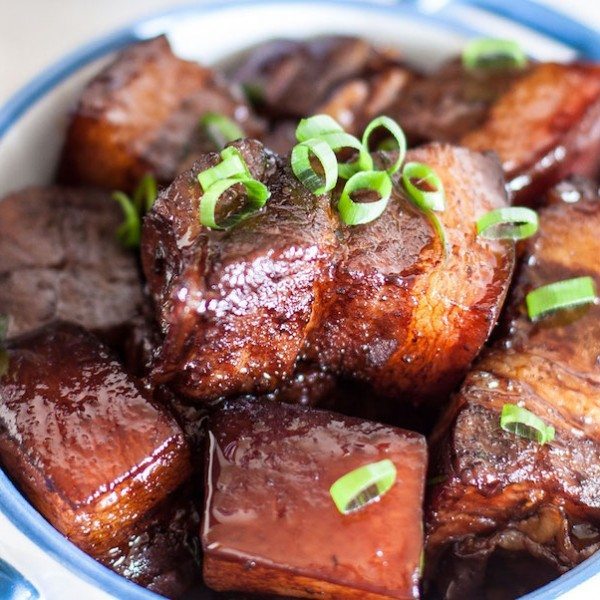 Lei Zhang
Ingredients
800

g

pork belly

cut into 3-4 cm thick pieces

½

cup

Chinese rice wine

3

tablespoons

soy sauce

1/2

tablespoon

dark soy sauce

for coloring, optional

4-5

slices

of ginger

1

tablespoons

of sugar

2

star anise
Instructions
Parboiling — Bring water to a boil in a sauce pan. Put pork into saucepan and boil for 5 minutes. Discard the hot water and wash the gunk off the pork with cold water.

Braising — Place pork belly, soy sauce, dark soy sauce, rice wine, ginger, sugar and star anise in the sauce pan. Add water to barely cover meat. Lower heat to a simmer, cover with a lid, and continue braising for about 60 minutes.

Caramelizing — turn to high heat, take the cover off and let liquid evaporate and thicken. Turn and mix the pork to make sure the meat is covered evenly. You should end up with a thick, glistening sauce that covers the tender pork belly.
Lei Zhang
My name is Lei. I grew up in China and have been living in New Zealand for almost two decades. During the day time, I work in an IT job. My passion for food and photograph has led me to this space where I can share my recipes and express my artistic side. I am striving to find the best matched ingredients to create the simple and tasty dishes. I summarize the recipes to as simple as possible and leave the room for your creativity. Thanks for stopping by, grab your aprons, get cooking, enjoy the food and life!