Virginia is better known for its wine than for its beer, but that is quickly changing.
By Melissa Maki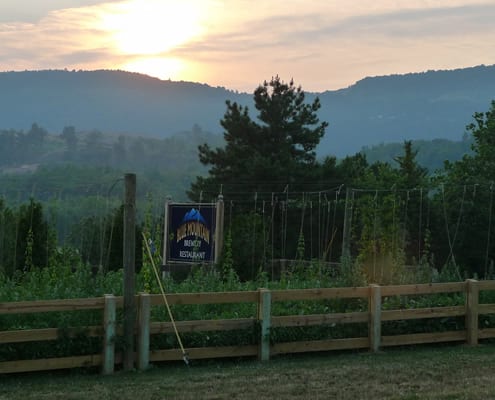 A number of craft breweries have been cropping up in the state in recent years, particularly in the Blue Ridge Mountain region. The resulting "Brew Ridge Trail" is a veritable paradise for active beer lovers and foodies alike.
Blue Mountain Brewery (BMB) is located in beautiful Afton, Virginia. It's one of the standouts along the trail. BMB started small in 2007 with carefully crafted beer and a modest but tasty menu. They quickly attracted a good local following, and, due to their close proximity to Shenandoah National Park, became a tourist destination. They've been continuously expanding since 2007: they distribute beer to many East coast states and are working their way westward.
BMB produces a regular slate of solid beers, like the Full Nelson (a hoppy pale ale) and the Kölsch 151 (a German-style Kölsch), but they also have a penchant for experimentation, which endears them to beer geeks. In 2011, they opened the Blue Ridge Barrel House, which concentrates on specialty, wood-aged beers. Two of their seasonal beers are particularly outstanding: the Mandolin, a Belgian-style tripel, and the Dark Hollow, an imperial stout aged in bourbon barrels.
The brewery offers a full menu that includes pub mainstays, such as burgers and brats, but many ingredients are locally sourced and everything is prepared fresh. Their pizzas are outstanding. They feature thin, whole-wheat crusts and artful combinations of ingredients. I recommend choosing between two of the greats: bratwurst (bratwurst, caramelized onion and apple with a balsamic reduction) or veggie (roasted vegetables, caramelized red onion, goat cheese, and cilantro pesto sauce).
If you visit on a Sunday, they have an expanded brunch menu that includes local sausage gravy with buttermilk biscuits, breakfast burritos and more.
Blue Mountain Brewery
9519 Critzers Shop Road
Afton, VA 22920
540-456-8020