This lentil salad celebrates the cusp of summer, the vibrant flavors of sun ripened tomatoes, charred sweet, drenched in a earthy, tangy cumin mustard dressing. And it travels well, and can feed a crowd.
By Mariela Alvarez Toro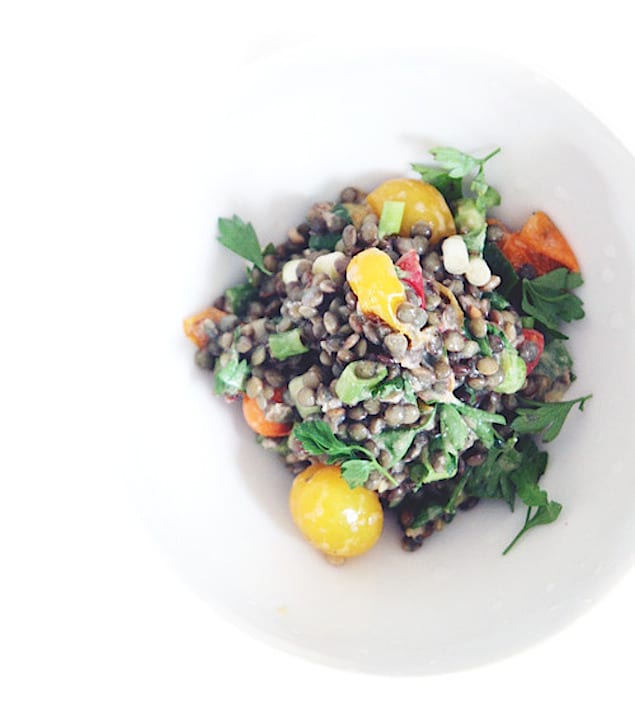 Every summer, towards the tail end of summer, I start getting antsy, nostalgic even. The prospect of temperatures dipping back into single digits and good times ending drives me insane. While the feeling is premature, I can't brush it off. I want to hold on to summer until December comes around. Heck!, I wish I could hold on to summer all year long, embracing the energizing beams of the sun, one minute at a time, stepping out of a chilled building into a warm, bright hug, eating sweet, sweet tomatoes, drinking Prosecco.
As a personal reassurance to the clear fact that winter is not coming just quite yet, I try to make food that reminds me there is still time to bask in the sun and eat good, delicious vegetables. Food that reminds me that, even though it might seem like the end, the good stuff is yet to come, food that keeps me optimistic, food that means so much more. This food is energizing, refreshing, and tasty. It is robust without being heavy. This food is good. This is the food of the moment, without either the future, or the past, in mind.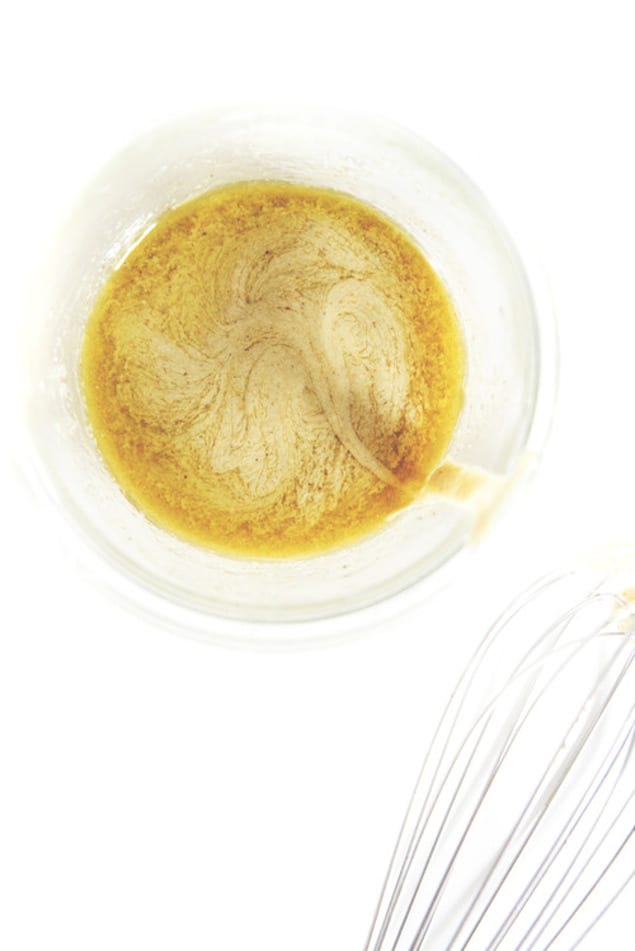 This lentil salad celebrates the cusp of summer, the vibrant flavors of sun ripened tomatoes, charred sweet, drenched in a earthy, tangy cumin mustard dressing. This salad travels well, and can feed a crowd. Perfect for the beach, or even a picnic, whether you are on a boat by the river, the Atlantic or the Caribbean. This salad is bold and aromatic, distinct and sweet, yet spicy and smoky. This salad is summer, and it is here to stay.

Blistered Tomato and Lentil Salad with Cumin Dijon Dressing
A lentil salad celebrates the cusp of summer, vibrant flavors of ripe tomatoes, drenched in tangy cumin dressing. And it travels well to feed a crowd.
Author:
Mariela Alvarez Toro
Ingredients
Cumin Dijon Dressing
1 tbsp. Dijon mustard
½ tbsp. tahini
1 tbsp. white rice vinegar
2 tbsp. olive oil
½ tsp. cumin powder
Cumin Charred Tomato and Lentil Salad
½ cup brown lentils
1 cup baby heirloom tomatoes, halved
1 clove garlic
1 tbsp. olive oil
2 scallions, sliced thin
1 handful parsley, chopped
Sea salt and fresh ground black pepper to taste
Instructions
Dressing
Place all ingredients in a small bowl, whisk until well incorporated. Set aside until ready to use.
Salad
Place lentils in a large bowl with 3 cups of water. Soak* for at least three hours. Drain lentils and rinse. Place in a pot with 3 cups water and a big pinch of salt. Bring water to a boil, reduce heat and cook for fifteen minutes. Drain, and set aside.
Place halved tomatoes, garlic clove, a pinch of salt, and olive oil in a sauté pan over high heat, cook, stirring occasionally until tomatoes become blistered, about five to seven minutes minutes.
Place tomatoes in a large bowl with lentils, sliced scallions and parsley. Stir in Cumin Mustard Dressing and mix until everything is evenly coated. You can either eat immediately, while still hot, or refrigerate for later use. Tastes amazing either way.
(*Soaking is optional, but helps reduce overall cook time)
Mariela Alvarez Toro
Recently graduated with from Harvard University's Graduate School of Design. She has recently completed "People in Food-Space", an ethnographic study on the cultural production of taste in space. She has also examined post-soviet food production systems and housing projects in Havana, Cuba. Originally from Puerto Rico, Mariela has been living in the United States for eight years. She has involved herself in both teaching and practice, while writing on food at tastyplan.com. Her goal as a food writer is to cook creatively, using the best ingredients to find new flavor combinations every day.