There are legendary hotels, and then there are Legendary Hotels. The Beverly Hills Hotel, affectionately known as "The Pink Lady" certainly qualifies for the latter category.
By Kalle Bergman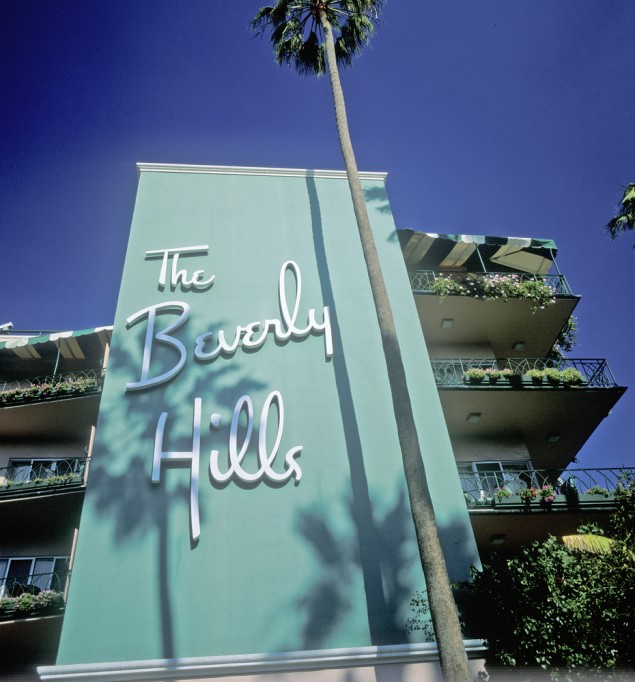 Joseph Sohm / Shutterstock.com
There are legendary hotels, and then there are Legendary Hotels. The Beverly Hills Hotel, affectionately known as "The Pink Lady" certainly qualifies for the latter category. First open in 1912, it has been at the center of Beverly Hills glitz and glamour ever since, and it has hosted an almost endless array of celebrities, royalty and other dignitaries over its first century of existence. From the Duke and Duchess of Windsor, over Howard Huges (who lived on the property for many years), to modern movie and pop stars – anyone who is anyone seems to have passed through the Beverly Hills Hotel at one point or another.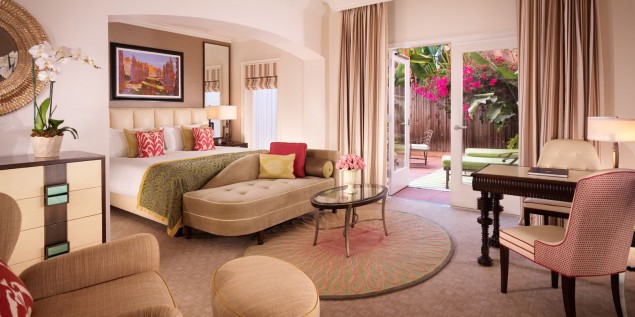 Remaining faithful to the original architecture and interior design, the hotel was recently carefully renovated to preserve its history while gently escorting the amenities into the 21st century. Stay in style in a luxurious room, spacious suite or opt for a secluded private bungalow.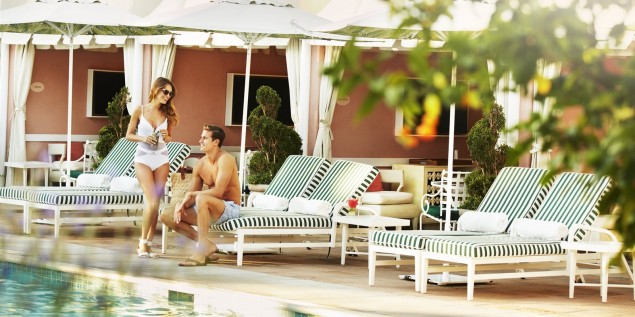 For culinary explorations, you have several options at the hotel, ranging from the casual but elegant fare served at pool side Cabana Café to the classic Polo Lounge. The Cabana Café is a great breakfast alternative (breakfast served all day), or as a lighter lunch break from lounging by the pool. Grab the Truffle Fontina Eggs Benedict for breakfast, move to a Tuna Tartare for lunch – and if you are really hungry, grab one of the really fresh wood fired pizzas. Perfect for sharing.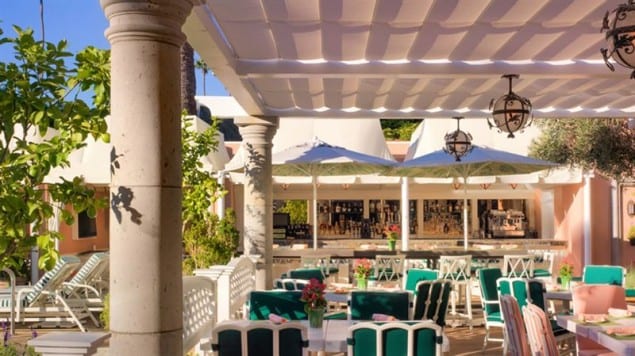 If you want to get a more classic diner brunch – you are in luck. The Beverly Hills has its own diner style coffee shop. The Fountain Coffee Room, tucked in beneath the grand staircase connecting the lobby to the pool area – is where you will go for burgers, pies, pancakes and great homemade ice creams. This is such a great feature at a hotel as luxurious hotel as The Beverly Hills Hotel – even guests who are spending big bucks sometimes just want a stack of pancakes and a classic black coffee – something the popularity of The Fountain Coffee Room bares witness to.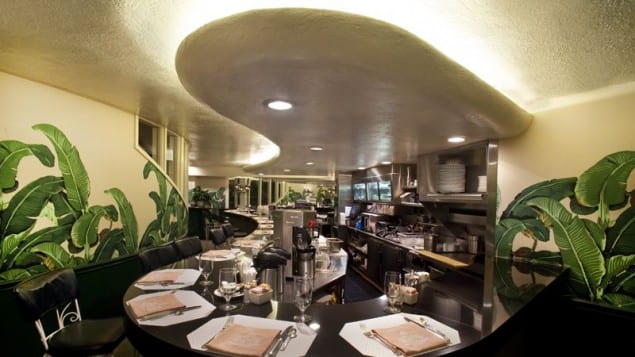 The Bar 19, is a sleek contemporary bar with a patio that overlooks the hotel grounds and with great views of Beverly Hills. And in addition to great classic and contemporary cocktails, they serve a fun bar menu featuring dishes like mini lobster tacos, oysters and crab cakes to go with your adult libations.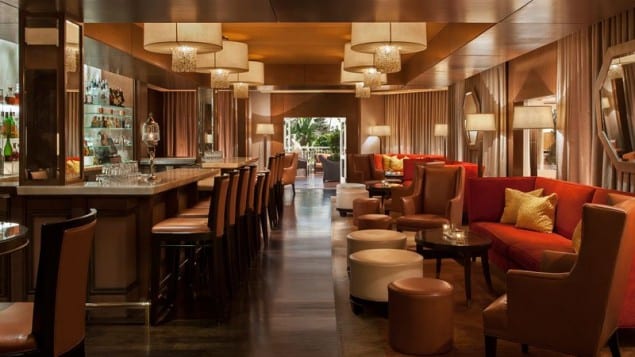 When you talk about famous restaurants in Beverly Hills, there simply is no way around The Polo Lounge. This classic restaurant has been a mainstay for Beverly Hills power lunches for as long as anyone can remember. With a friendly staff that has often worked at the restaurant for 15+ years (the Maître d' Pepe has been at The Polo Lounge for 29 years), even a newcomer feels as welcome as the most established regulars – even if this is posh dining, the ambience is casual at The Polo Lounge.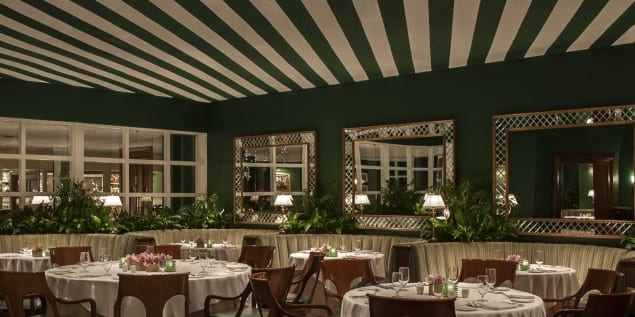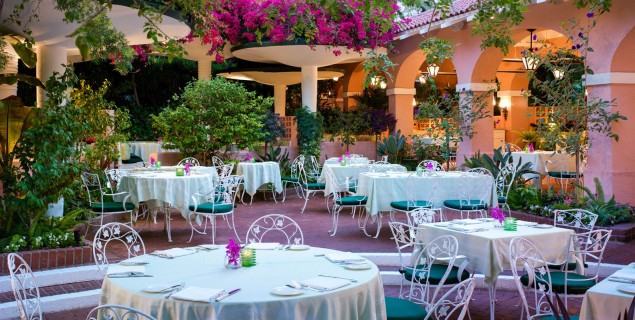 With a beautiful garden, open from morning to late night – there are several nooks and crannies where guests can get an almost private dining experience, should they not wish to be placed in the middle of where the action is. The menu at The Polo Lounge reads like a who is who in American classic dining with a few twists. From a baby iceberg wedge salad with all the classic trimmings or a dungeness crab served with calçot onion, pistachio, citrus and micro sorrel, to a delicious chitarra carbonara pasta with pea tendrils and asparagus or an old school filet mignon served with English Peas, sugar snap peas, tendrils, heirloom carrots and fingerling potatoes – the dishes finely balance the classic heritage of the restaurant with modern diner's requests for freshness. One dish that there is absolutely no way around at The Polo Lounge, is the Polo Lounge Steak Tartare. Prepared and served table side by Pepe the Maître d', it is a great opportunity to try and pry some juicy celebrity details out of a man who has seen and serve almost every big celebrity over the past three decades. Unfortunately, Pepe is as discreet as he is a master of the tartare – so most likely you will not get more than a sly smile out of him, but that's okay because the tartare itself is more than worth it anyway.
At the end of the day, The Beverly Hills Hotel still holds the position of one of the most luxurious hotels in the world. The rooms, suites and bungalows are beautifully decorated, the staff is incredibly friendly and service minded, and the culinary offerings are varied enough to last even the most discerning foodie many days and nights. And that is a good thing, considering the hotel really is one of those properties that you feel like you never want to leave.
The Beverly Hills Hotel
9641 Sunset Boulevard
Beverly Hills
California 90210
USA
Tel: +1 310 276 2251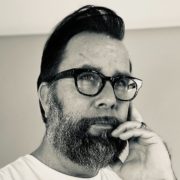 Kalle Bergman
Kalle Bergman is a food writer and media entrepreneur who is the founder of Honest Cooking and PAIR Magazine. As a food writer, his writing has been regularly featured in publications like Gourmet, Los Angeles Times, Huffington Post and Serious Eats. He is obsessed with simple food, more often than not from his native Scandinavia.