These nearly butter-free cupcakes are light and airy with a subtle fruit flavor, perfect for savoring summer.
By Cinta Farnos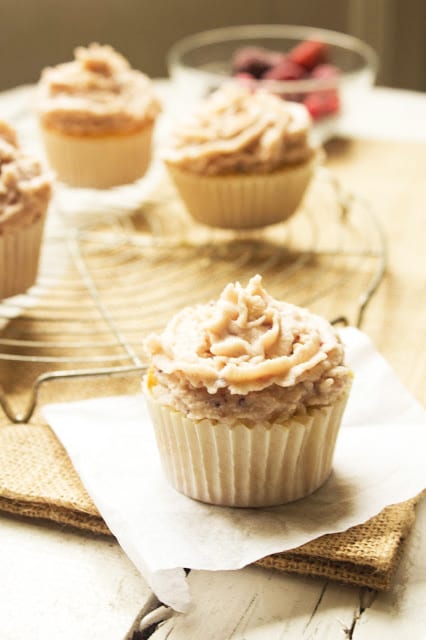 Berry Mascarpone Cupcakes
These nearly butter-free cupcakes are light and airy with a subtle fruit flavor, perfect for savoring summer.
Ingredients
Cupcakes
2 eggs
140g white sugar
120g flour
40ml sunflower oil
1 tablespoon baking powder
50ml milk
vanilla extract
Frosting
200g mascarpone
30g butter
2 tablespoon mashed berries
60g caster sugar
Instructions
Preheat the oven at 180 degrees. In a bowl, whisk together the eggs with the sugar until white and thick, add the milk, the sunflower oil and the vanilla extract and combine.
In another bowl, mix the flour with the baking powder and slowly start adding it to the wet ingredients bowl. Whisk together until well combined. Divide the batter among the the cupcake molds and bake for twenty minutes or until golden brown. Let them cool completely before frosting.
For the frosting, cream together the mascarpone with the room-temperature butter, add the powdered sugar ad blend until there are no lumps. Add the mashed berries and combine until it's a smooth cream. You can refrigerate until cupcakes are completely cool if you think it is too runny.