Beet greens in this colorful dish get a nice Bengali touch from the addition of nigella seeds.
By Rinku Bhattacharya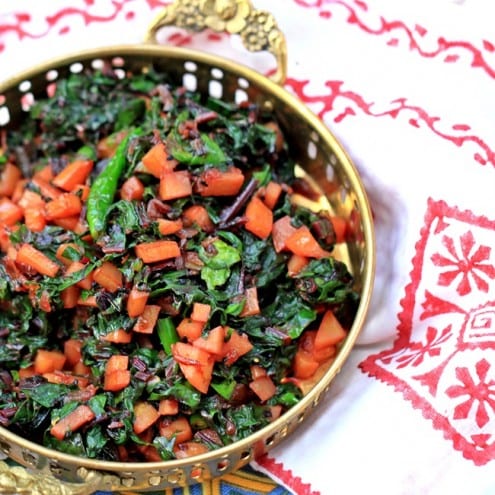 Beet Greens with Potatoes and Nigella Seeds
Beet greens in this colorful dish get a nice Bengali touch from the addition of nigella seeds.
Author:
Rinku Bhattacharya
Ingredients
2 tablespoons mustard oil (can be substituted with regular olive oil)
1 teaspoon nigella seeds
1 small to medium red onion, very finely chopped
1 teaspoon grated ginger
2 fingerling potatoes, peeled and diced
½ teaspoon turmeric
1 teaspoon salt or to taste
½ teaspoon sugar
2 to 3 green chilies, slit
2 cups finely chopped beet leaves
Instructions
Heat the oil on medium heat for about a minute.
Add in the nigella seeds and add in the onion and sauté it for 3 to 4 minutes and let it turn lightly golden at the edges.
Add in the ginger and sauté well.
Add in the potatoes and mix well. Add in the potatoes and the salt and mix well and add in sugar.
Stir in the green chilies and mix well.
Add in the beet leaves and cook for 4 minutes, stirring and mixing well until the beet leaves wilt and mix into the potatoes.
Serve as a side to any meal of your choice.