Beet greens in this colorful dish get a nice Bengali touch from the addition of nigella seeds.
By Rinku Bhattacharya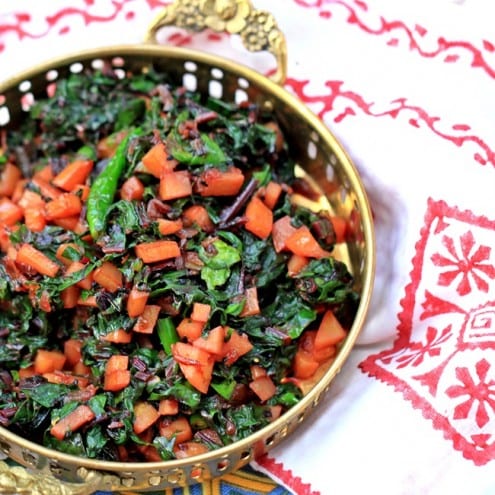 Beet Greens with Potatoes and Nigella Seeds
Beet greens in this colorful dish get a nice Bengali touch from the addition of nigella seeds.
Author:
Rinku Bhattacharya
Ingredients
2 tablespoons mustard oil (can be substituted with regular olive oil)
1 teaspoon nigella seeds
1 small to medium red onion, very finely chopped
1 teaspoon grated ginger
2 fingerling potatoes, peeled and diced
½ teaspoon turmeric
1 teaspoon salt or to taste
½ teaspoon sugar
2 to 3 green chilies, slit
2 cups finely chopped beet leaves
Instructions
Heat the oil on medium heat for about a minute.
Add in the nigella seeds and add in the onion and sauté it for 3 to 4 minutes and let it turn lightly golden at the edges.
Add in the ginger and sauté well.
Add in the potatoes and mix well. Add in the potatoes and the salt and mix well and add in sugar.
Stir in the green chilies and mix well.
Add in the beet leaves and cook for 4 minutes, stirring and mixing well until the beet leaves wilt and mix into the potatoes.
Serve as a side to any meal of your choice.
Rinku Bhattacharya
Rinku Bhattacharya, is a teacher of Indian Cooking and the author of the blog, Spice Chronicles. A busy working mother Rinku is committed to offering a practical approach of flavorful, everyday cooking often with an Indian Accent. An author of three cookbooks, Instant Indian, Classic Foods for Every Region of India made easy in the Instant Pot, Spices and Seasons, Simple, Sustainable. Indian Flavors and The Bengali Five Spice Chronicles. Rinku's passion for food starts with cooking and trying new recipes and extends to pairing and drinking wine with food and trying usual combinations by fusing various culinary influences. Rinku and her family are very committed to a sustainable lifestyle, and she uses mostly local produce for her recipes. She is joined in this effort by her husband who is an avid gardener and her children, Deepta and Aadi.