Rinku Bhattacharya serves a fresh and vibrant side dish of beet greens and almonds.
By Rinku Bhattacharya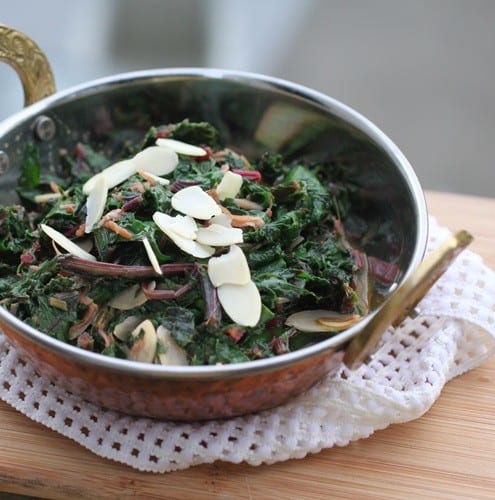 I love greens, it is one of my redeeming food habits. I enjoy fresh salads, and love to cook fresh greens in almost any combination that I can think of. I probably have recipes on my blog, for almost every conceivable green. But, I do have a favorite. I know, my gardener husband will tell you that it takes the same effort to grow all produce and so we should not play favorites, but what can I say? I have a favorite, and once I tell you about it and show you its pretty red streaked appearance maybe you will agree that it is the "prettiest" of them all.
Today, I was restless and generally unsettled, until I began working with a nice red and green batch of beet greens. They cheered me up, and I wanted to share their beauty with you.
The interesting thing about this green is that it does not loose its color when cooked, or correction, the green darkens and the reds remain affording a very pretty presentation. I usually saute them simply like with garlic as I am sharing with you here. I also vary this at times and add in pine nuts and if you want a more filling option, they can be tossed with pasta, or with cubed potatoes – in fact the variations and possibilities are endless. This recipe will work well for red chard as well.
So, tell me do you like summer greens? More importantly, do you have a favorite?

Author:
Rinku Bhattacharya
Ingredients
⅓ cup whole almonds
½ cup hot water
2 tablespoons olive oil
3 pods of garlic, slices
1.5 teaspoon cumin seeds
½ cup chopped garlic scapes (optional)
½ jalapeno chilie, minced
4 cups finely chopped beet greens
salt to taste
Instructions
Place the almonds in hot water and let them soak for about 10 minutes.
Rinse in cold water and remove the skin.
Chop coarsely.
Lightly toast the almonds, until very lightly golden and set them aside.
Heat the oil on medium heat for about 30 seconds and add in the garlic slices, cumin and cook for about half a minute.
Add in the garlic scapes and the chilie and continue cooking for about another minute until the mixture is a beautiful, fragrant bubbling mass, this takes about 3 minutes. You need to keep stirring constantly.
Add in the beet greens and the salt and cook for another 2-3 minutes until the greens are wilted.
Stir in the almonds and enjoy!
PS. If you wish you can make this with pre-sliced almonds and skip the browing of the nuts.
Rinku Bhattacharya
Rinku Bhattacharya, is a teacher of Indian Cooking and the author of the blog, Spice Chronicles. A busy working mother Rinku is committed to offering a practical approach of flavorful, everyday cooking often with an Indian Accent. An author of three cookbooks, Instant Indian, Classic Foods for Every Region of India made easy in the Instant Pot, Spices and Seasons, Simple, Sustainable. Indian Flavors and The Bengali Five Spice Chronicles. Rinku's passion for food starts with cooking and trying new recipes and extends to pairing and drinking wine with food and trying usual combinations by fusing various culinary influences. Rinku and her family are very committed to a sustainable lifestyle, and she uses mostly local produce for her recipes. She is joined in this effort by her husband who is an avid gardener and her children, Deepta and Aadi.