The use of barley is a great alternative when you dont have risotto rice or just for a nice change.
By Tania Cusack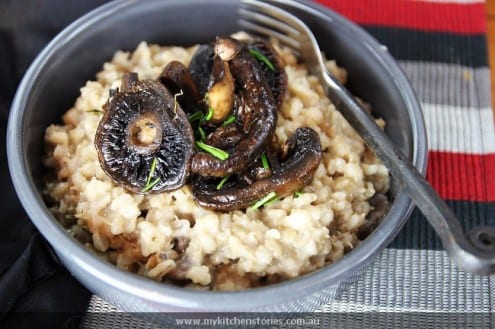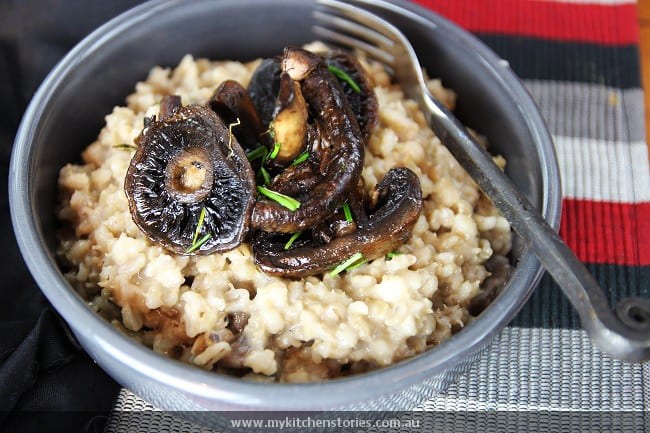 I almost feel a little pang of guilt suggesting you make this. There is so much backlash against the humble grain that it seems almost indulgent. The truth is that for most of us grains and a few carbs here and there are essential. I really think that we just need to concentrate on eating some good home cooked foods….and that is exactly what this is. I have used barley instead of rice to make a risotto and it is deliciously textural and quite flavoursome. If you haven't hunted down a good deli to buy some Italian risotto rice, either Carnaroli or Vialone Nano (this is a protected product and doesn't grow any where else – officially) then barley is a far better grain to use than the gluggy nasty "aborio" rice you can get in the big supermarkets. (If you would like to know the differences and the uses of the two Italian rices then just let me know).
There are lots of other uses for barley, once you have a pack in your possession. Try using it in a soup or stew instead of rice or couscous. Great for a tabouli. Use it with roasted vegetables and crumbled feta or instead of potato with a steak and some nice mustard mushroom sauce. What's the difference between Farro, Barley and Quinoa?
1. Quinoa cooked and raw 2. Farro (Spelt) cooked and raw 3. The lighter coloured Barley cooked and raw
To begin both the Farro (spelt) and the barley I've used are " pearled", which means they have had the outer husk removed. This takes away just a little of it's wholegrain qualities but it allows them to be cooked without soaking and quite quickly. They boil in about the same time as rice, with the Farro taking about 5 minutes longer.
Quinoa is proving not only to be a nutritious super-food but it boils quickly and can be used instead of rice or couscous and can be shaped into all kinds of delicious patties with the addition of some flavourings, egg and/ or breadcrumbs. It's even great thrown into muffins and cakes! It is a plant that resembles grass and although the seeds( quinoa) are very wholegrain in nature they aren't actually a grain at all.
Farro (or spelt) is a naturally organic grain. It can grow without pesticide or fertilizers and is almost weed-like when it gets growing. Although from the wheat family it contains less gluten, making it more easily digested for some. There is a lot more of it grown now that it has been discovered to contain "less" gluten. It was not grown commercially for many years as it grows very slowly compared to other varieties of wheat. It never lost popularity in places like Italy, but now they have to share their Spelt with us. Use it for Farro salad with peas, butternut pumpkin and feta, thicken soups with it, use it in cheesy bakes. It is also ground into a flour and used for baking.
Barley is a cereal grain grown all over the world. It has a nutty chewy texture that is very similar to brown rice, but before you get turned off by that it's a lot softer. There is no doubt it makes a great soup but it's also great for: Stuffing chicken or vegetables like squash or mushrooms, mixed into burger mince, in a fritatta, or as a pilaf and risotto.

Barley Risotto with Field Mushrooms and Balsamic
The use of barley is a great alternative when you dont have risotto rice or just for a nice change.
Ingredients
1 cup of pearled barley
1 small onion diced
1 clove of garlic crushed
30gm butter (1 oz)
2-4 Tablespoons olive oil
¼ cup of cream ( or low fat substitute)
30gm grated Parmesan (1oz or more if you like)
3 cups (approx) of stock- I used chicken
250gm – 300gm field mushrooms (8-10oz)
1- 2 Tablespoon of balsamic glaze or a very sweet thick balsamic
salt and pepper
extra olive oil for roasting mushrooms
½ bunch of chives, chopped into pieces.
Instructions
Using a shallow sided medium pot sweat the onion, garlic and 2 -3 mushrooms roughly cut in 2 Tablespoons of olive oil. When heated through add the barley and saute until coated and hot. Add 1 cup of stock and a little salt and pepper . Let this almost absorb before adding another cup of stock.
While the risotto is cooking chop the mushrooms into quarters and toss with some oil and salt and pepper and either bake or toss in a hot fry pan till cooked. You may need to add a little more oil. Toss the chives & balsamic into the mushrooms and mix. Set aside and keep warm.
Add ½ a cup more stock and check the barley for doneness. If it still has a firm centre add the other ½ cup of stock and turn right down and put a lid on the pot. This will encourage the barley to absorb as much stock as possible.
Open the pot and add the butter, cream and parmesan and taste for salt and pepper.
Serve with the field mushrooms and extra parmesan. Serve this as it is or with steak or meat dishes. Add basil or other herbs such as thyme or rosemary. You could also make it with porcini mushrooms