Banana Bread Bundt Cake with Coconut Milk Whipped Cream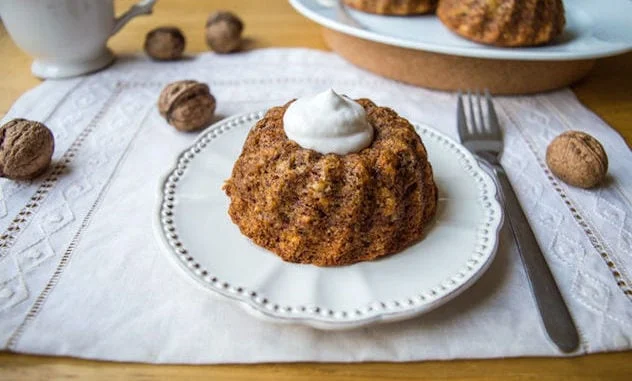 Walnuts and bananas make this cake snack-worthy and so delicious. Top with a coconut whipped cream for rich flavor and no diary.
By Joana Oliveira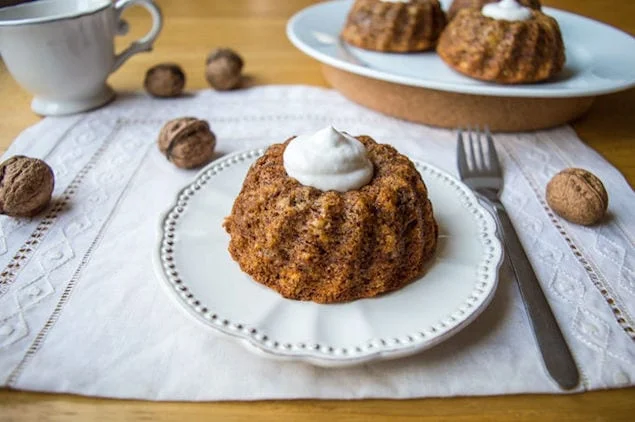 My first mini bundt cakes were made with cocoa and pumpkin and they were so yummy!! You can find the recipe here. Today I've created a variation of this recipe with bananas and walnuts, a super foods combo topped with whipped coconut cream that you can easily make at home.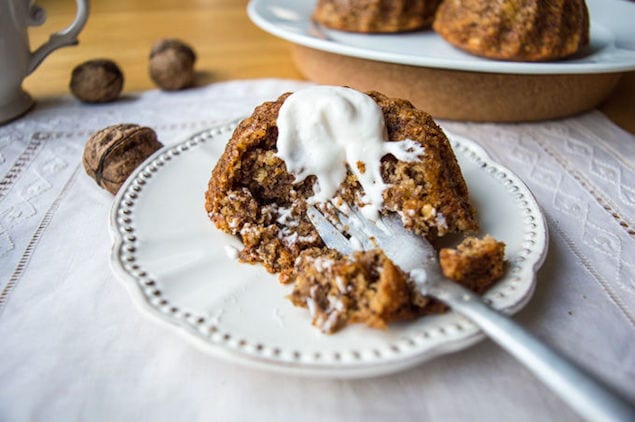 Banana Bread Bundt Cake with Coconut Milk Whipped Cream
Walnuts and bananas make this cake snack-worthy and so delicious. Top with a coconut whipped cream for rich flavor and no diary.
Recipe Type:
Baking, Dessert
Ingredients
2 ripe bananas, mashed
2 tbsp virgin coconut oil (more for greasing)
2 tbsp maple syrup
3 tbsp brown sugar
½ cup rice flour
1 tsp baking powder
¼ cup finely chopped walnuts (approx. 10 walnuts)
Whipped coconut cream
½ can full-fat coconut milk, refrigerated for minimum 2 hours
1 tbsp maple syrup
½ tsp vanilla extract
½ tsp lemon juice
Instructions
Preheat oven to 350ºF/180ºC and grease 4 mini bundt cake molds with coconut oil.
In a mixing bowl, mash the bananas until creamy. Add in the maple syrup, coconut oil and sugar and mix until well incorporated.
Stir in the flour, and mix well.
Add the chopped walnuts and baking soda and stir gently to combine.
Fill in ? of the cake molds with batter.
Bake for 25 minutes. Cool before unmolding.
Top with ...
Whipped coconut cream
While the mini cakes are baking, scoop out half of the coconut cream from the refrigerated can. Choose the hard cream, leaving the more liquid coconut milk in the can (reserve for other recipes).
Place it in a bowl and add the maple syrup, vanilla extract and lemon juice.
Beat with an electric mixer until stiff and fluffy.
Spoon the cream into a piping bag fitted with a piping tip and top the mini cakes.
Joana Oliveira
My name is Joana and I am a passionate foodie on a food sensitivities friendly diet. My Gut Feeling blog features mainly gluten free, dairy free and low FODMAP recipes. For more info please visit: