SPONSORED: We get excited about good food and great ingredients, so we've teamed up with Divine Flavor to bring you delicious recipes for each season made with their fresh produce.
Dig into this easy, earthy, totally delicious bruschetta appetizer layered with creamy chèvre, yellow squash and a drizzle of balsamic reduction.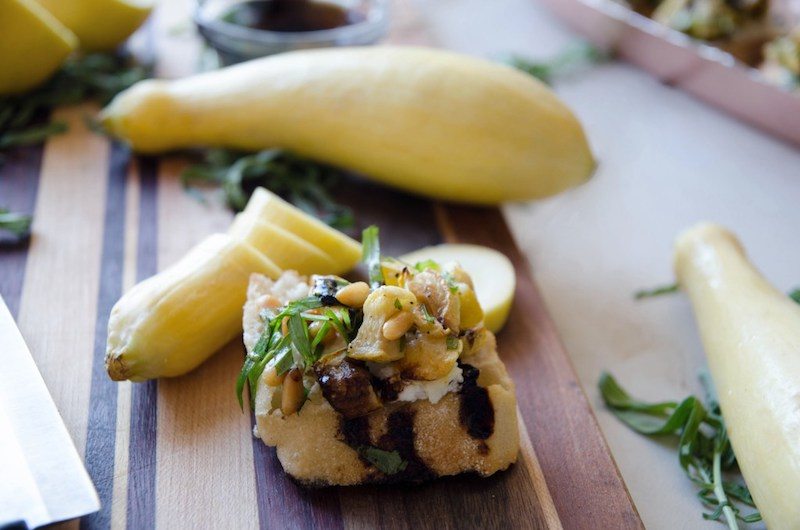 This appetizer is quite the comfort as the seasons change, a slow-roasted yellow squash topped with creamy chèvre, toasted pine nuts, sweet Tarragon, and a drizzle of balsamic reduction on toasts.
Finger foods and appetizers have always been my favorite of mine. Mostly because the preparation and eating procedures are full of style. I love that just by preparing this simple yellow squash recipe and making it into an appetizer, you now have a posh dish to serve for someone that pops over to say hi, a holiday party, or the food savant. Appetizers are just that special.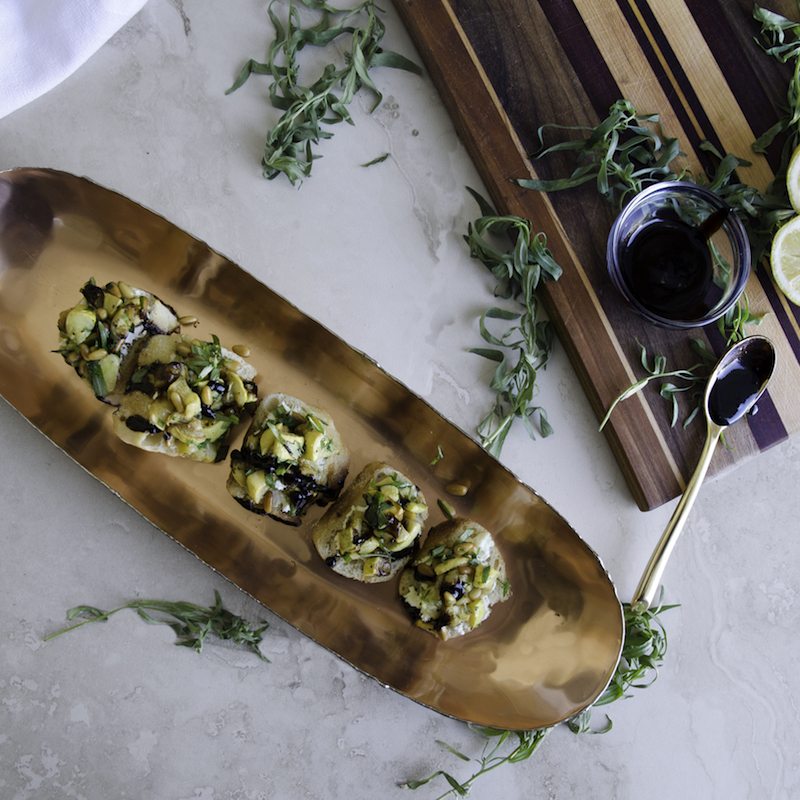 Personally, I've always loved Bruschetta, but not everyone likes or can eat tomatoes. So, finding an alternative to such a tasty dish can be tricky. Rather than just replacing ingredients in the dish, I wanted to recreate the dish with the help of Divine Flavor, a family-run and grower-owned fruit and vegetable distribution company based out of Arizona.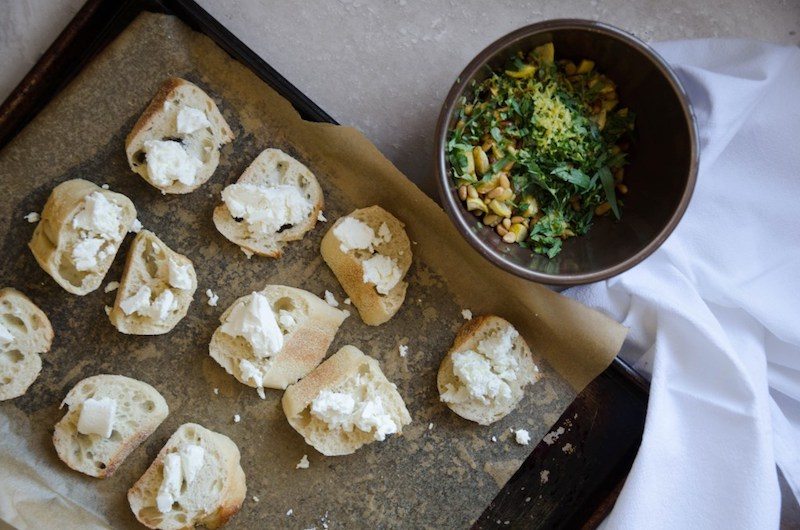 I basically knew the concept I had in mind, but knew it just wouldn't be right if there was basil or mozzarella included. I went through a list of about 20 ingredients before I knew what sounded right. My food critic mother gets the most patient award for this one! So nice to have a foodies in my family when I need opinions.
I wanted something fresh and earthy. Have you ever cooked with tarragon? Turns out tarragon helps treat insomnia, improves digestive health, and "has the ability to fight certain bacteria." It's also a favorite ingredient among French chefs. But I had no idea just how well it would pair with yellow squash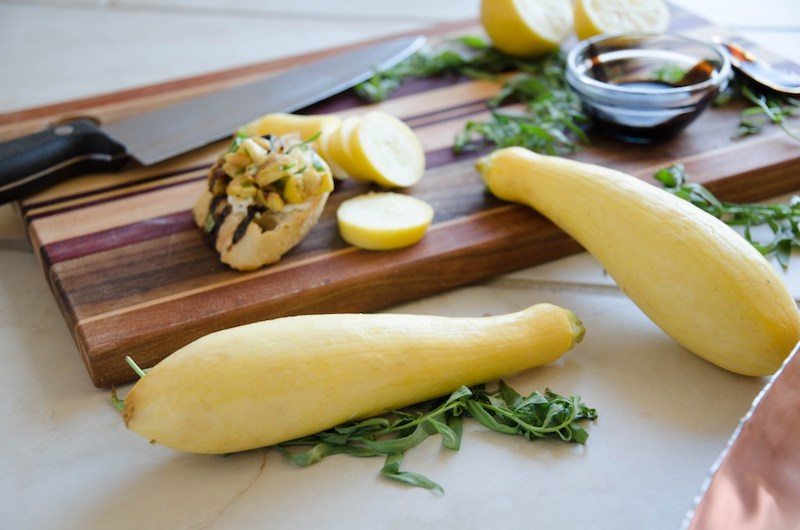 See Also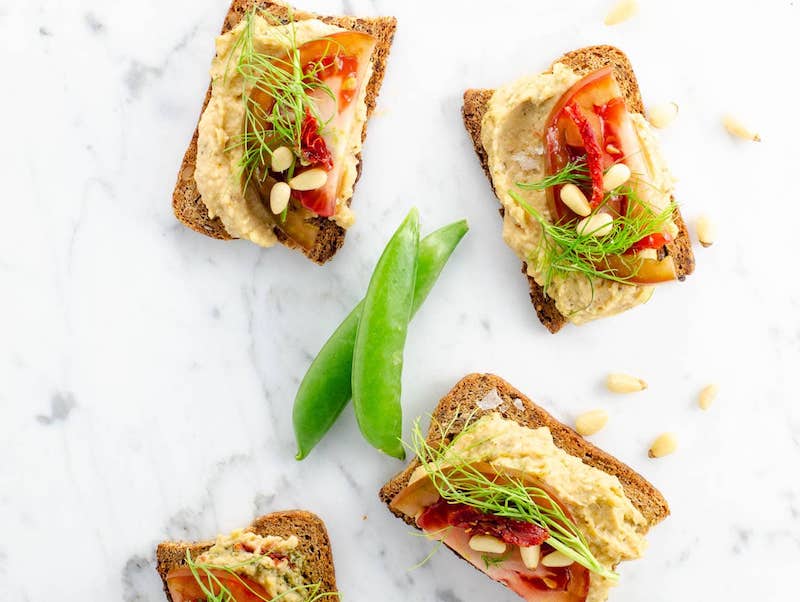 SO…WHY SHOULD YOU LOVE YELLOW SQUASH?
Besides being filling and only containing 18 calories per squash, it has a lot of Folic Acid, Beta Carotene, Vitamin C, and even some Lutein for your eyes! Seriously, read any pregnancy blog and you'll find yellow squash to be a favorite. I personally love that you can leave the skin on yellow squash. It adds stability to the sometimes mushy squash once cooked, saves you a prepping step, and allows you to eat the whole vegetable, adding nutrients. However, leaving the skin on does mean finding the organic variety of yellow squash is very important so you aren't putting undue pesticides in your body.
Best of all, it tastes heavenly! You know, that perfect complexity that usually only occurs when all parts of your tongue are working at the same time? When you have earthy, tart, sweet, salty, peppery, notes all floating on your tongue at once, you'll know exactly what I mean!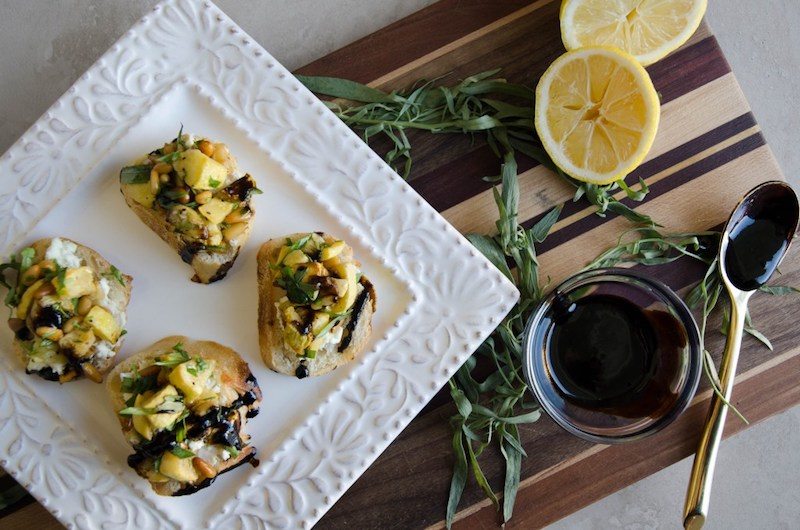 Print

Balsamic, Goat Cheese and Yellow Squash Bruschetta
---
5

–

6

Organic Yellow Squash (Cubed)

8 oz

Chèvre

1 tbsp

avocado oil (or oil preference)

1

juiced lemon
salt & pepper to taste

1 tbsp

coconut sugar

1

Loaf of French Bread (Sliced)

1/4 cup

pine nuts

1

bunch of Fresh Tarragon (about

1/4 cup

, chopped)

2 Tbsp

lemon zest
Balsamic Reduction (drizzled (I used Trader Joe's Balsamic Glaze))
---
Instructions
Preheat Oven to 400 Degrees. Tthoroughly wash the yellow squash, lemon, and Tarragon.
Chop the Organic Yellow Squash until cubed (I left the skins on).
Add the avocado oil, lemon juice, salt & pepper, and coconut sugar.
Toss together and bake on a cookie sheet for 20 minutes or until brown. Flip after 10 minutes.
Slice the bread and put aside.
Once the squash is done, turn the oven down to 350 and bake the french bread and pine nuts for 7 minutes.
Toss the squash, pine nuts, lemon zest, and chopped Tarragon together.
Top the toasts with a generous smearing of chèvre, top with a spoonful of squash, and drizzle the Balsamic reduction on top.
Serve!