Baked Salmon Filo Parcels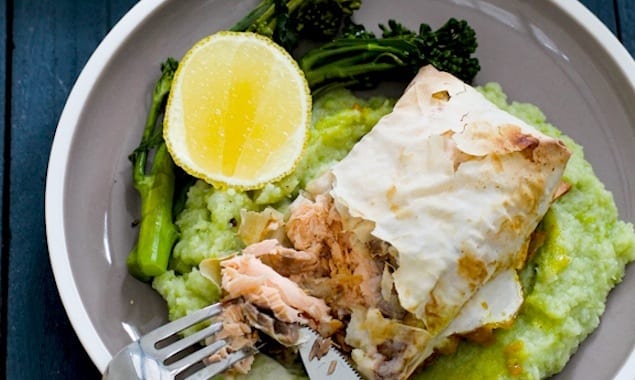 These Baked Salmon Filo Parcels are an easy way to prepare fish quickly and in a non-smelly way. Dressed with an old-fashioned Farmstyle Pickle relish and served with a cauliflower mash.
By Martyna Candrick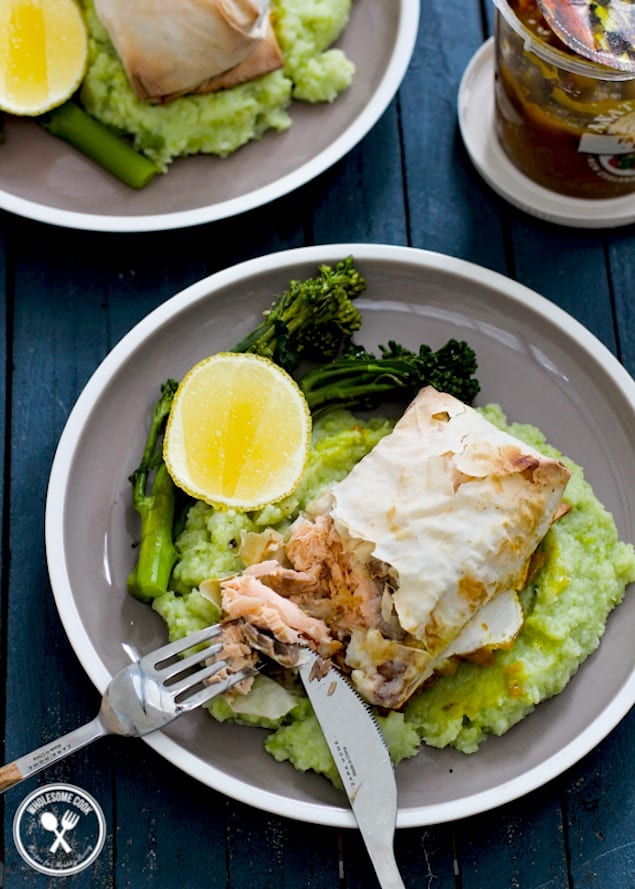 This recipe is brilliant because it keeps the flavours (and scent) inside the thin, flaky, undulating crust that's a world lighter than puff, my ususal pie pastry of choice. Though, this is no pie. It's a simple parcel of salmon, a dollop of Anathoth's all natural Farmstyle Pickle relish – which is an instant sensation in classics like chicken pies, wrapped in three sheets of pastry. Nothing more, nothing less, but trust me, the flavours are there!

Baked Salmon Filo Parcels
Trout could also be used instead of salmon. I used boneless fillets with skin on but removed the skin before wrapping the fish, they are slightly cheaper than skinless fillets.
Ingredients
For the Baked Salmon Filo Parcels:
1 packet Filo pastry, you will only need 6 sheets
2 (450g/1lb total) skinless salmon fillets, fatty side trimmed (reserve for adding to scrambled eggs)
½ cup Anathoth Farmstyle Pickle
For the Cauliflower Mash:
½ head of medium cauliflower
½ cup frozen peas
1 tsp sea salt flakes
½ cup baby spinach leaves
1 tsp garlic powder
1 tbsp butter
To serve
bunch broccolini, steamed
lemon wedges
Instructions
Preheat oven to 220C (200C fan-forced, 425F, gas mark 7).
Place 6 filo pastry sheets in a single layer on a kitchen bench and cut in half across – you should now have two piles of 6 sheets. Divide each pile into two piles of 3 sheets. You should now have 4 piles of 3 sheets each.
Cut salmon fillets across in half and place each salmon fillet in the middle of each pastry sheet pile. Top with a quarter of the relish then wrap snugly, folding in sides. Cut off any excess pastry.
Place on a baking paper-lined baking sheet. Bake for 15 minutes or until edges are starting to turn golden.
In the meantime, cut cauliflower into small florets. place in a medium pan and cover with water. Add peas and salt. Cook for 10 minutes. Drain, add baby spinach and butter and blend using a stick blender.
To serve:
Divide mash and salmon parcels between 4 plates. Add a side of steamed broccolini and serve with a lemon wedge.
Martyna Angell
Martyna is a Polish-born Australian recipe developer and food blogger. Her creativity and passion for good food shines through in many of the delicious and easy to prepare meals which she cooks, styles and photographs for her blog, Wholesome Cook. Fresh cream-filled eclairs are her only weakness.