California Love – Bacon and Caramelized Onion Smashed Brunch Potatoes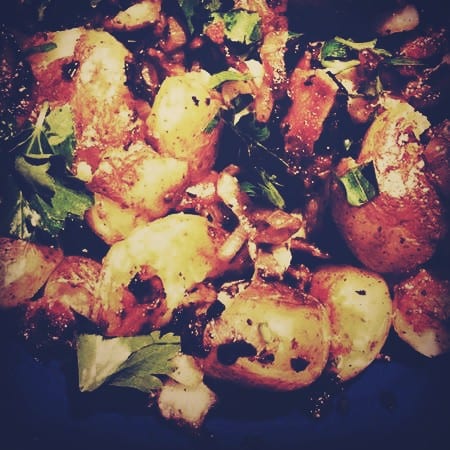 This delicious brunch side dish of potatoes is packed in decadence from bacon and caramelized onions.
By Olivia Caminiti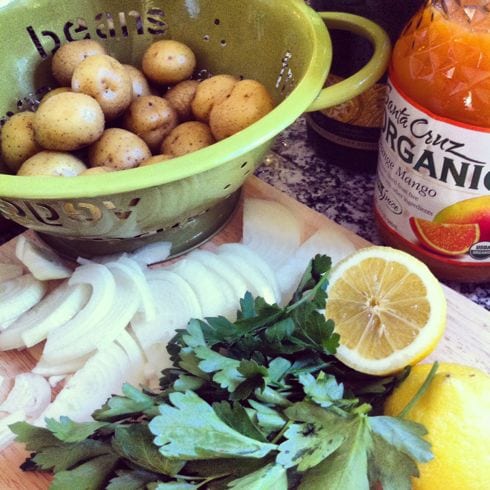 This brunch side dish of potatoes that's packed in decadence from bacon and caramelized onions, was the perfect compliment to crisp early-summer watermelon and Petaluma farm fresh poached eggs. Yes, my friend Sophia and I beat-up these little yukon gold potatoes from boiling them, smashing them, and frying them but it is alright since  Giada de Laurentiis did it too! The decadence in this recipe was borrowed from a recipe Sophia had made of Bobby Flay's that included caramelizing onions in bacon fat for a grilled potato salad. Combining the best of both culinary worlds, we made an incredible brunch side dish that later served as midnight snack that was so well timed we broke into laughter, mouths full.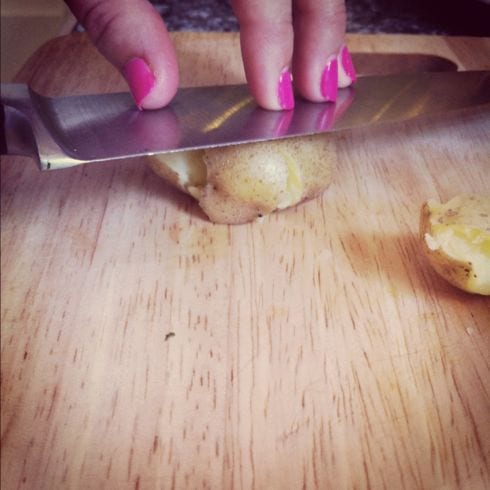 We found the trickest part of this recipe to be getting the creamy little Yukons to the right consistency to smash. They do not cook much more when frying, it is just for crisping the skins so do not hesitate to boil the potatoes till they are completely fork tender. The potato's skin should break as it is pressed but still be able to keep some body rather than being an instance mushed potato. With this advice there should be no worries for now you are set-up for success!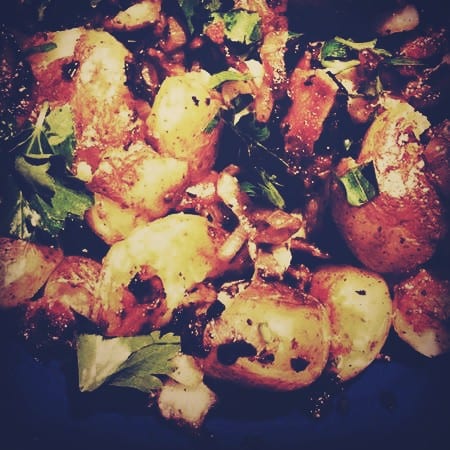 California Love- Brunch Potatoes
A combination of Giada de Lauentiis's fried smashed potatoes with lemon and Bobby Flay's grilled potato salad with bacon-blue vinaigrette. Yes, please!
Recipe Type:
Side Dish, Brunch
Ingredients
.5 lbs (8oz.) Yukon Gold baby potatoes
1 small yellow onion, sliced into half rings about ⅓" thick
5 slabs bacon, crisped
⅓ cup (237grams) Italian flat leaf parsley, rough chopped
½ lemon, juice and zest
Instructions
Bring a medium pot of salted water to a boil, add potatoes ,and cook until fork tender, about 10 minutes. Remove and let cool till warm.
Meanwhile, crisp bacon in a medium sized skillet over medium-low heat, flipping half way through; about 8 minutes.
Remove bacon to paper-towel lined plate to absorb grease. Pour out grease in reserve bowl.
Keep 2 Tbls. (1oz.) remaining grease in the pan, add onions, and saute over medium-low heat until caramelized and brown. Reserve.
Place cooled potatoes, one at a time, on a cutting board and press down with the broad side of a knife to smash the potato. In same pan, heat 1 Tbls. (.5oz.) each bacon grease and vegetable oil. Add layer of potatoes and fry till browned, flipping half way through about a 6 minute cooking time.
Add potatoes, onions, bacon, parsley, and lemon into a bowl and toss. Serve warm. Enjoy & repeat!
Olivia Caminiti
Olivia's passion for food is rooted in California's Bay Area though now regrowing in Austin, Texas. She mixes with her travel experience, eye for beautiful food and intuition to find the next ingredient to keep a balance in life. See what she incorporates next and check-out her website at oliviacaminiti.com