This hearty baccala salt cod stew is loaded with potatoes, tomatoes and onions and served with a crusty bread to sop up the delicious broth.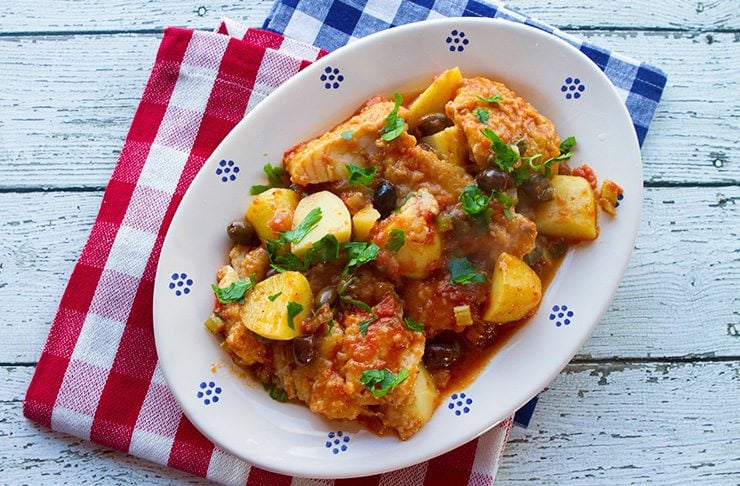 Salted cod is something that folks either love or strongly dislike. I wasn't terribly fond of it myself until I tasted baccala prepared the way the Venetians do, and now I enjoy it when I can. I bought a big piece of baccala this past June when my family was coming for a visit as I had a great plan in mind. My family all love to cook, and even my grandkids always want to help out in the kitchen. I planned to have a chicchetti night, and envisioned all of us in the kitchen together creating tasty tidbits to enjoy together as a meal. For those who do not know, chicchetti are Venetian appetizers that served in bacari bars along with a glass of wine. One of my favorite tidbits to enjoy in Venice is a crusty piece of bread topped with whipped baccala. It is delicious, and I wanted to share the experience with my family and thought we'd make an entire meal of delicious Venetian inspired appetizers.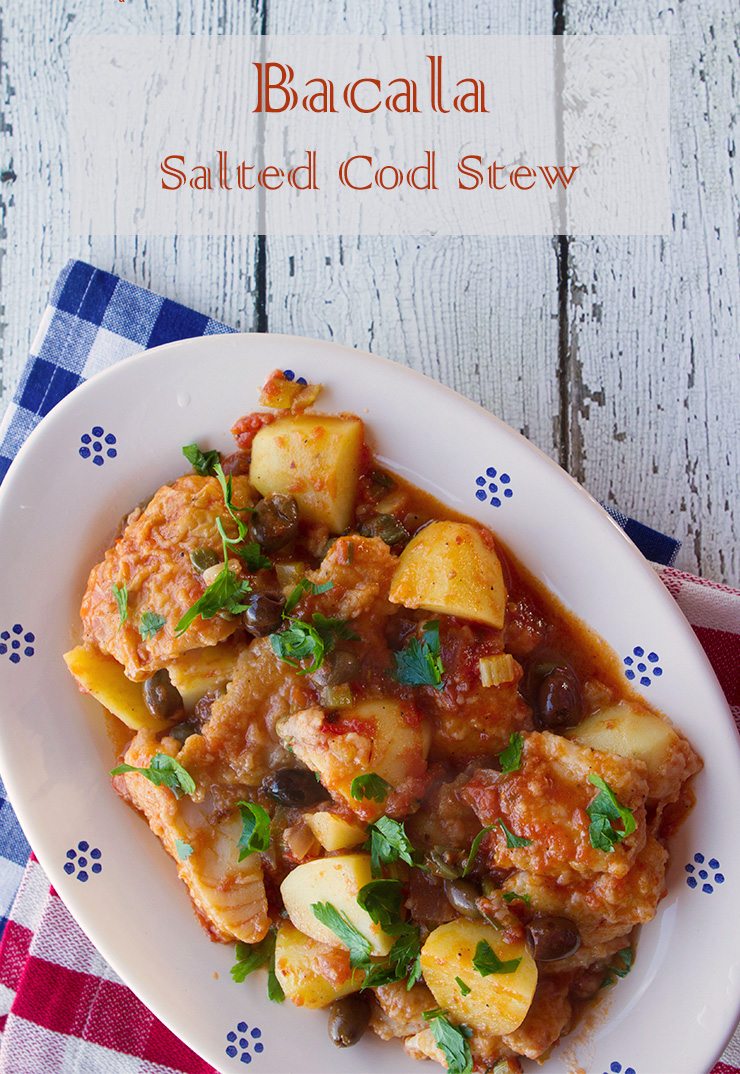 Unfortunately, things did not go as planned, as one of my grandsons became very ill with the flu, and a few others just weren't feeling well. The family left without sharing my planned chicchetti night, and I was left with a big piece of salted cod. My husband grew up with his Italian Mother making baccala often for the family, so he is a big fan of this unique fish. Salted cod has been preserved by salting and then drying it and does require some preparation before it is ready to be used. You must soak the salted cod for at least forty-eight hours, changing the water often as it soaks. Even though the fish has been soaked, it is impossible to remove all of the salt, so not not add any additional salt to this dish!
I decided to prepare my baccala in a similar fashion to how my Mother-In-Law used to make it, cooking it in tomatoes along with potatoes and onions. The stew was a hit, and my husband loved it so much he now wants me to prepare it this way for him often. This stew creates an entire meal in a bowl, and all you need to serve with it is some crusty bread and perhaps a nice crisp mixed salad.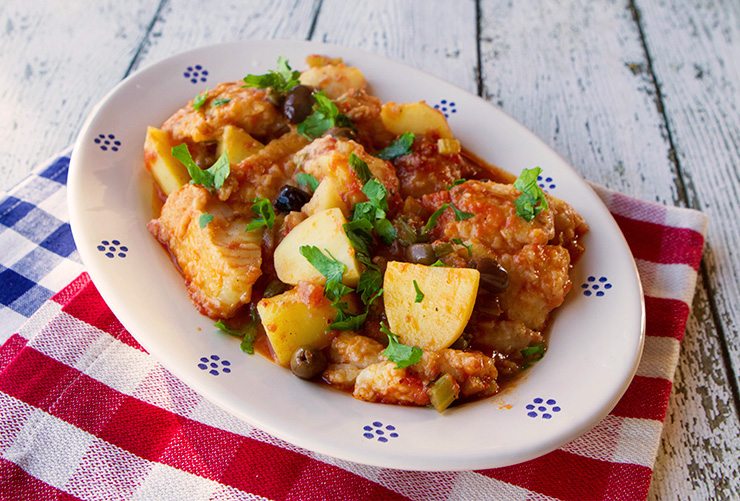 Print
Baccala Salt Cod Stew
This hearty baccala salt cod stew is loaded with potatoes, tomatoes and onions and served with a crusty bread to sop up the delicious broth.
Author:

Deborah Mele

Yield:

4

servings

1

x
Category:

Main
1

Pound Salted Cod (Soaked For

48

Hours (See Notes Above))

1/4 Cup

All-purpose Flour

6 Tablespoons

Olive Oil

2

Large Potatoes

1

Large Onion (Peeled & Chopped)

2

Celery Stalks (Finely Chopped)

1 Cup

Dry White Wine

1 Cup

Fish or Vegetable Stock
Pinch Of Red Chili Flakes (Optional)

1

Box Pomi Chopped Tomatoes

1/4 Cup

Chopped (Pitted Flavorful Olives)

1 1/2 Tablespoons

Chopped Capers

3 Tablespoons

Chopped Fresh Parsley
Black Pepper To Taste
Instructions
Cut the potatoes into 2-inch pieces and boil in unsalted water for 5 minutes.
Drain, then set aside.
Remove any skin from the fish, and cut it into 2-inch pieces.
Dust the pieces of fish with the flour.
In a heavy bottomed pot, heat the olive oil over medium heat, then fry the fish on all sides until lightly browned, about 2 minutes per side.
Remove the fish from the pot and set aside.
Add the onion and celery to the pot, and cook over medium heat for 8 minutes.
Pour in the wine, cooking over high heat until almost evaporated, about 5 minutes.
Add the stock, chili flakes, tomatoes, olives, and capers to the pot and bring to a boil.
Add the potatoes reduce the heat to a simmer and cook for 5 minutes.
Return the fish to the pot, season with pepper and parsley, cover, and simmer for 20 minutes.
Serve immediately in individual bowls.
Deborah Mele
Deborah Mele is a self-taught cook whose passion for Italian cuisine began after living in Milan, Italy for 8 years. Although not Italian by birth, she became a true Italian by heart and palate. Deborah created her Italian recipe blog ItalianFoodForever.com 12 years ago to share her passion for Italian food. During her various travels throughout Italy, Deborah fell in love with the central Italian region of Umbria so when they retired, Deborah and her husband bought two farmhouses there where they now reside for six months a year and run a farmhouse rental for guests and give cooking classes.