This cocktail is full of Autumnal flavors but, unlike many seasonal drinks, it is served cold, making it ideal for the current mild weather.
By Bowen Close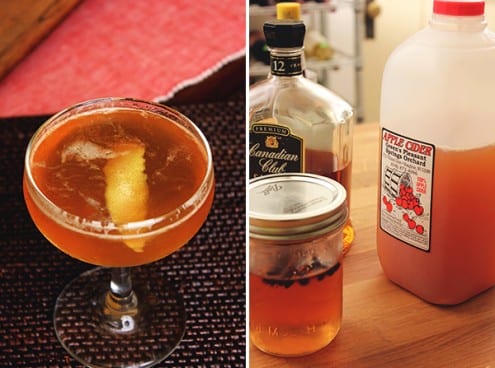 Apple Picker Cocktail
This cocktail is full of Autumnal flavors but, unlike many seasonal drinks, it is served cold, making it ideal for the current mild weather.
Ingredients
1½ ounces Canadian whiskey (other whiskeys will work here as well)
1½ ounces apple cider
1 Tbsp. spiced simple syrup (see recipe below)
¼ oz. lemon juice
1-2 dashes bitters
Lemon twist, for garnish
Ice
Spiced Simple Syrup
1 cup (or equal part) sugar
1 cup (or equal part) water
Small handful spices: cinnamon sticks, star anise, whole allspice, whole cloves, black peppercorns, cardamom seeds or pods, etc. Think wintery baking spices. In this batch I used 3 small cinnamon sticks, 1 star anise, 4 allspice, 3 cloves, and 4 or 5 black peppercorns.
Instructions
Combine and shake ingredients, strain, and garnish: Combine all liquid ingredients except the bitters in a shaker half-filled with ice; shake and strain into a cocktail glass. Add 1-2 dashes of bitters on top and garnish with a lemon twist.
Spiced Simple Syrup
Simmer ingredients, cool, and store: Simmer sugar, water, and spices in a small pot over medium-high heat, stirring until sugar is dissolved. Simmer another 5-8 minutes, then let cool and store in an airtight container in the refrigerator.
Bowen Close
Bowen Close believes that food should make people happy and healthy, and loves bringing together people with creative, delicious food made from the heart. She loves making farm-inspired, flavorful dishes with sustainable ingredients - whether that's a big plate of roasted veggies, a towering chocolate layer cake, or a cocktail utilizing backyard ingredients - and collects recipes and other food-related stories on her website, Bowen Appétit. She is a chef, cooking instructor, and food writer living in Southern California with her husband and fully stocked pantry.